SUNSET SHOWDOWN
Love daydreaming of your someday lavish Hollywood lifestyle while watching Real Housewives-level drama? Netflix's new reality show Selling Sunset has it all, following the stupidly gorgeous female real estate team that sells the most expensive properties in L.A. to people who *spoiler* are sometimes kind of the worst. I couldn't stop watching, sucked in both by the team's drama and the chance to peek into the lifestyles of the rich and the famous. (SAMANTHA WOHLFEIL)
---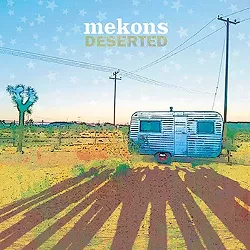 THIS WEEK'S PLAYLIST
Some noteworthy new music arrives online and in stores March 29. To wit:
Billie Eilish, When We All Fall Asleep, Where Do We Go? Eilish just won the "Breakout Artist" prize at the Kids Choice Awards. So she's got that going for her, which is nice.
Mekons, Deserted. The British punk-folk collective is back, and they are angry.
Son Volt, Union. Alt-country heroes return with tales of the working class.
Steve Earle & the Dukes, GUY. Earle takes on the tunes of his hero Guy Clark.
Keith Richards, Talk Is Cheap 30th Anniversary Edition. Richards' 1988 solo debut is better than most of what the Rolling Stones have released the past 40 years.
---
FOR THE WYNN
Think of ContraPoints as a guiding light through a miserable world of racism, misogyny and xenophobia. Show host Natalie Wynn meticulously and hilariously deconstructs the underpinnings of the alt-right with philosophical know-how. Wynn doesn't pull punches, but she's surprisingly sympathetic in a political climate seething with resentment. According to a recent VICE News segment, her video series has been helpful in deradicalizing some young men from right-wing extremism. I stumbled on the YouTube page shortly after the Christchurch mosque attacks and felt that, maybe, there's still some hope out there. (QUINN WELSCH)
---
WONDER STRUCK
Everyone calls it First Friday, yet in Coeur d'Alene, Artwalk actually occurs on the second Friday of the month, leaving CdA's Art Spirit Gallery an opportunity to expand its reach into Washington. Although they've collaborated with Barrister Winery to participate in Spokane's February First Friday since 2014, Art Spirit's new venture is a pop-up experience they're dubbing AS2. Spring Forward, the debut AS2 exhibition, runs April 5-7 at the Wonder Building (just south of David's Pizza) and was curated by local Kim Deater and Seattle's Andrew Whitver. (CARRIE SCOZZARO)
---
PROGRESSIVE PROG
I went to the Baroness show Sunday at the Knitting Factory expecting some face-melting prog-metal, which the band duly delivered. What I didn't expect was how joyful their show would be, and much credit for that goes to the infectious energy of the band's lead guitarist Gina Gleason. Gleason joined the band in 2017 and will be part of the band's upcoming Gold & Grey double album, and on Sunday night her wide smile, energetic head-banging and toe-to-toe shredding with band leader John Baizley was something to behold. (DAN NAILEN)