GONE-ZAGA EXITS
No one roots harder for Gonzaga than the Inlander staff. The proof is in how many of our NCAA tournament brackets blew up when the Zags lost. We're also bummed to miss out on potential Spokesman-Review stories from the Final Four in Minneapolis. We imagine they were planning some great stuff after deep dives at previous Zags' tourney stops, like "Disneyland is fun!" and "In-N-Out Burger makes burgers!" Sadly, we'll never get to see the S-R's stories from the Twin Cities. We can only dream about what might have been...
"Minneapolis Has Skywalks, But They Don't Have Spokane's Own Celebrity Chef Chad White Making Lobster Rolls in Theirs!"
"I'm Proud to Say I've (Stayed in a City Where the Paper) Won a Pulitzer Prize."
"Visiting the Mall of America: This Should Really Be Another Disneyland."
"Minnesota's Charles Schulz: Why We'll Never Stop Running Peanuts Even Though He Died 19 Years Ago."
"Meet the First Name in Minnesota Music: Semisonic."
"15 Wikipedia Facts About Minneapolis" (Spoiler: It's the third largest economic center in the Midwest.) (INLANDER STAFF)
---
LOUISIANA'S DISAPPEARING COAST
Elizabeth Kolbert's deep dive for the New Yorker on how the Louisiana coastline is literally disappearing — allegedly at a rate of a "football field's worth of land every hour and a half" — is as bleak as it is convincing. The culprits are rising sea levels and a lack of new sediment deposits from the heavily engineered Mississippi River. Through extensive reporting, historical research and candid writing, the reader is walked through the history of peoples' various attempts to live with (or control) the Mississippi, and how engineers are now devising a massive new project to save coastal Louisiana. The piece's final sentences are a stab in the heart about our relationship with nature: "If there is to be an answer to the problem of control, it's going to be more control." Read Kolbert's piece at newyorker.com. (JOSH KELETY)
---
YOUR NEXT STOP...
It's only been a couple weeks since Us hit theaters, and Jordan Peele already has another project ready for your eyeballs. His reboot of the classic anthology series The Twilight Zone has been released through CBS' All Access streaming service, with two installments dropping on April Fool's Day. The series' first episode, about a stand-up comedian (Kumail Nanjiani) whose routines can erase their subjects from existence, is now available free on YouTube as of early this week, but might not be there for long. (NATHAN WEINBENDER)
---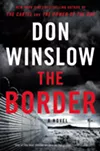 THE BORDER LINES
We frequently divide the world of fiction into your "literary" writers and "genre" writers. But Don Winslow, who recently released The Border, the conclusion to his trilogy about the drug war, manages to straddle that, uh, border. At times, Winslow has a Raymond Chandler-esque flair for the cynical epigram. "It's the dirty secret of the war on drugs," he writes. "Every time an addict sticks a needle into his arm, everyone makes money. We're all investors. We're all the cartel." (DANIEL WALTERS)
---
THIS WEEK'S PLAYLIST
Some noteworthy new music arrives online and in stores April 5. To wit:
Khalid, Free Spirit. The R&B-leaning pop star just booked his first arena tour, including a date in Spokane July 9.
Priests, The Seduction of Kansas. The title track on this D.C. band's latest is some killer ear candy.
Sara Bareilles, Amidst the Chaos. Bareilles is back with her first non-Broadway album in six years.