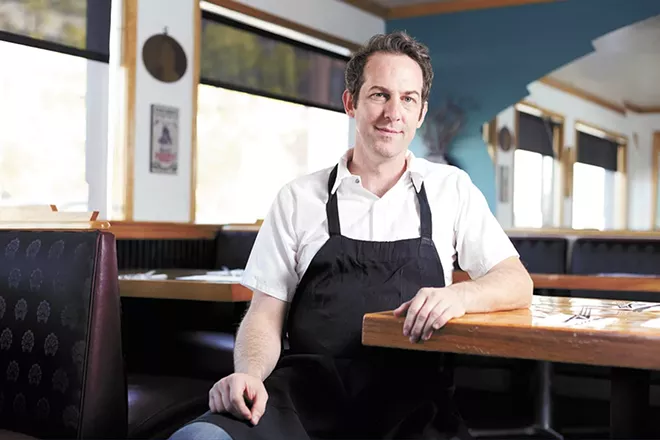 SPOKANE'S NEW CELEBRITY CHEF
Usually when someone (the Spokesman-Review, typically) makes mention of Spokane's "celebrity chef," they're referring to Chad White, who moved back to town after appearing in several episodes of Top Chef in 2015-16. But we have a new challenger for the title. Tony Brown, chef/owner of Ruins and the soon-to-open Eyvind restaurant, has been ruling TV lately. Brown and his mom won $20,000 on Guy Fieri's Grocery Games last week after being featured in an extended segment last fall on Fieri's Diners, Drive-Ins and Dives that left Fieri gobsmacked. "You are a dangerous, dangerous man," Fieri told Brown. (JACOB H. FRIES)
---
BUT THE CHILDREN!?!
In the four years since comedian Anthony Jeselnik's last stand-up special, Thoughts and Prayers, the world has shifted dramatically. You wouldn't know that in watching the lanky comic's new Netflix hour, Fire in the Maternity Ward. That's not a bad thing, though. If anything, Jeselnik's pitch-black sensibilities are right at home in an era when much of society seems to have gone full-nihilist. He mines laughs in subjects most comedians wouldn't dare touch and delivers a series of often groan-inducing one-liners with utter confidence — with good reason. Fire up his latest and you'll see for yourself: Dropping babies can be hilarious. (DAN NAILEN)
---
NUCLEAR OPTION
HBO's new miniseries Chernobyl is downright chilling. You've probably already guessed the show is about the infamous nuclear disaster, considered to be the worst of its kind in history. Before viewing, I had at least a vague understanding of the Chernobyl incident. But this show gives it a face, albeit one scarred by radiation burns. The show takes place in a dark, rundown Soviet hellscape, governed by powerful and corrupt bureaucrats. It's a very grim aesthetic in contrast to our 21st-century utopia, where this sort of tragedy could never, ever possibly happen again. Right? RIGHT?! (QUINN WELSCH)
---
THIS WEEK'S PLAYLIST
Some noteworthy new music arrives online and in stores May 17. To wit:
Carly Rae Jepsen, Dedicated. Perhaps the only member of the Canadian-pop royal family?
The Head and the Heart, Living Mirage. The title indicates the folk-rockers are going even further down the Fleetwood Mac road.
The National, I Am Easy To Find. Sharon Van Etten guests on the New Yorkers' much-anticipated new one.
L7, Scatter the Rats. The grunge-y crew's first album in 20 years, just in time for their show at the Knit June 10. (DAN NAILEN)
---
HELPING HANDS
Mudhoney was barely into its show at the Lucky You Lounge Saturday when suddenly all the lights on stage went black. It wasn't a full-blown power outage — although one could easily imagine Mudhoney's volume sucking the life out of every power station within 10 miles — so the quartet kept playing in the darkness. Then, several fans paused their moshing to turn on their phones' flashlights, bathing frontman Mark Arm and Co. in bright white light from utterly random and ever-changing angles until the stage lights returned. It was a cool moment in a show full of garage-rock goodies like "Touch Me I'm Sick," "I Like It Small," "Suck You Dry" and "Next Mass Extinction." (DAN NAILEN)