GOOD LOOK
Pacific Pizza co-owner John Siok gave us a heads up on a seriously cool new mural by GATS at the Browne's Addition spot. The anonymous Bay Area graffiti artist is known for the iconic mask image that shows up in their work spanning outdoor spots from Rome to the Philippines, according to the Spoke Art gallery in San Francisco that represents the creator. GATS stands for "Graffiti Against the System," but that system clearly doesn't include tasty slices and beer, and for that we are lucky. (DAN NAILEN)
---
OLD WEST, NEW MOVIE
An improbable return to South Dakota arrives with Deadwood: The Movie 13 years after the series signed off, and with it comes a welcome reunion with some of the most entertaining, foul-mouthed characters in recent TV history. Creator David Milch's cult show receives a winning coda with a 110-minute tale, now streaming on HBO, that returns to some old storylines while the future comes calling — Deadwood is celebrating impending statehood for South Dakota and the installation of telephone lines leads to fisticuffs, murder and a whole lot of the delightful, tongue-twisting dialogue that actors like Ian McShane, Timothy Olyphant and Kim Dickens handle beautifully. (DAN NAILEN)
---
GREATER THINGS
If you've been living under a rock the past three years and missed the first two seasons of Stranger Things, go watch them right now on Netflix because season three is here and actually surpasses the overwhelming hype. The Duffer Brothers created a season that takes us on a ride reminiscent of the past, but more developed and epic than its predecessors. The kids and the monsters have grown up and we witness the adventure that ensues in eight episodes that will leave you impatiently waiting for season four. This season takes viewers back to the '80s to witness the creepiest, biggest and, in my opinion, best season of Stranger Things yet. (RILEY UTLEY)
---
THIS WEEK'S PLAYLIST
Some noteworthy new music arrives online and in stores July 12. To wit:
Imperial Teen, Now We Are Timeless. These power-pop pros deliver some of the tastiest ear-candy imaginable every few years.
Kool Keith, KEITH. I can't believe it took this genre-busting rapper this long to name an album KEITH.
Purple Mountains, Purple Mountains. A new project from Silver Jews' David Berman. And there was much rejoicing (at my desk at least). (DAN NAILEN)
---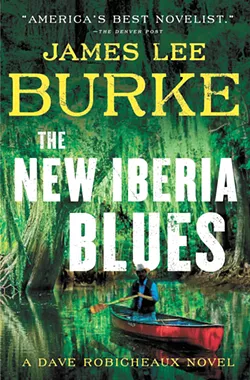 CONSISTENT BRILLIANCE
Years ago a work assignment forced me out of my rut of only reading nonfiction and introduced me to Missoula-based novelist James Lee Burke and his long-running series based around the life and work of detective Dave Robicheaux. While Burke's Robicheaux books involve the clear signs of crime genre fiction — murders, mobsters, dirty politicians and even dirtier cops — Burke's descriptions of the detective's New Orleans and South Louisiana milieu are what elevate them to must-reads for me. In his latest, The New Iberia Blues, the plot revolves around an escaped death-row inmate, a Hollywood movie shooting in Robicheaux's small town and a tarot-obsessed serial killer, but you'll put the book down filled with Burke's imagery of spring lightning storms, steamy swamps and sordid blues clubs. (DAN NAILEN)