ARE YOU READY FOR THE COUNTRY?
The best part of Ken Burns' eight-episode, 16-hour crash course doc, Country Music, is how the genre's performers and their songs reflected American society throughout the 20th century. While you might not care for a little twang in your music, Burns shows how the country community has been in the midst of America's debates on race, economic equality, women's rights and more. All the episodes are now streaming on PBS and Kanopy, and if you have to pick just one as an entry point, consider episode five for its focus on Dolly Parton and sexism in Nashville, Merle Haggard and his poor roots, and Charley Pride breaking the country color barrier. (DAN NAILEN)
---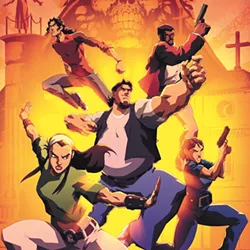 HANDS OF FATE
Seis Manos opens with a drug cartel and a ritual sacrifice and it ends with lots of dead people. Netflix's new animated cartoon series is about a group of martial artists in 1970s Mexico, so it definitely gets points for originality. The artwork reminds me of something between Captain Planet and Cowboy Bebop. It's a little dorky, but the cool fight scenes will at least hold me over until Netflix releases its recently confirmed season three of Castlevania. (QUINN WELSCH)
---
SERIOUS SUPERGROUP
If you haven't had occasion to roll up North Monroe lately, you might not be privy to the incredible new mural painted on the exterior of Hoffman Music by brothers Cain and Todd Benson. Depending on which side of the building you're on, you'll spot vibrant illustrations of Miles Davis, Cher, Tom Petty, Aretha Franklin, blink-182's drummer for some reason, and many more. It's called "An Ode To Music," and it's an awesome addition to the block. (DAN NAILEN)
---
CRIMINAL MINDS
True crime books are a dime a dozen — here's one that investigates why that is. Rachel Monroe's Savage Appetites zeroes in on why women in particular are drawn to real stories of murder and mayhem, especially in cases with female victims. She focuses less on gory details than basic pathology. Monroe's subjects include Frances Glessner Lee, the 1940s heiress who pioneered forensic science; the film worker who cultivated an uneasy relationship with Sharon Tate's family; and the architect whose fascination with the infamous West Memphis Three case led to a romance with one of the accused killers. (NATHAN WEINBENDER)
---
THIS WEEK'S PLAYLIST
Some noteworthy new music arrives online and in stories Nov. 1. To wit:
Gang Starr, One Of The Best Yet. DJ Premier and Guru are back with their first album in 16 years — and first since Guru died in 2010. Technology is amazing.
Jeff Lynne's Elo, From Out of Nowhere. Lynne plays and sings nearly every part on his first album in four years, and that's a good thing.
Miranda Lambert, Wildcard. The underrated country star has a show booked for Spokane in April.
Hootie & the Blowfish, Imperfect Circle. Yup, Hootie's still blowing. (DAN NAILEN)