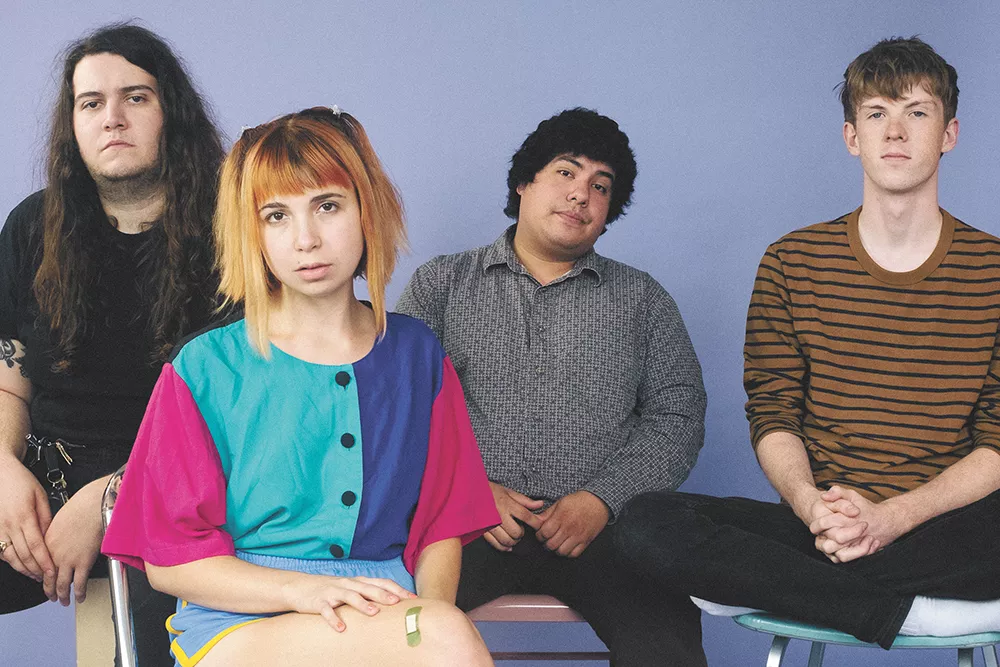 BEACH PARTY
I'm a newcomer to the charms of Beach Bunny, despite the band's witty single "Prom Queen" going semi-viral on TikTok last year. But I've been hooked by the Chicago quartet's debut album Honeymoon since it was released on Valentine's Day, and its irresistible, sugary songs really satisfy my indie-pop sweet tooth. The project of songwriter Lili Trifilio, Beach Bunny is half teenage doo-wop, half beamed-from-the-'90s garage-rock, and imbued with timeless angst. I can't wait for summer so I can drive around blasting this with all the windows down. (NATHAN WEINBENDER)
---
OUTSIDE PERSPECTIVE
If you want to understand the rise of homelessness on the West Coast, it's hard to find a better way than listening to the nuanced, thorough and heart-wrenching podcast Outsiders by KNKX and the Seattle Times. Jumping off in Olympia, which has seen homelessness explode recently, the podcast takes a holistic look at how and why homelessness has risen, with poignant and tragic human stories highlighting the complexities of each individual. Check it out every Wednesday wherever you get your podcasts. (WILSON CRISCIONE)
---
THE BICKERING GODS OF HADES
Play enough video games and you get familiar with the genre where you fight deep into a dungeon until you finally die, at which point you start all over again, a little more powerful from the effort. In Hades, where you play as the son of the lord of the underworld repeatedly trying to escape the underworld, that Sisyphean task seems entirely fitting — hell, pretty early on in your quest you meet the actual Sisyphus, standing by a boulder and everything. But the best part is the way that Hades plays the Greek pantheon of gods, portraying them as a family of mischievous rivals who grant you powers more out of a desire to spite their divine co-workers rather than any sense of benevolence. Plus, that Dionysius really knows how to party. (DANIEL WALTERS)
---
THIS WEEK'S PLAYLIST
Some noteworthy new music hits online and in stores March 6. To wit:
Stephen Malkmus, Traditional Techniques. Early signs indicate the Pavement frontman is back in fine form after going electronic on last year's Groove Denied.
Phantogram, Ceremony. The synth-pop duo's first album since 2016 features the tasty songcraft we've come to expect.
Mandy Moore, Silver Landings. The This Is Us actress/singer's first album since her divorce from Ryan Adams. That might be the only reason to give it a spin. (DAN NAILEN)
---
THE END IS NEAR: DOESN'T ADD UP
There shouldn't be so much math involved in buying toilet paper. As you weigh whether to spend $15.99 or $9.99 for 12 rolls, the tissue paper industrial complex does its damndest to distract your brain with flashy math on the corner of the packaging. "Hey savvy consumer! These 12 rolls are actually like 36 rolls!" they shout. Looking at just four rolls? "No, you're not, little missy, that's actually like 8 rolls right there!" How big were these original rolls if modern science now squeezes three or four times that onto one tube? Who is the OG TP? The roll formerly-known-as-good-enough? Open your eyes, sheeple: The math is a lie, distracting us from the only essential question: Is this some single-ply itchy garbage, or super soft? (SAMANTHA WOHLFEIL)