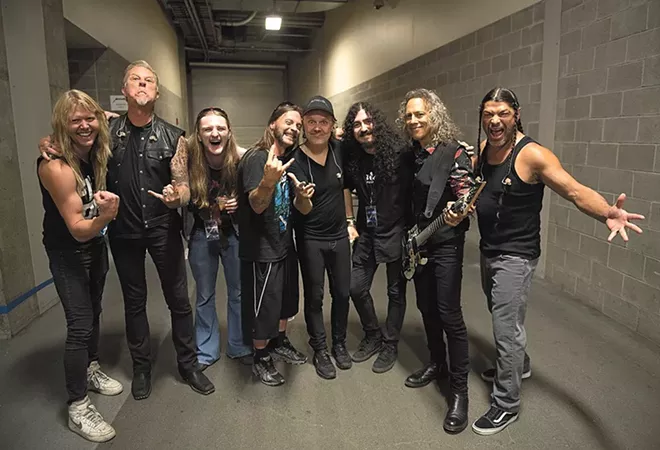 Every week The Buzz Bin brings you odds and ends, news and notes, from Spokane, the Inland Northwest and beyond, delivered in easily digestible bites. Dig in:
FriendsGiving
Looking for an escape from your kitchen or family before Thanksgiving? Community Pint has you covered with their first annual FriendsGiving Junk Food Pairing on Wednesday, Nov. 22. For $28, you'll get five beer-infused dishes prepared by Couple of Chefs, like chicken meatballs with a barbecue IPA sauce, paired with five 6-ounce pours. For more information and tickets, visit facebook.com/communitypint. (DEREK HARRISON)
---
DIGITS
$250 million
How much Amazon Studios reportedly paid for global TV rights to J.R.R. Tolkien's Lord of the Rings universe (which gave rise to Viggo Mortensen, pictured). In an effort to compete in the ever-growing streaming market, Amazon this week announced its plans to produce a new multi-season series set in Tolkien's Middle-earth that's to be a prequel to the main book/film trilogy, and one that Amazon owner Jeff Bezos has hopes will have Game of Thrones-level appeal. (CHEY SCOTT)
---
On This Week's Playlist
Some excellent new music arrives online and in stores Nov. 17:
MAVIS STAPLES, If All I Was Was Black. A civil rights icon and serious soul belter, Staples' new album is produced once again by Wilco's Jeff Tweedy.
MORRISSEY, Low in High School. Can you imagine how much of a bummer Morrissey's high school years must have been to produce the adult Morrissey?
TOVE LO, Blue Lips [Lady Wood Phase II]. The daring Swedish songstress introduced this album's banging first single "Disco Tits" with a video documenting her drug- and sex-filled road trip with a puppet. So there's that. (DAN NAILEN)
---
Award-Winning Dishes
The 36th annual culinary showcase Epicurean Delight truly delighted the taste buds of attendees at the sold-out gala benefiting the Inland Northwest Blood Center on Friday, Nov. 10; 26 local restaurants and 30 beverage purveyors competed for coveted top honors in multiple categories. Here's who took home the titles in each:
Outstanding Hors D'oeuvres: 1898 Public House, ahi poke tuna
Outstanding First Course: Thai Bamboo, papaya salad and red curry
Outstanding Entrée: Spencer's for Steaks and Chops, gold grade zabuton steak
Outstanding Dessert: Marsells Cakes, rose petal and lavender petit fours
People's Choice Restaurant: Bonefish Grill, saucy shrimp and misoyaki seabass
People's Choice Libations: One Tree Hard Cider, caramel cinnamon and cranberry ciders (CHEY SCOTT)
---
Blistered Earth
In April, the Spokane-based Metallica tribute band Blistered Earth had a bunch of their equipment stolen after a gig in Portland. They took to social media about the theft and got enough attention that the members of Metallica stepped up and offered to replace the instruments that were taken, and eventually met the guys they're impersonating when Metallica played Seattle in August (pictured above). Blistered Earth returns to their hometown with a show at the Jackson St. Bar (2436 N. Astor) on Saturday, playing with local hard-rock five-piece Children of the Sun. Be sure to keep an eye on their shiny new gear. (NATHAN WEINBENDER)