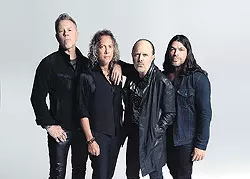 2004
That's the last time Metallica played Spokane, on their "Madly in Anger with the World" tour. The metal pioneers and Rock and Roll Hall of Famers return to Spokane Arena on Dec. 2. Tickets are $65 and $135 and go on sale Friday, March 2. Visit spokanearena.com for details.
---
ON THIS WEEK'S PLAYLIST
Some noteworthy new music arrives online and in stores March 2. To wit:
ANDREW W.K., You're Not Alone. He still likes to party and, I would imagine, party hard.
SUUNS, Felt. The Canadian quartet loosens up a bit on its latest.
THE MEN, Drift. The Brooklyn rockers evoke romantic Lou Reed among louder moments.
THE BREEDERS, All Nerve. Bow to Kim Deal, back leading the Last Splash lineup of these alt-rock killers.
TITUS ANDRONICUS, A Productive Cough. One of New Jersey's best bands delivers an album with easily the best title I've heard so far in 2018. (DAN NAILEN)
---
TOTALLY NOT THE SOUP
If you were a fan of long-running E! Channel show The Soup, a weekly snarkfest poking fun at all the week's best worst TV moments, you're in luck. The show is back — sort of. The Joel McHale Show with Joel McHale recently debuted on Netflix, and it's basically exactly The Soup, complete with nonsensical guest drop-ins (Jason Priestley!), jokes at the writing team's expense and a whole lot of McHale being pleased with himself. New episodes arrive on Sundays. (DAN NAILEN)
---
TACO PARTY
Though it happened a day after Taco Tuesday, Cochinito Taqueria's debut couldn't have come sooner for the many eager customers and soon-to-be fans of Spokane chef Travis Dickinson's new downtown restaurant. The spot at the corner of Post and Riverside offers both classic and creative takes on the street taco, with walk-up counter service for a fast-casual feel despite fine-dining techniques in the kitchen. Other items on the Latin-forward menu include sopes, elote (street corn) bowls, soups, salads and plenty of house-made sauces. Cochinito is open Mon-Thu from 10 am-9 pm and Fri-Sat from 10 am-10 pm. (CHEY SCOTT)
---
RATHDRUM'S GOLLUM OF COMICS
Alli White, an Idaho-based illustrator, character and costume designer, heads to Seattle's Emerald City Comic Con to showcase her artwork to thousands of other comic nerds this weekend. Though the comic scene is much bigger in Seattle, White (who studied art in Redmond) says the interest is growing in the Inland Northwest. Besides, she much prefers her quiet mountain town of Rathdrum. Big city life is too much, says the artist. "I stay hidden away like Gollum most days." Check out her work at skirtzzz.com. (QUINN WELSCH)