EVERYTHING ZEN?
My unabashed fandom of The Larry Sanders Show and virtually anything related to comedian Garry Shandling drew me to filmmaker Judd Apatow's four-hour HBO documentary about his friend and mentor, The Zen Diaries of Garry Shandling. It's a must-watch for any comedy fans, exploring Shandling as a tortured artist, Hollywood player, mama's boy and, ultimately, a spiritual seeker until his death in 2016. It's less pure biography than a deep dive into one man's psyche, and while it's not all laughs, it's all remarkably interesting. (DAN NAILEN)
---
MARCHING ON
We take no joy in the struggles of other newspapers, and so it's as comrades in arms that we've read Paul Turner's column this week. Turner, a beloved old-timer at Spokesman-Review, revealed on Monday that "The Slice" column he's written for almost 26 years had, unceremoniously, been dumped from the paper. It's part of content cutbacks that the paper is instituting this week: The "Today" features section has been killed off on Mondays and Tuesdays, and Turner's new non-Slice column has been relocated to the Northwest section. Tuesday, Turner made it clear he wasn't going quietly: "My column has moved to a new location, but I'm not going anywhere." (JACOB H. FRIES)


---

15
That's how many years the Thermals stuck together, becoming one of the Northwest's best bands in the process, recording seven albums and touring like crazy before breaking up Monday. "We feel our band has reached far beyond our initial expectations and goals, and are stepping away from it while we still cherish it," the band wrote on Facebook. The Decemberists and the Hold Steady were among the fans mourning online after the announcement. The Thermals' shows at the Bartlett were unforgettable. R.I.P. (DAN NAILEN)
---
ON THIS WEEK'S PLAYLIST
Some noteworthy new music arrives online and in stores April 13. To wit:
BREAKING BENJAMIN, Ember. Angsty hard-rock is the rule with these guys, coming to Spokane Arena July 18.
JOHN PRINE, The Tree of Forgiveness. A true people's poet, Prine packs his first album of original tunes in 13 years with guest appearances from Jason Isbell, the Black Keys' Dan Auerbach and Brandi Carlile.
LAURA VEIRS, The Lookout. Last heard collaborating with Neko Case and k.d. lang, the Portland songwriter's returns to solo work after a five-year pause.
THE MOONDOGGIES, A Love Sleeps Deep. The Everett-born roots-rockers visit the Bartlett May 5.
---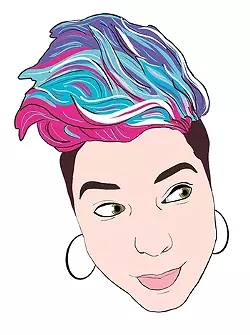 ANYTHING BUT BASIC
Ever wonder how the screenwriter who adapted Arrival got into the business? Or what makes the creative minds behind everything from movie soundtracks to web comics tick? Hosted and produced out of Liberty Lake, Hannah Camacho's podcast "Basic Brainheart" explores those questions and more as she takes a step behind the curtain to "celebrate and interrogate creatives of all stripes," including several Oscar and Emmy nominees. Check it out on iTunes, SoundCloud, or wherever you get your podcasts. (SAMANTHA WOHLFEIL)