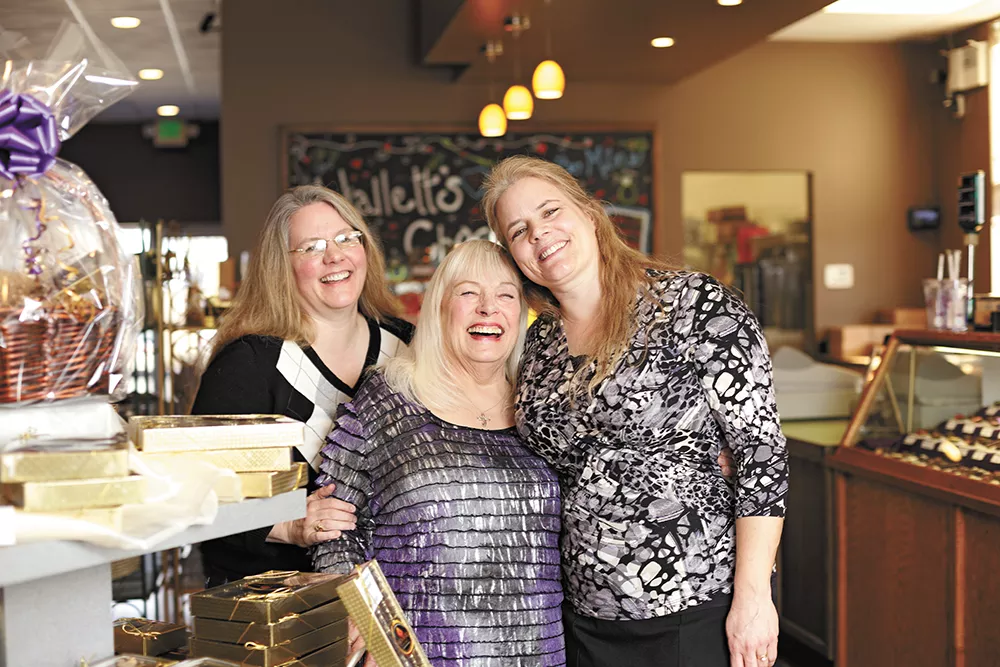 A black-and-white poster of the iconic I Love Lucy moment in which Lucy and Ethel stuff their faces with chocolates hangs above a similar conveyor belt inside the Halletts Chocolates factory.
On the last stretch of the enrobing machine, after two curtains of chocolate flow over each cube of caramel or buttercream and they scoot through a cooling tunnel, the worker has to act fast to inspect and cup each candy before they tumble off the belt.
"They're not eating them like that, but it's that same idea — picture of panic," says Kitty Kane, one of Halletts' owners.
That's just one aspect of this North Spokane chocolate factory, where everything is done by hand — whether it's labeling each chocolate with an artistic mark, cooking toffee or packing truffles into Valentine's Day heart boxes.
Kitty and her sister, Kari Kane, point to a large table in the middle of the factory that's usually covered by an army of molded chocolate bunnies during Easter time. They pull out an example from last year's batch, the largest bunny they make, weighing in at 5 pounds and standing 2½ feet tall.
"We tell people to use a hammer to eat that bunny," Kari says.
Kitty and Kari own Halletts Chocolates with their sister, Kristy Kane, and their mom, Patty Kane. As you might be wondering, the Kanes are not part of the Hallett family, but bought the company from the Halletts 10 years ago.
Brothers Joel and Tom Hallett started out in 1976 as Hallett Farms, growing berries in Otis Orchards, but began making candies in the '80s and opened the chocolate factory in North Spokane in 1984.
Kari worked for Halletts for a couple of years while in college and remembers it as her favorite job.
"There's something about just packing up a one-pound box of chocolates and making it look pretty," she says. "I just always enjoyed that."
After college, Kari quit Halletts to start a career as a geologist, but several years later she got a call from Joel saying the company was going up for public auction and asking if she was interested. "In an instant my life changed," she says. When the auction closed, Kari and her family were the new owners of Halletts.
"It was a company we knew of already, that [Kari] really loved, really loved," Kitty says. "I mean, every year we would get Halletts chocolates for Christmas from her. And then we owned the company. It was so surreal."
After working 15 years as a chemist, Kitty started doing the bookwork for the business and Patty retired from Rosauers to manage the factory. Kristy started out doing retail, but after she moved to Seattle, Kari took over the retail side, and does the marketing while also making all of the truffles.
Since buying Halletts, the Kanes have added a few things. They've come up with new creations like habanero caramels and grey sea-salt caramels to join an already long list of candies that include lemon buttercreams, chocolate-covered cherries, almond toffee crunch and jelly sticks.
The Kanes also opened a coffeehouse and retail store on East Trent Avenue, just east of downtown, in 2008. There you can get blended coffee drinks made with their peanut butter crunch and almond toffee crunch, as well as hot chocolate with their bittersweet, semi-sweet or milk chocolate ganache.
Last month, they moved their retail store out of the factory and opened a second retail store/coffeehouse at a location on North Nevada Street, less than a mile away from the factory (so close they wheeled their candy case over on a cart instead of loading it on a truck). The move was spurred by a motivation to be more visible on a main street.
In the past three years, Halletts won more than 10 awards at chocolate salons in Seattle and Chicago, but Kari says some people who lived just a few blocks from the factory never knew they existed until they walked into the new store.
"We're thinking if people in Chicago like us [and] people in Seattle, it's about time Spokane knows who we are," she says.
The factory store had many regulars, though, and Kari says they're glad they just have to point customers to the store right around the corner. Kitty says it's rare to encounter a grumpy customer anyway because, well, they came to buy chocolates.
"There's just something special about [this job]," Kitty says. "You feel good making a quality product, interacting with people that appreciate it and you appreciate them. And it's candy; what can you say?" ♦
Halletts Chocolates • 6704 N. Nevada • Open Mon-Fri, 9:30 am to 7 pm; Sat, 10 am to 5 pm • hallettschocolates.com • 474-0899 • also: 1003 E. Trent Ave.