As we set out into the coming weeks of disruption, oddly enough my mind turns to Don Kardong running his Olympic marathon in Montreal back in 1976. The marathon is among the most challenging of athletic contests — for its sheer physical endurance, but even more so for the mental toughness it demands.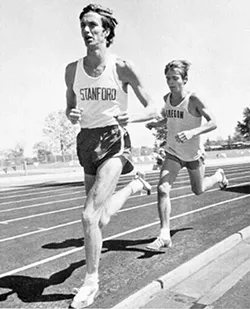 I think of this beloved Spokane citizen because I have long admired Don's calm, cerebral approach to life in general. He shared the story of that run with me last spring, and it was a tale of brains as much as brawn. Here was a skinny kid from Bellevue going stride for stride with a badass (believed to have been doping) from East Germany. It was the most important race of his life; he stayed calm and followed his plan. Don needed to be at his best, and he was: He told me he had the best run of his life that day.
That story keeps coming back because I feel like we're all starting a marathon together right now. The road back to normalcy is not going to be a sprint; it will be a long, often solitary road, with uphills, hopefully some downhills to catch our breath, and eventually a finish line.
We need to be at our best, too. Right now, our minds are racing as we're adjusting to this new, temporary reality. But we need to think like a marathon runner. We need to channel our inner Kardong. Create a strategy to get through the whole race. Exude calm and patience. Pace ourselves. Keep our eyes on the finish line. Wuhan had just one new case Tuesday. South Korea is mopping up. We'll get there, too.
But let's all understand that we just started Mile One.
One foot in front of the other. Mile by mile, day by day. As we start this run, there's a simple, guiding principle we all must commit to: Do your job.
Of course it's impossible to ignore that our national leaders have failed to do their jobs to prepare us. The federal government has so far mostly left us on our own. That makes it harder, but we can manage.
The ranks of our state and local leadership are filled with seasoned veterans like Spokane County Sheriff Ozzie Knezovich and Washington Governor Jay Inlsee — leaders we can trust. Honest, frequent communication will be crucial to staying on course together; the Spokane Regional Health District has a particularly important communications role to play. We need all our local leaders to be at their best, and we need to support them however we can.
But it's not just up to them: We all need to be heroes in our own way. Every citizen has a responsibility to take care of him or herself and their family — and then to see how they can help. Perhaps that's just staying out of the way, not buying all the toilet paper or just being kind. Panic and selfishness will only make this worse.
Many will be called to the front lines, especially our brave health care workers. We have built one of the great health care communities in the nation here, and we'll need to support it however we can.
It's comforting to know that we've been through challenges like this one before. My grandparents lived through the decade-long Great Depression. It did not crush them. In the end, it made them great. Many of us lived through 9/11. It connected us as Americans in new and profound ways. History is a comfort and offers us perspective and wisdom — it tells us this will be a moment we will all be proud of one day. If we do our jobs.
We have a couple blessings to count, too. Technology connects us like never before, which gives us a partial antidote to the isolation to come. We can talk to our grandparents, connect with friends all over the country and laugh at the memes. And like a beach town with a tsunami warning system, we have been given the head start our friends and family in Puget Sound were not. We have a little more time to lessen the impact of this wave, to get our lives back to normal a little sooner — if we do our jobs starting right now.
Another ace in the hole is in our character: We all know that the Inland Northwest is a generous place. As this unfolds, our instinct to help will kick in. Here at the Inlander, we will continue to connect you with stories of people in need, businesses that could use a lift and citizens being heroic in small but important ways. If you would like us to shine a light on areas of need, please reach out to our team at tips@inlander.com. We've been publishing the Inlander continuously since 1993, and here in our time of need, we will continue to publish in print every week, with daily updates online at inlander.com, where you can even see an electronic version of the printed edition.
One crucial task everyone can participate in is helping to keep commerce rolling however we safely can. Consider yourself deputized to the cause. Commerce will continue, in new and different ways. Restaurants and other impacted businesses will tell you how they will continue to stay open, and as you can, you need to find ways to support that. Displaced workers will need the charity of those who can share, and you will no doubt be presented with ways to pitch in.
You could say that the spirit of giving and selflessness that marks our community comes down to us from 16th century Italy and our patron saint, old Aloysius Gonzaga. The namesake of one of Spokane's founding institutions — Gonzaga University — and godfather to the mighty Zags, Gonzaga was born to the leading family of Mantua, Italy. Destined to live a comfortable life in that wealthy city, the young Gonzaga turned his back on his family's riches and chose to join the Jesuits. Then fate intervened. When the plague came to Italy in 1591, he did not hesitate to care for the sick. In a reminder of how serious today's challenges can be, the 23-year-old contracted the disease and died.
Today, all these years later, the one member of the House of Gonzaga the world remembers is our beloved St. Al and his devotion to healing. In the tough times these next few weeks will bring, you can say a little prayer to him or just be moved by his example to dig a little deeper into the powerful, mysterious reserves of the human spirit.
The way we take on this race over the coming weeks could define who we are as a community for years to come. Spokane and the Inland Northwest were poised for greatness before last week, and we'll come back stronger than ever when this gets over. We need to all be at our best and do our jobs so that when life returns to normal, it will be sweeter and more precious than ever. ♦
Ted S. McGregor Jr. is the publisher of the Inlander.