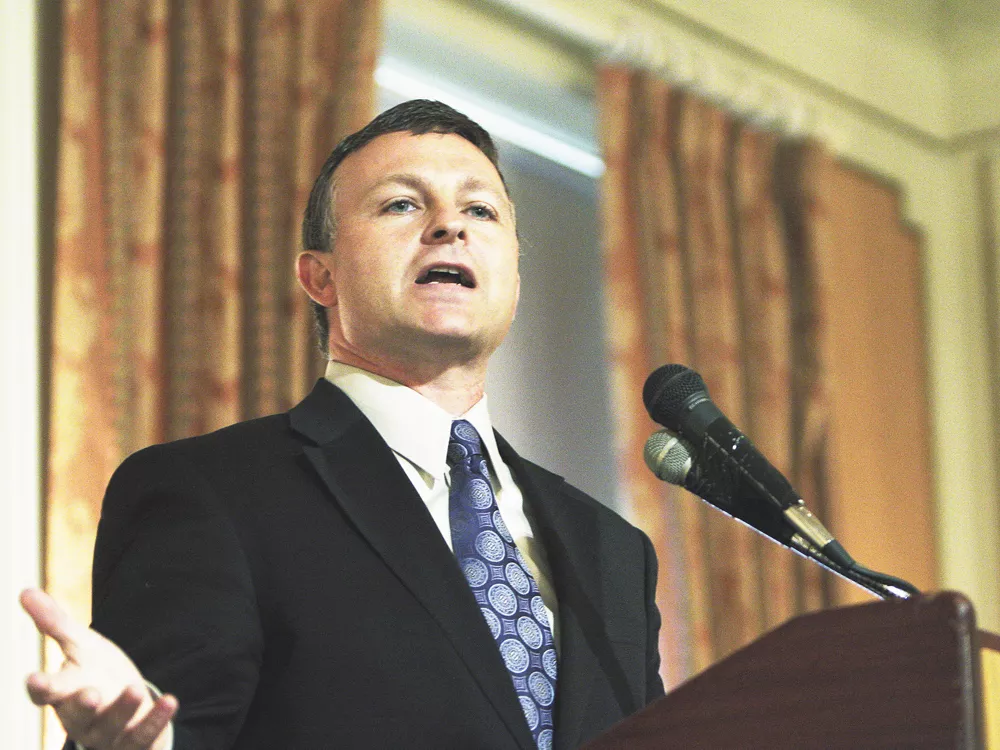 A week before Mark Richard stood at a podium and announced he would not seek a third term, he called up Shelly O'Quinn.
The first campaign O'Quinn had ever volunteered on was Mark Richard's, in 2008. Now he was calling to ask her to consider running for his seat.
She ruminated for a week, checked with her family. O'Quinn, in 2010, had run as a Republican for a state representative seat in the 6th District but lost in the primary to John Ahern.
"I was assuming I was not running this year," O'Quinn says. But soon after Richard asked her, she made the choice.
When she sent out the press release announcing her candidacy last week, it came bearing the endorsements of Richard and the two other commissioners.
But despite those endorsements, the board may not be a Republican monolith for long. Two of its three seats are up for grabs in November: Sitting commissioner Todd Mielke will face a challenge from Democrat John Roskelley (a former commissioner), and Richard's departure also creates an opportunity.
O'Quinn is already in the running, but who will challenge her?
Local leaders in both the Democrat and Republican camps say that there have been multiple interested parties, but thus far no one has been willing to publicly declare they're considering it.
The closest so far has been 4th District Representative Matt Shea. Several sources quote him saying that he's keeping his options open.
Former Spokane Valley Mayor Diana Wilhite had also considered it, she says, but she ultimately endorsed O'Quinn, not wanting to split the conservative vote.
But what about the Democrats? Amy Biviano, the former chair of the Spokane County Democrats, says she briefly considered running but opted to instead challenge Matt Shea for his current seat.
O'Quinn speculates that Democrat Daryl Romeyn, the former weatherman who unsuccessfully challenged Cathy McMorris Rodgers for Congress in 2010, may make a bid. (Romeyn did not return our phone calls.)
Spokane City Council President Ben Stuckart mentions that both one-time county commissioner candidate Barb Chamberlain and former Spokane Mayor Mary Verner would be good picks. Chamberlain says that, in fact, she's had multiple political types ask her if she was going to run. But because of her family, she says, that wasn't possible. (And due to redistricting, she doesn't even know if she's eligible anymore.)
Brian Sayrs, another former candidate for the district, also says he's now living in the wrong district, adding that he doesn't want to get involved in politics anymore.


Meanwhile, in less than a week, O'Quinn has already raised $10,000. So if O'Quinn remains the sole candidate for Richard's empty seat?
"It's important [for people] to know I'm my own person," O'Quinn says. "I'm representing the citizens of District 2 — I'm definitely no one's puppet. … Each commissioner has a responsibility to bring their voice and opinions to the table."
Many of O'Quinn's opinions are still vague, though.
"I think it's important we create an environment in Spokane that allows us to grow jobs," she says. She adds that she believes in being "fiscally conservative."
On the big controversial issues — like the prospect of a new jail, the county operation of the racetrack, and concerns that civilian development could encroach on Fairchild Air Force Base — she says she wants to wait before solidifying her opinions.
Mark Richard has had a reputation for taking his time to make decisions, of doing his homework on each issue. O'Quinn says she wants to do the same. She wants to hear from the voters before taking a stand.
"I want to make sure I have an opportunity to talk to the people who are my constituents," she says. "I've literally only been in this four days."