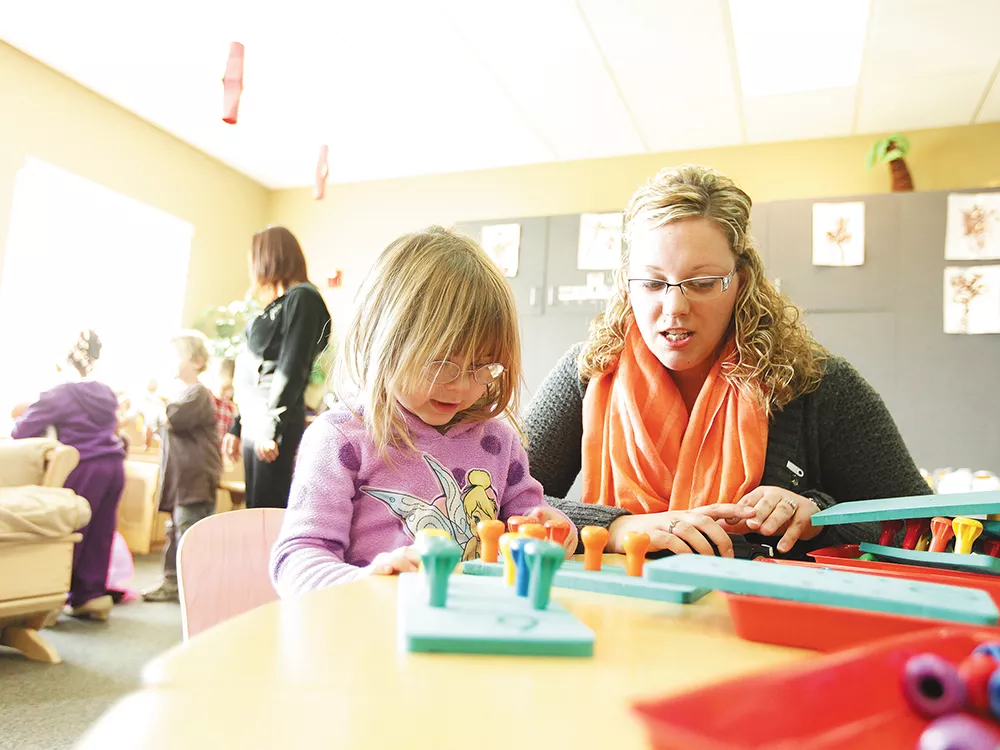 Cash Shkuratoff, a 4-year-old in a rumpled Spider-Man shirt, emphatically holds out a picture book about a baby bear lost in a snowstorm. "Can you read this to me?!" he asks.
At first, he recognizes the letter M. With prodding, he begins to sound out the phrase "Mmmmaaaamma bear?"
Between the craft-covered walls of a West Central Community Center classroom, in one of Washington state's poorest neighborhoods, 3- and 4-year-olds from low-income families have a chance to go to preschool, thanks to the federally funded Head Start program. In a span of a half-hour, they finish their breakfast, thumb through picture books, brush their teeth, sit in a circle on alphabet carpet squares and sing songs about days of the week.
Study after study stresses the importance of the first five years of education. But when it comes to preschool, Spokane has big challenges. Even if available Head Start slots in Spokane County doubled overnight, there would still be children left out. At least 737 children are waiting for 669 slots.
Nationally, preschool simultaneously sits in the showcase and on the chopping block. In his State of the Union this month, President Barack Obama announced a push to provide high-quality preschool to every child in America. But the March 1 "sequester" threatens to deeply gouge federal funding, including Head Start. More than 900 low-income children could be cut from their preschool in Washington state and another 200 in Idaho.
'We Can't Wait'
This fall, almost 1,300 kids attended full-day kindergarten in Spokane Public Schools. A new assessment found that more than two-thirds of them, nearly 900, entered unprepared in at least one area. Children in the poorer neighborhoods — Hillyard, East Central, West Central — struggled even more.
As Spokane Public Schools pores over dropout rate data, one thing has become clear: Dropout danger begins far earlier than high school. "What we are learning as a nation is we can't wait until third grade," Superintendent Shelley Redinger says. "We can't wait until middle school." Along with working to expand full-day kindergarten, Redinger has invented a new position, director of early learning, to help connect grade schools with preschools. Part of that, she says, is parental education.
For any parent, finding a preschool is tough. "The biggest issue I had after moving to Spokane was finding a REAL preschool," parent Katé Lyons-Holestine says in an email. "There are many daycare centers that promote themselves as preschools, charge as if they are a preschool, but offer no true teaching/learning activities."
She checked out seven different preschools. Some refused to give her a tour, others smelled awful, others couldn't show her a curriculum.
Soon parents like Lyons-Holestine may be able to hop on the state's Child Care Check site to gauge which preschools pack the biggest academic wallop. Washington state's Early Achievers program, first rolled out last July, allows preschools to be rated on a five-point scale by the University of Washington in exchange for training, hefty financial rewards and even college scholarships for staff.
Waiting lists for top schools remain long. Parent Eva Silverstone says she got her son on the waiting list for the Community Building Children's Center almost directly after his birth — but didn't get in until he turned nearly 3.
Now or Later
Sending a single child to full-day preschool can be pricier than renting an apartment. It costs $525 a month at Bethel Christian, $600 at Rainbow Connection Too, and $715 at St. Anne's. (The Herzog Academy, meanwhile, refuses to disclose its tuition to parents, or anyone else, without first taking them on a tour of the facility.)
Parents who can't afford such prices are left with few options. One state program, Working Connections, subsidizes daycare for the working poor. But it has the same problem as Medicare — it only reimburses a sliver of the cost, leaving the private preschool to foot the rest of the bill. "I can't imagine running a [preschool] that's primarily Working Connections children and making that work," says Anita Morgan, director of the Community Building Children's Center. (This legislative session, State Sen. Andy Billig introduced a bill, still in committee, to bolster the program.)
Washington state also has a state-funded equivalent of Head Start: The Early Childhood Education and Assistance Program (ECEAP). (Idaho is one of only 10 states without state-funded preschool.)
But with occasional exceptions, ECEAP and Head Start only take children close to the poverty line. A single mom with one child, working for minimum wage full-time, usually would be too affluent for her kid to be eligible. Even those below the poverty line have trouble finding a space: Last year more than 60 percent of infants and toddlers in poverty in Spokane weren't served by ECEAP, Head Start or Early Head Start.
That's where Obama's plan comes in: He wants to use federal funds to expand state preschool programs and dramatically increase Early Head Start funds for infants and toddlers.
Rep. Kevin Parker is skeptical of universal preschool. But he plans to push for more ECEAP slots during budget negotiations later this spring. Parker's daughter went to an ECEAP school. The results weren't just academic, they were philosophical.
"Emelia doesn't seem to have prejudices that some would have at her age," Parker says. "She doesn't seem to draw differentials between high-income and low-income friends."
To his frugal conservative colleagues, he makes an economic argument. "At the end of the day, a high school dropout costs the state $400,000," Parker says. That's 58 times the cost of enrolling a child in ECEAP.
In his State of the Union address, Obama made a similar argument. "Every dollar we invest in high-quality early education can save more than seven dollars later on — by boosting graduation rates, reducing teen pregnancy, even reducing violent crime," Obama said.
Universal preschool is a solution that, depending on who you talk to, is either clearly reinforced or conclusively refuted by the evidence. Obama refers to the HighScope Perry Preschool Study, a four-decade examination of 123 high-risk, low-income black children. The kids with home visits and intensive preschool were far more successful.
But skeptics counter with the Head Start Impact Study. Yes, children who attended Head Start were substantially more prepared for kindergarten, it found, but those positive effects had nearly completely disappeared by third grade. Critics of the Head Start study point to flaws in the control group, while critics of the Perry study point to its small sample size and unrealistic cost.
Some owners of private day-care preschools, like former state representative candidate Tim Benn, worry about small businesses getting squeezed out. "We're perpetuating a spending problem, and we're taking children away from nurturing environments in the private sector," Benn says.
Liv Finne, with the conservative Washington Policy Center, believes the focus should be on parents, not preschool.
"We're all up for early learning, but we're fearful of institutionalizing it at even younger ages," says Finne. "It seems to me that if society was serious with creating conditions to promote the development of the young brain, and had extra money to spend, you'd spend it on keeping parents home with their children."
Play to Learn
But as the national debate continues, in the Head Start classroom at West Central, the focus is on these kids, now.
"You love them. Your heart hurts for them if they're going through issues, but you get to see this growth and these changes and these successes," teacher Samantha Tuskan says. "They have such a dramatic amount of growth within the few years you have them."
Little hands dabble in shaving cream, push tiny cars down a road, grab paintbrushes, play "kitchen," and build skyscrapers out of blocks, Duplos, pegs and brightly colored balls and sockets. It's education masquerading as play — lessons in sharing, socializing, and creating. Whether or not it lasts, for now they're learning.