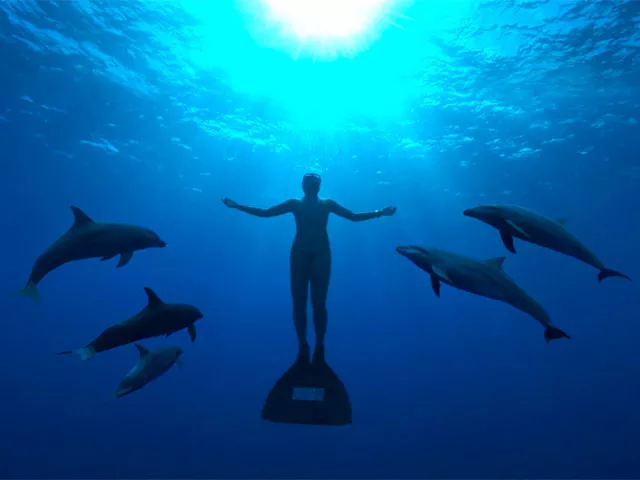 "I do want to say that we tried to do the story legally." These words open the stylish and bloody documentary, The Cove, which strives to penetrate the secrecy surrounding the annual slaughter of thousands of dolphins near the Japanese city of Taiji.
Cove director Louie Psihoyos makes this opening statement in an on-camera interview, which reveals two things. The Cove is as much about Psihoyos and his crew becoming the story as it is a story about dolphins. Second, The Cove is a documentary that's more about advocacy than neutral reporting.
And that's OK; The Cove employs this approach to great effect. It plays images of joyful pods of surfing dolphins against their unlucky brethren being lanced to death and thrashing on a bloody shore.
Psihoyos, a longtime diver, wanted to make pretty films about the ocean, he says. Then he met Ric O'Barry, the charismatic marine biologist who captured and trained the five dolphins that became famous as Flipper in the 1960s television series.
After one of the Flippers, Cathy, died in his arms, O'Barry became horrified at the appalling toll that the dolphin entertainment industry takes on these big-brained, gentle mammals. He's been trying to shame it out of existence ever since.
O'Barry is a strong moral voice.
He sucks Psihoyos into helping unmask the secretive dolphin drive at Taiji, where the cutest are sold into captivity and the rest are butchered for meat so laced with mercury that it's poisonous.
Yet there is levity. To breach the secrecy, Psihoyos assembles an Ocean's Eleven team including a scientist who sets up a DNA lab in a motel room, special-effects guys who create fake rocks and bird's nests to hide high-def cameras, a remote-controlled helicopter jockey for aerial shots, and assorted adrenaline junkies who sneak hydrophones into the cove to record dolphin death cries. They use night-vision and thermal imaging to film these cat-and-mouse capers, outwitting guards and local police to infiltrate restricted areas.
The bonus materials supplement the doc with deleted scenes worth watching. There is a rundown of the special cameras, and an 18-minute feature on mercury poisoning.