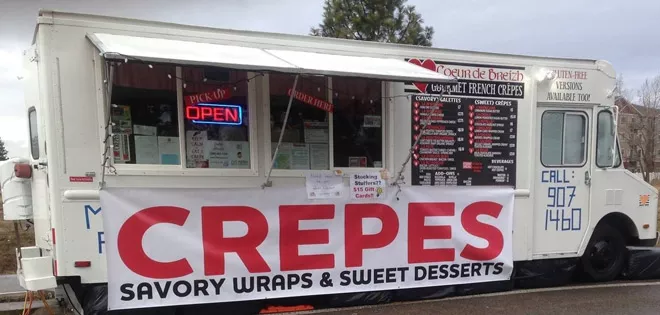 The journey from Coeur d'Alene to Paris would be quite the endeavor, but what's coming off the griddles at Coeur de Breizh Crêpes brings part of that faraway experience (4,837 miles, to be exact) to North Idaho.
Heather Rivière has made it her mission to help Americans get to know what the French eat, and she's starting with her crêpe truck that she opened in May.
"With crêpes, this is something that's so common. It's like the hot dog stand in New York. There's one on every corner in Paris," Rivière says.
For 16 years, she lived in Paris, but she and her husband, Philippe — who is from Brittany, the French region where crêpes originated — returned to the U.S. in 2008, so their kids could get to know their American culture. Rivière taught French in schools and was working in language services when she was laid off about a year ago. After searching for a job, she decided to create her own career, one that let her keep one foot in France.
"This is my golden opportunity to go where my passion is," she says. "I love French culture and I love French food."
Her crêpe recipe comes from Philippe's extended family, who worked in the crêpe distribution business in Brittany.
When you pull up to the white, red and black truck (drive-thru in winter) parked on Government Way across from Black Sheep Sporting Goods, the first decision you'll have to make is whether you're in the mood for something savory or sweet. There are eight choices of each ($5-8.50) and the option to order them gluten-free.
La Parisienne — which comes with ham, Swiss cheese and egg — and the berries-and-cream La Tagada are two of the most classic crepes you would find in France, says Rivière. In La Provencale, you get a delicious vegetarian combination of tomato, mozzarella, pesto and spinach. She makes her own lemon curd for L'Anglaise and sea salt caramel that's paired with whipped cream and almonds in La Salidou.
For Rivière, this truck is just the beginning. Down the road, she hopes to add another truck or start a small chain that serves up everyday French food. ♦
Coeur de Breizh Crêpes • 3615 N. Government Way, Coeur d'Alene • Mon-Thu, 7 am-2 pm; Fri, 7 am-7 pm; Sat, 9 am-2 pm • facebook.com/cdbcrepes • 208-907-1460