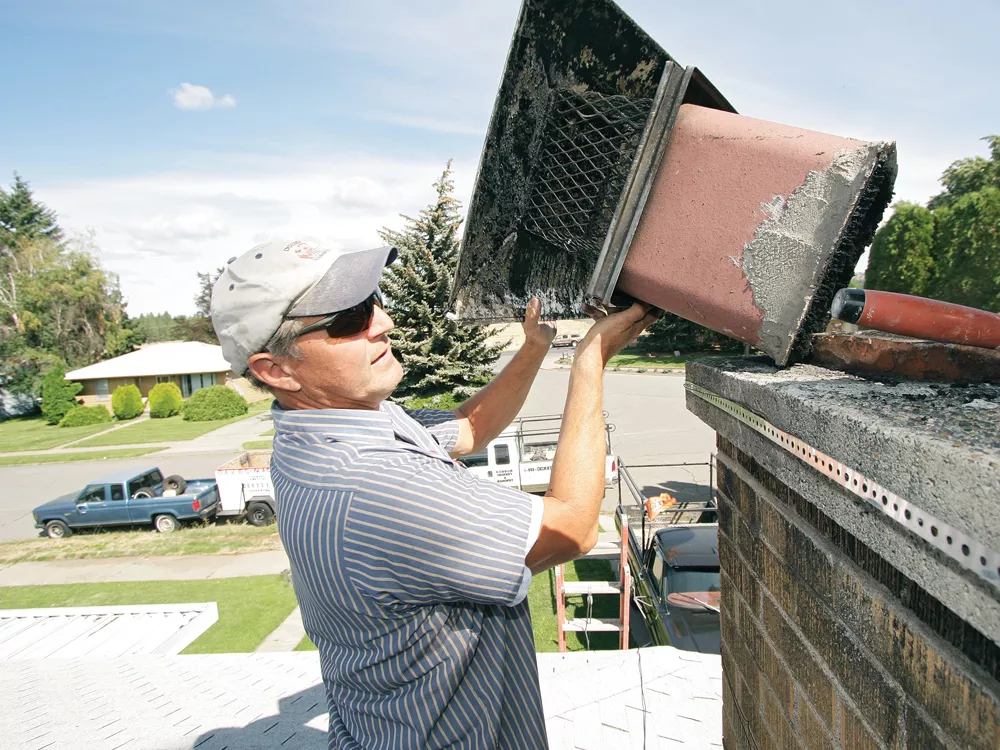 "The neighbors will come running, saying, 'Your chimney's on fire!' And the sparks will be coming off like a Roman candle," he says.
When chimney fires happen — when the highly flammable pitch-black goo known as creosote ignites inside someone's chimney — that's when Roger Dobson gets a call.
As owner of Dobson Chimney & Masonry Services, he prefers doing maintenance over responding to emergencies.
Of course, even your basic chimney-sweep routine involves dealing with soot and grime. The creosote smells terrible, for one thing. And it can get dangerous: Residential chimneys are too narrow, but Dobson himself has been lowered by rope 35 feet down into the black depths of a commercial building's smokestack. Even atop houses, roofs get pretty slippery in the winter. A crumbling brick chimney nearly crumpled one of Dobson's fellow sweeps.
And don't forget the chimney-dwelling animals.
As Dobson's own website puts it: "Animals often like to hide out in dark, cool places. The inside of your chimney is a dark, cool place. That is why it is no coincidence that animals like raccoons, squirrels and birds often end up in your chimney. With them they bring noise, smells, insects and, well, whatever else is left."
Dobson has his own story. "I had a call about five months ago with raccoons," he says. "The man had kept shooing them away. But when we removed the liner, we saw four or five little raccoons. Well, the mother was in a panic. The nest was on top, and it had fallen down. Those little babies were probably only three, four days old."
On that occasion, Dobson waited for the animal-removal service, then started in on the creosote-scraping. Other chimneys, he says, have presented him with "some dead skunks. And dead ducks."
It can get grimy inside those residential brick columns, too. After Ice Storm'96, he says, "We had an unbelievable amount of cleaning to do." And some of the crud inside people's chimneys, he says, was "that distinctive kind of ash that we got from Mount St. Helens" — soot from the volcanic eruption 16 years before. (Everyone claimed, of course, that they'd been getting their chimneys cleaned regularly.)
Even after 34 years on the job, Dobson retains his enthusiasm for rocks and stones — masonry, after all, makes up about 60 percent of his business. He learned the trade from "an old Norwegian, back in the '70s," and he says that "I knew when I touched my first stone" that masonry was for him.
"My kids will tell 'ya that I look at chimneys all the time," he says, pronouncing it "chim-uh-nee" —though whether that's due to the influence of the old Norwegian or because of Dick Van Dyke is unknown. "I'll be sitting at a traffic light … masonry just catches your eye."
At a home in the Audubon Park area, he clambers down some scaffolding and starts gesturing: "It's like, you take a pile of rocks, and you turn it into something beautiful — cut stone."
But when the chimney-sweeping part of his job comes up in conversation, Dobson says, "about 20 percent of people start singing that 'Chim chim-in-ey' song."
(For the record, Dobson knows his Mary Poppins well enough to recall that "A sweep is as lucky as lucky can be," though he'd forgotten that "Good luck will rub off" is followed by "when I shakes 'ands with you.")
If customers ask, he'll even wear a top hat on the job. "You know," he says, "chimney sweeping is a big deal in Europe, with lots of tradition associated with it."
But today, Americans don't really know what a chimney sweep — or a mason — is.
"People put up that aluminum siding," Dobson says. "There's very little brick work being done anymore." It's the only moment when his enthusiasm wanes.
All those piles of rock around here, though, are just waiting to be turned into beautiful cut stone. Dobson has plenty of masonry repair and chimney maintenance ahead of him. Right now, he has a commercial job on Sprague to get to — a fiber roof is being installed, and his crew has to "tighten the bricks" just underneath. As he drives off, his truck's license plate is prominent: "Brick4U," it says.