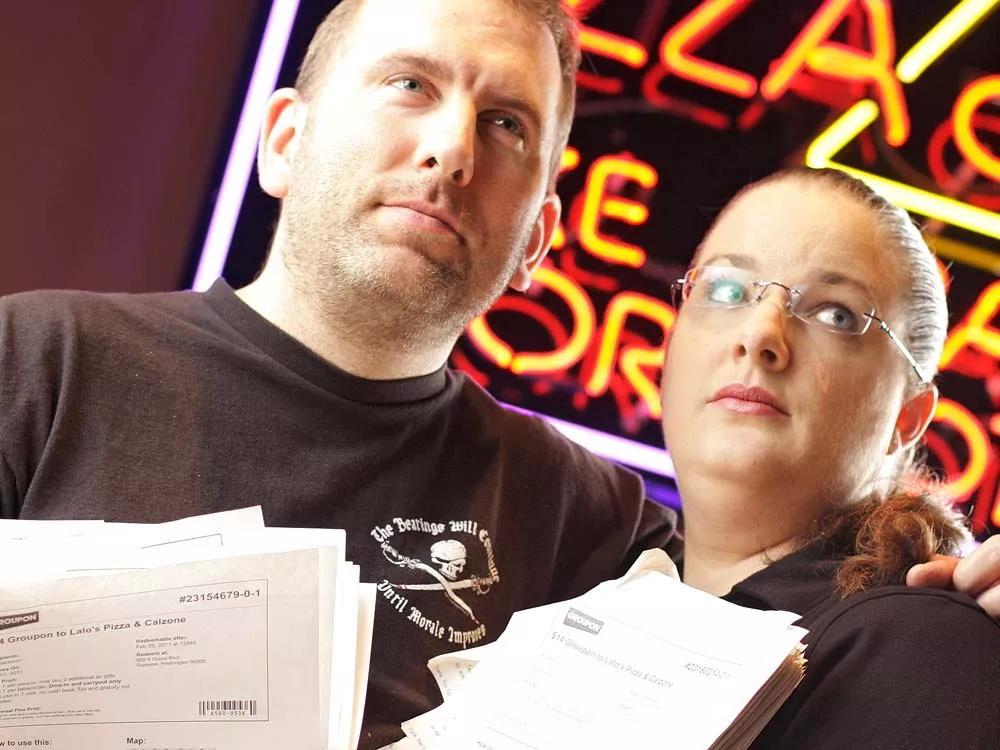 Two for the price of one. Pay $10, get $30 of food. Deals too good to miss. That's what Groupon and other competitors are counting on — deals too enticing to ignore — and in the Inland Northwest, the coupon craze is gaining a foothold by offering deep discounts at local retailers and restaurants.
But not everything is rosy in coupon-land. Questions are being raised about the burdens placed on businesses that use Groupon and its competitors. Last week, TechCrunch kicked off a week of Groupon criticism with its article "Why Groupon is Poised for Collapse."
"With Groupon," the article says, "your potential losses can increase with every Groupon customer who walks through the door and put the existence of your business at risk."
The Colorado Springs Independent and San Francisco Bay Guardian quickly followed suit with their own articles.
Indeed, Chicago-based Groupon has made waves by penetrating local advertising markets and helping drive traffic to small businesses. The set-up is fairly simple. People sign up to receive daily emails offering coupons at restaurants, wine bars and even large-box items like home beer-making kits.
Discounts are often deep, usually 50 to 90 percent.
This means that many businesses that use the coupon services — often small, relatively new ones trying hard to establish a customer base — offer the deals largely at a loss to their bottom line.
People purchase the coupon in advance directly from Groupon — for example, $50 for a normally $100 manicure — and present the coupon to the retailer. In most cases Groupon takes half the price of the coupon, meaning that the business receives a small percentage of what the service or product originally costs. So for that usually $100 manicure, the business only gets $25.
In other words, they don't make money. Actually, they could lose money, all in the name of potentially gaining repeat customers.


Attracting new costumers was the thinking behind Brett Wyatt's decisions to use Groupon for his restaurant, Lalo's Pizza, which had recently moved to a new location on Grand Boulevard behind Sacred Heart.
He signed on with Groupon and offered a coupon in March: Pay $6, get $14 worth of pizza. The offer was tasty enough to entice about 600 people, 400 of whom have redeemed so far, Wyatt estimates. With Groupon's revenue-sharing scheme, Wyatt gets $3 for every $14 of pizza consumed.
"I wouldn't do it again," he says. Still, Wyatt says his experience wasn't all bad. In fact, he thinks the Groupon experiment accomplished his goal to reach new customers. But will they come back?
"I don't do Groupon to make a profit, as an infusion of cash," says Josh Wade, owner of wine bar Nectar Tasting Room in downtown Spokane. "It's all marketing."
Industry analysts and news outlets have picked up on a recent Rice University study casting doubt on the repeat-customer hopes offered by Groupon and its competitors. The study found that less than 20 percent of daily-deal site customers return to the business for non-discounted purchases.
Perhaps worse, the study casts doubt on another supposed benefit to offering such deep discounts: overbuying. For businesses to even think about making money on Groupon, customers need to spend more when in the store, like on drinks — ideally alcohol — or more food.
"If everyone who came in only bought $14 worth of food, it would have been a horrible business decision," says Wyatt.
The Rice University study showed that only 36 percent of coupon customers buy products or food beyond what was in the deal. The study's author notes that less than half of businesses would run a second daily deal offer. Thirty-two percent were unsure. And nearly 20 percent said they would not.
Groupon doesn't seem worried about these statistics, though, and cites its own very different numbers. Spokeswoman Julie Mossler says in an email that their internal polling indicates "95-97 percent of our merchants would run again or recommend Groupon to a colleague."
Josh Wade, who owns the wine bar Nectar Tasting Room in downtown Spokane, says he would use Groupon again. But he wouldn't
recommend it for every business, specifically not ones with an already large customer base or those "whose margins are very thin.
"I don't do Groupon to make a profit, as an infusion of cash," Wade says. "It's all marketing." Nectar offers "memberships" that, for $75 per year, allow access to wine tastings, discounts on bottle purchases and invitations to private events. A Groupon offer of half off a membership yielded 90 new members.


Groupon isn't the only daily-deal peddler. It's just the biggest — and the biggest target. Late last year, Google offered to buy Groupon for $6 billion. Groupon declined. Now, Google is launching its own service.
Another national competitor, LivingSocial, is preparing to enter the Spokane market and hiring salespeople, according to its website.
Groupon and LivingSocial are beginning to take heat for entering local markets and undercutting already established advertising venues, like regional publications, TV and radio.
That threat — and the opportunity to enter the popular daily-deal field — prompted Vince Bozzi to enter the game. Bozzi is publisher of Spokane Coeur d'Alene Living magazine, which depends heavily on local business advertising for revenue.
Bozzi's team launched the Deal Planet in November 2010, after just six weeks of planning. "There is a place for local players [in the daily-deal market]," Bozzi says.
The Inlander is also dependent on advertising revenue and Publisher Ted S. McGregor Jr. has explored a similar locally run deal site like Groupon.
No plan is set to launch a formal service, but it's in the works, says McGregor, noting that The Inlander "could be ready to launch" if couponing becomes a dominant force in the market. But for McGregor, the crux of any such site would be to add value to businesses that already advertise regularly with The Inlander and, unlike Groupon, the paper wouldn't dictate terms or push advertisers into deals that put their business, or the local economy, at risk.
"What worries me the most is if this billion dollar behemoth in Chicago figures out how to put its tentacles in all the local markets," McGregor says.
Groupon doesn't think of itself as a threat to local advertising structures and, more broadly, the business climate of a region. Asked to comment on the notion that a locally owned deal venue is better than Groupon, Mossler says in an email:
"The best way to support the local economy is by driving customers through the doors of area merchants. Groupon delivers thousands of high-quality customers to Washington and Idaho merchants every day."
Just how many are coming through the doors — or hearing about the offer — is harder to track. Mossler says that Groupon couldn't disclose precise numbers of how many people in the Spokane and North Idaho region are registered on the site, noting simply that it's "thousands."