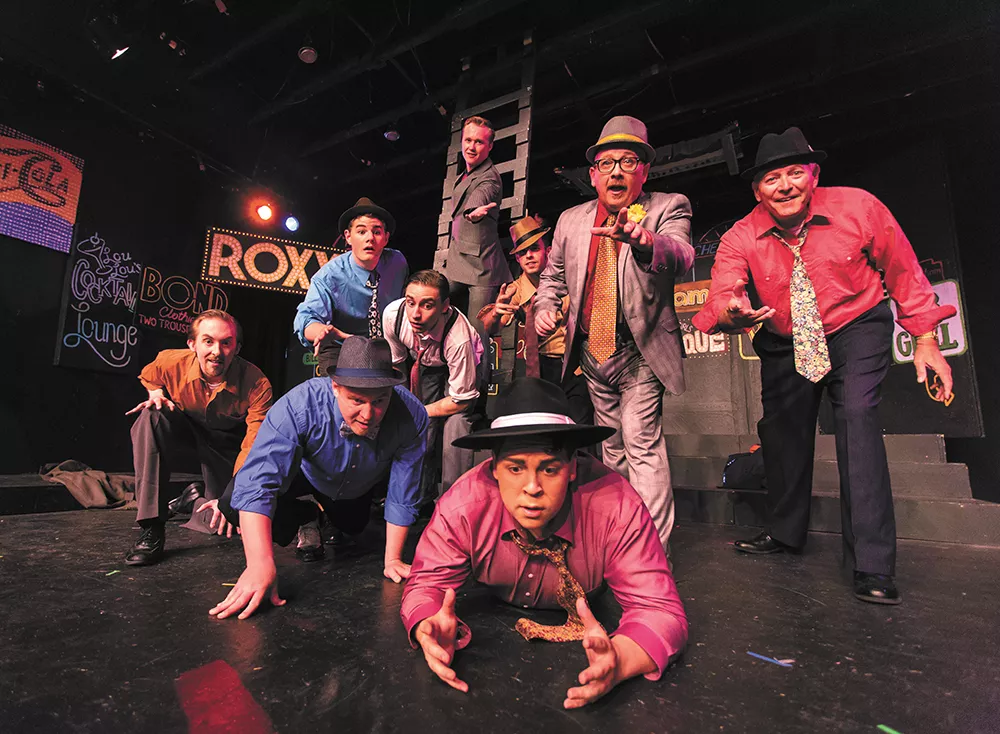 Jillian Kehne is pulling double duty in the upcoming production of Guys and Dolls at Lake City Playhouse. Not only is she directing this lighthearted musical about gamblers, cons and soul-savers, she's also choreographing.
"It's interesting to switch back and forth between [concentrating on] the clean, succinct footwork, and then switching over and paying attention to the character," says Kehne.
Kehne has done this only once before. That was last season's production of Little Drummer Boy, also at Lake City, which she admits was "definitely not as heavy of a dance show." Fortunately, she's had great mentorship. In the past she's worked closely with popular regional director Troy Nickerson, most notably on Rent, and she's been able to solicit his advice as she polishes her directorial chops.
"He's been a big example of how to be a good director and how to let your actors play. Sometimes it's very easy to go into a scene as a director and you have this picture in your head of what you want," says Kehne. "And then you dictate it, but it's not natural. It's not coming from your actor. I don't want to have my hands too much on these people, to the point where it's me forming them."
Nor is Nickerson her only counsel. Kehne, a real-estate processor who's married to area actor Todd Kehne (K2, It's a Wonderful Life), knows many people in the local theater community she can tap for input.
"All of my other theater friends are going to come in and take notes and be another set of eyes," she says. "When you only have one pair of eyes to look at all of [the cast], it's interesting. It's interesting, sometimes lonely, and ultimately very rewarding."
For this production, Kehne's work is made a little lighter by the cast. Comedic stalwart Lance Babbitt will play Nicely-Nicely Johnson, Briane Green is cast in the "fun, neurotic role" of Miss Adelaide, and recurring Lake City actor Brendan Brady will be playing a "younger version" of Sky Masterson.
"Opposite him as Sarah Brown is Caryssa Gilmore," says Kehne. "This is her first community theater show. She has a great voice, clear tone, and she and Brendan have really nice chemistry together." Glenn Bentley, relatively new to the local theater scene, will be in the role of Nathan Detroit, famously played by Frank Sinatra in the 1955 film version.
At the more experienced end of the spectrum is 85-year-old baritone Woody Hurst (as Arvide Abernathy), who performed on Broadway in shows like The Unsinkable Molly Brown during the 1950s and '60s. The youngest member of the Guys and Dolls cast is 70 years Hurst's junior.
"It's a fun show and a great example of community theater," says Kehne, "because it's such a wide range — a lot of really novice people learning from the experienced people."
In keeping with what seems to be an accidental trend in recent shows on community theater stages, the set is, as Kehne puts it, a "minimal, kind of black box" production that will make the most of the theater's stage when shuffling between the show's New York City and Havana settings.
"They just installed a new lighting dimmer system," says Kehne. "I'm thrilled to see what they're going to be able do with the lighting design ... to change the mood, change the scene."
The rest of Guys and Dolls promises to be traditional, he says, focusing on the upbeat fun of Latin dancing and memorable tunes like "Luck Be a Lady" and "Sit Down, You're Rockin' the Boat" with musical direction by Zack Baker.
"This show is one of my all-time favorites," says Kehne. "I have a lot of respect for the genre, I love that era, so I personally wanted to keep that classic feel. It's not something you want to mess with." ♦
Guys and Dolls • June 6 to 28; Thu-Sat, 7:30 pm; Sun, 2 pm • $13.75-$19.75 • Lake City Playhouse • 1320 E. Garden Ave., Coeur d'Alene • lakecityplayhouse.org • (208) 667-1323