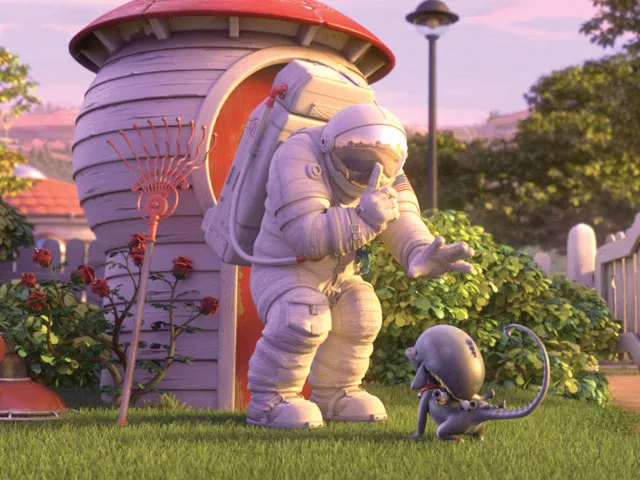 We have no idea why it's called Planet 51, or why the pleasantly blobby green humanoid aliens wear no trousers. We also have no idea why they're speaking English or going through a version of the 1950s, complete with malt shops and alien invasion movies. And then an Earth human arrives to terrorize them.
It doesn't matter, I guess.
Planet 51 isn't really interested in saying much to its audience. It's only mildly amusing, and what little amusement there is will go right over kids' heads. There's a lot that would be appealing to sci-fi fans — it's a pastiche of 1950s B-movies — except all that's lost when the parody of the paranoia and xenophobia of those fi lms is so trite and obvious. It's not enough to point and laugh at silly old movies with their now blatant subtexts.
See, American astronaut Captain Charles T. Baker (the voice of Dwayne Johnson) arrives on this distant planet expecting to fi nd it uninhabited. Instead, Baker lands his Apollo-style lander in small-town Glipforg, and now Lem (the voice of Justin Long) and his sci-fi -obsessed pal Skiff (the voice of Seann William Scott) must hide the alien invader lest mean ol' General Grawl (the voice of Gary Oldman) moves to capture the invader.
Planet 51 isn't terrible, just bland and predictable, though at least the humor that's tacked on is gentle and unassuming. There are only a scant few jokes about the presumed anal violation that the idiot fl yboy astronaut will infl ict upon the natives.
Planet 51 really does offer genuine eye candy. Its world is charming to look at, all round edges and hovering cars, and the fi lm features two of the most delightful only-coulda-beenanimated characters ever: a dog that's like a cuddly little H.R. Giger Alien and a rock-loving planetary rover — which also behaves like a dog, even though it looks like Wall-E.
And when these two critters get together, it's the most adorable puppyish fun you can get without, you know, having actual puppies.
I wish the whole movie had been about them.

PLANET 51 Rated PG Directed by Jorge Blanco, Javier Abad Voiced by Dwayne Johnson, Justin Long