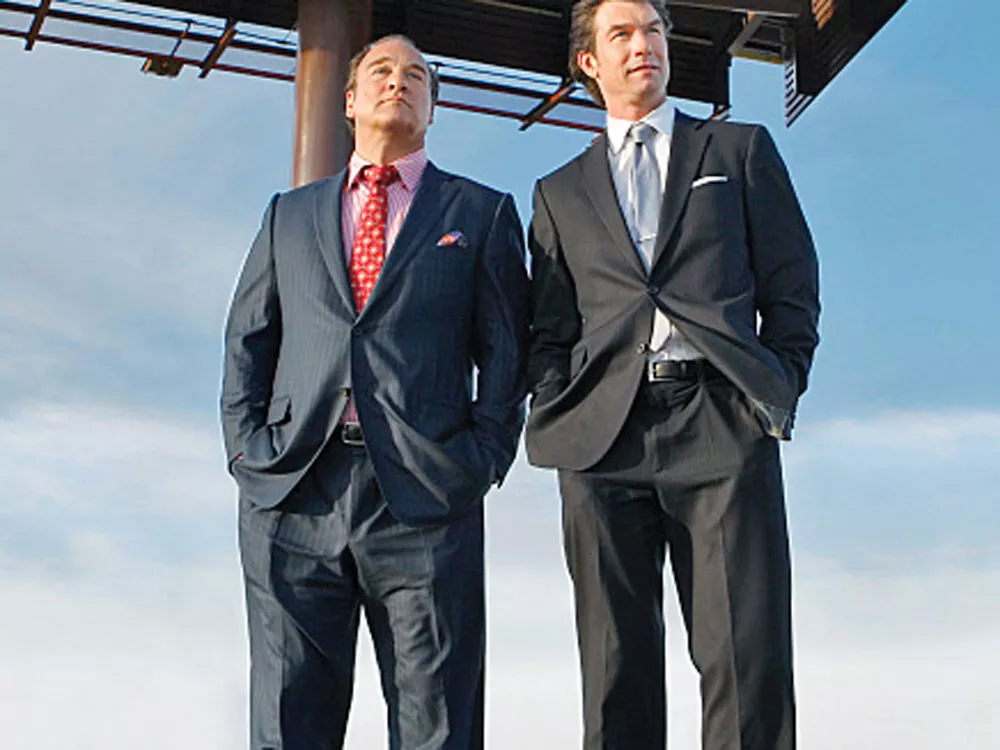 I love Jim Belushi and Jerry O'Connell for such different reasons
. I love Las Vegas. I love crime- and law-dramas. But that didn't mean I would automatically love
The Defenders
.
In fact, I don't give away TV love that easily. It's usually reserved for serial killers, firefighters and women with split personalities. Oh, and drug-addicted ER nurses. Defense attorneys?
Well… For a show without a TV-MA rating, Defenders is quite delightful — and not just because O'Connell has spent time shirtless.
We don't know why these two men, Nick Morelli (Belushi) and Pete Kaczmarek (O'Connell) are partners, except that they both have trouble saying no to people in difficult or remarkable legal situations. They meet one of their first clients, a clueless red-headed man from Oklahoma, walking off the prison transit bus.
"How much do you owe?" Morelli asks. "You signed a marker at a casino and you didn't pay. How much do you owe?" "Six million dollars." Morelli and Kaczmarek aren't exactly the Odd Couple, but they have very little in common besides an outrageous commitment to (usually innocent) clients. Kaczmarek is young, idealistic and bold. He soaks up the city like any gorgeous single man with power and money. And he's very sweet.
Morelli knows how to work the system, and does so confidently and creatively. He has an nerdy expert friend like the three X-Files guys, and will track down a judge on the golf course to work a better deal. He's also just Jim Belushi: intense, silly, and prone to loud, demonstrative grandstanding. He almost always wins, too.
I love to hear their protégé, Lisa Tyler (Jurnee Smollett) litigate.
She's the woman from The Great Debaters, and her speech cadence is like butter. Sure, she paid for law school by exotic dancing: It's Las Vegas. In fact, we never forget where the show takes place. Scenes from the Strip are regularly used as transitions.
"When the stakes are high," reads the website promo, "they're willing to bet the house on the clients they defend in Sin City." The promo is cliché, but The Defenders is not.
The Defenders (CBS, Wednesdays, 10pm)
---
TIVO-WORTHY

Conspiracy Theory
(TruTV, Fridays, 10pm)
Jesse Ventura is pissed. It's not his old WWE-pretend anger — he's more incredulous, hell-bent on finding the truth. Fox Mulder on steroids. In the first season of his show, Conspiracy Theory, he and his team explored gaps in the feasibility of the Pennsylvania crash on 9/11, the JFK assassination and Area 51. This season, he examines the potentially deadly Plum Island and government spying.

Law and Order L.A.
(NBC, Wednesdays, 10pm)
It was supposed to be the end of an era. After its 20-year stint in primetime, Law and Order retired last season. And already, it's back … sort of. Having switched to the West Coast, the new theme song is an upbeat revival, but the content is as empty as a Disney Channel actor's emotional well. Most impressive? The high-caliber ensemble, including Alfred Molina and Terrence Howard.

Detroit 1-8-7
(ABC, Tuesdays, 10pm)
Emmy-winner Michael Imperioli (The Sopranos) has created an intriguing character in Det. Louis Fitch, but it hasn't been much work. Imperioli has been a serious badass since Goodfellas. It is nice to see him helping homicide victims instead of making them. Fellow Emmy-winner James McDaniel (NYPD Blue) lends his gentle expertise to the cast of other fairly unknown actors. Innovative filming and graphics offer a fresh approach to this season's strongest new police drama.