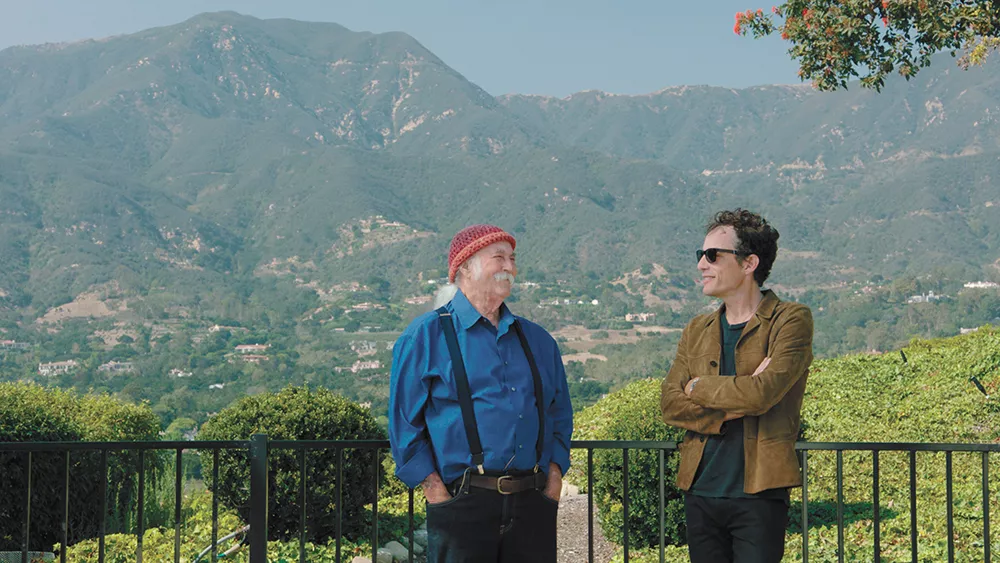 The Laurel Canyon Neighborhood is only a short drive from Los Angeles' Sunset Strip, and yet it's deep enough in the Hollywood Hills that it feels isolated from the big city. It's also where a coterie of musicians, all living and working within a couple miles of one another in the mid-1960s, created a specific brand of sun-dappled rock 'n' roll that we'd forever associate with California.
Echo in the Canyon, a new documentary that opens at the Magic Lantern Theater Thursday, takes us back to that turbulent time of literal and figurative harmony, when California bands like the Beach Boys, the Byrds, Buffalo Springfield and the Mamas and the Papas were merging folk, country and psychedelia in new ways.
Like the music at its center, the film is seamlessly pieced together from disparate elements, and Wallflowers frontman and co-producer Jakob Dylan is the uniting factor. He not only conducts the sit-down interviews with various Laurel Canyon luminaries, but also performs a bevy of their iconic hits — both in the very L.A. recording studios where they were initially put to tape, and alongside his contemporaries in live concert footage that weaves in and out of the film.
"In crafting what I wanted to do, I thought maybe if I could film a song being recorded, a song played live, then have the author of the song in the room and piece that together, I could make something interesting that hadn't been done before," explains the documentary's director, Andrew Slater, in an interview with the Inlander.
The project really got its start when Slater saw Jacques Demy's 1969 drama Model Shop. It's a languorous snapshot of a now-unrecognizable Los Angeles, and it follows an architecture student as he wanders adrift around the city in the days before he'll no doubt be drafted to fight in the Vietnam War.
"It showed me an L.A. at a time of complete innocence," Slater says of Model Shop. "It inspired a journey back to the records that I loved from that mid-'60s period. In looking at those records, I said to Jakob, 'We should make an album of these lesser-known songs,' and it led us to the stories behind the songs and the people that made them.
"We thought, 'There's too much here not to make something more expansive.'"
That's how they ended up in L.A.'s Western Studios with a camera crew, recording a collection of songs that they felt were not only emblematic of the then-burgeoning Laurel Canyon scene, but integral to the respective bands' careers. Consider "Go Where You Wanna Go," an accidental document of the splintering personal relationships at the center of the Mamas and the Papas. Or Buffalo Springfield's "Expecting to Fly," which represents guitarist Neil Young's desire to leave the group and take off in his own musical direction.
"They're the songs that are pivotal to the demise of these bands, in some cases," Slater says. "And behind those songs, you have the authors of those songs."
Many of those authors appear in the film, a who's-who of musicians that helped define that California pop sound — Jackson Browne, Michelle Phillips, David Crosby, Stephen Stills, Graham Nash. Dylan also chats with the likes of Eric Clapton and Ringo Starr, who later found their way into the Laurel Canyon scene, and the late Tom Petty, who relocated to Southern California as a teenager and recalls admiring his idols from afar.
But of all the rock legends interviewed, Slater says it was Beach Boys svengali Brian Wilson who proved to be an almost monolithic presence.
"The immense contribution that Brian Wilson has given to the world makes his presence in the film exciting for everyone — for the musicians, for Jakob, and for me," Slater says. "Here's this guy with all these melodies in his head. The Beatles had George Martin and an arranger [at their disposal]. Brian was just Brian. ... That to me is really powerful. His presence was a little daunting."
That titular "echo" comes through most clearly in the film's concert sequences, which feature Dylan running through a setlist of Laurel Canyon classics alongside Fiona Apple, Beck, Regina Spektor and Cat Power. Filmed over two nights in 2015 at L.A.'s Orpheum Theater, the performances illustrate that '60s influence on a whole new generation of California artists.
It's this unusual structure that separates Echo in the Canyon from typical rock-doc fare; it's closer in spirit to Dave Grohl's Sound City than something like The Last Waltz. Slater has had a long career in the music industry — as a rock critic, as a band manager, as a record producer — but this is his first crack at directing a movie, and he wanted to be sure it stood out.
"It's inspired by a French New Wave filmmaker [Demy]," Slater says, "so while it has a narrative, it may not be defined as 'act one, act two, act three.' I was trying to make something that wasn't a historical document in the traditional sense." ♦
Echo in the Canyon opens at the Magic Lantern on Thursday, July 4.