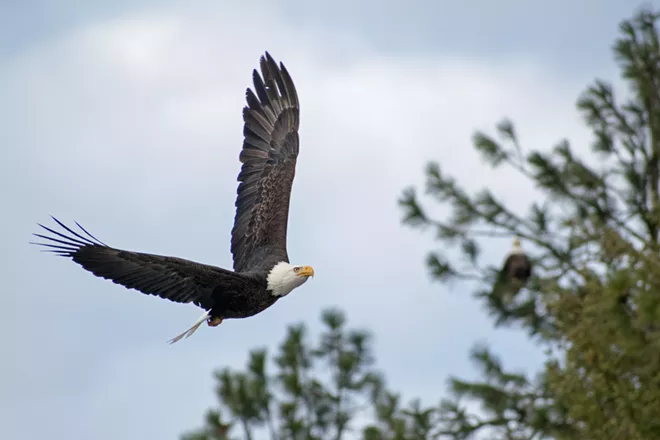 I
t's that time of year again.
The kokanee salmon are spawning at Lake Coeur d'Alene, which means that hundreds of bald eagles are there to snatch them out of the water. It also means the
Inlander
is there to take pictures of them
again
.
Last year, U.S. Bureau of Land Management wildlife biologist Carrie Hugo counted a total of 383 eagles at the lake in December 2017, a record number since BLM started counting in 1974 (the number back then was 13, she says).
Last week, she counted 110 eagles. It's a little less than the same time last year, but there's plenty of time for more to come. Peak eagle-viewing time is in late December. From Dec. 27-31, BLM is holding an eagle watch with giant telescopes, so that would be a good time to head out there.
"It's going to be a good year no matter what," she says. "Certainly people will have plenty of eagles to admire."
How does Hugo count the birds when they're flying all around the lake? It's a common question, she says. Basically, it's a fixed 12-mile route that BLM has done for 20 years. It starts near downtown Coeur d'Alene, then to Higgens Point, around Wolf Lodge Bay, then to Beauty Bay (that's where the bulk of the eagles I saw on Sunday were). She tries to only count eagles that are stationary unless they fly from where she's counting. She probably counts some of the
eagles
twice, but also misses plenty of eagles too, so by the end of the
route
the idea is that it evens out and she has a good estimate of how many there are.
Anyway, if you want to try to count them on your own, or at least watch them catch some fish, remember to try and be respectful of the eagles. Don't walk up too close and disturb them (if they fluff their feathers or fly away as you approach then you know they're annoyed by your presence). Also, try not to stand in the middle of the road so you don't get hit by a car.
If you don't want to go an admire the eagles in person, then you're in luck: You can admire these pictures I took Sunday!