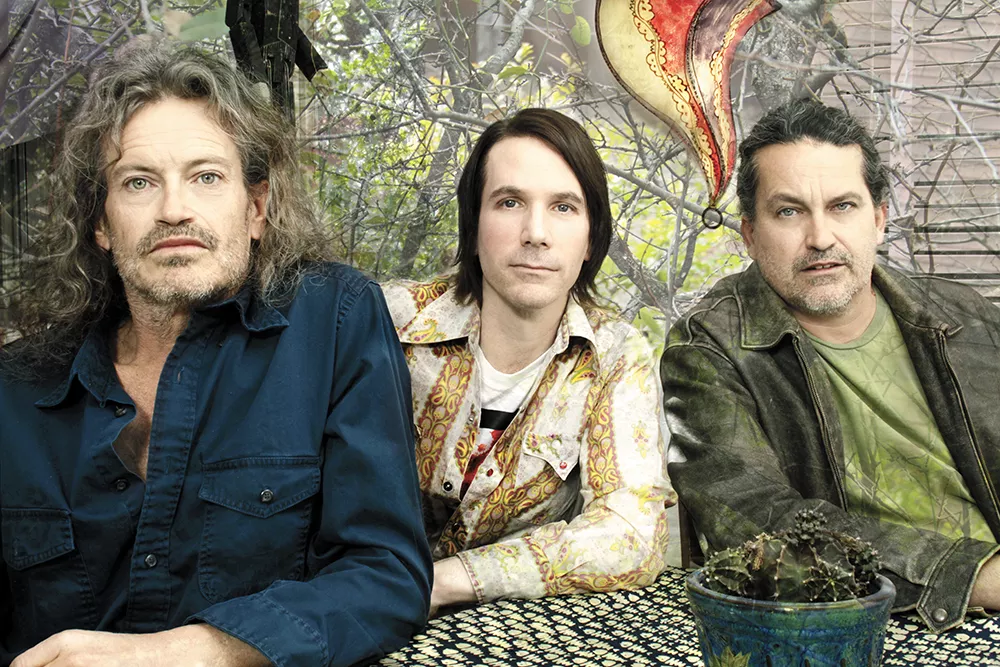 The song wasn't his.
"Nothing on the top but a bucket and a mop / And an illustrated book about birds," warbled Kurt Cobain during Nirvana's classic MTV Unplugged in New York sessions. He was borrowing "Plateau" from the Meat Puppets, an obscure alt-rock band that wasn't even part of the Seattle scene.
From the cozy stage, a greasy-haired Cobain puffed on a cigarette and invited the act to play backup to the chagrin of MTV, which would have preferred a bigger name to that of the ultra-indie Meat Puppets.
That was 20 years ago, a moment in time that arguably was the Meat Puppets' most memorable. Two more of their songs — "Oh, Me" and "Lake of Fire" — were performed at that show. A year later, the three-piece would find a hit with "Backwater."
But after 1994, things fell apart. Bassist Cris Kirkwood, who had started the band with his guitarist brother Curt, found solace in a drug the other Kurt knew a lot about: heroin. For an entire decade, the demons of drug addiction ruled Cris, leaving Curt to carry the torch.
They began as a nearly-punk outfit in Phoenix at the start of the '80s.
The Meat Puppets' debut album — 14 tracks that clocked in at 21½ minutes — saw frontman Curt screeching out indecipherable lyrics over howling guitars and pounding drums. On the next album, Meat Puppets II, the band pulled away from that hardcore sound, dabbling in psychedelia and country and forcing Curt to actually sing — which didn't stop the band from doing shows with other punk groups.
"That's where we started out, we liked to play fast," Curt says from his tour van during a recent phone interview. "We were never just punk, but that's how we got in. But that's where the creativity was, in the punk scene."
By 1985, the Kirkwood brothers and drummer Derrick Bostrom got out of the hardcore scene, choosing instead to do their own shows. Five years and four albums later, London Records came calling, leading to a tour opening for Stone Temple Pilots and the all-important cameo with Nirvana.
The forgiveness part wasn't easy. But there wasn't some "prodigal brother" moment, with dramatic scenes of weeping and hugging, when the Kirkwoods reunited in 2006. Cris simply said he was sober and that he wanted back in the band. He had gone to prison in 2004 after a confrontation with a security guard the previous year that left him with gunshot wounds, serving nearly a year behind bars. That opened his eyes; that was enough.
"He had the troubles behind him," Curt says. "It was obvious there was change."
Since then, the music has been the main focus. This year, the group, now featuring Shandon Sahm on drums and Curt's son Elmo on rhythm guitar (on tour only), released Rat Farm, its 14th full-length album and a quieter, more introspective record. The live shows are where Curt strives to improve his craft.
"It's a sick musician ego thing; you're only as good as your last show," he says.
A bus driver and busboy in his formative years, Curt says the Meat Puppets soldier on because this is what they know how to do. They're old now, with gray streaks through not-as-long hair. But for a band that began more than 30 years ago, they couldn't survive without the interest of new fans.
"It's been that way for a long time, that I've started seeing the younger generation coming out to our shows," Curt says. "But there's still a few folks that are as old as us coming out."
This week marks the 20th anniversary of the seminal MTV concert; this year is the 20th anniversary of Nirvana's final album In Utero. Seemingly every music outlet wants the Kirkwoods' reactions. Instead of being annoyed, Curt displays a positive attitude. His band is still around, still alive, sharing a recollection.
"Our past bears rehashing, especially with the Nirvana stuff," he says. "No matter how many times you tell it, it's still an enigma in the cool way that legends are. This one, Nirvana, for some reason, people are still scratching their heads, asking, 'What happened here?'" ♦
Meat Puppets with Blackwater Prophet, Colourflies, The World Taken • Sat, Nov. 23 at 7 pm • The Hop! • 706 N. Monroe • $10 • All-ages • holdmyticket.com