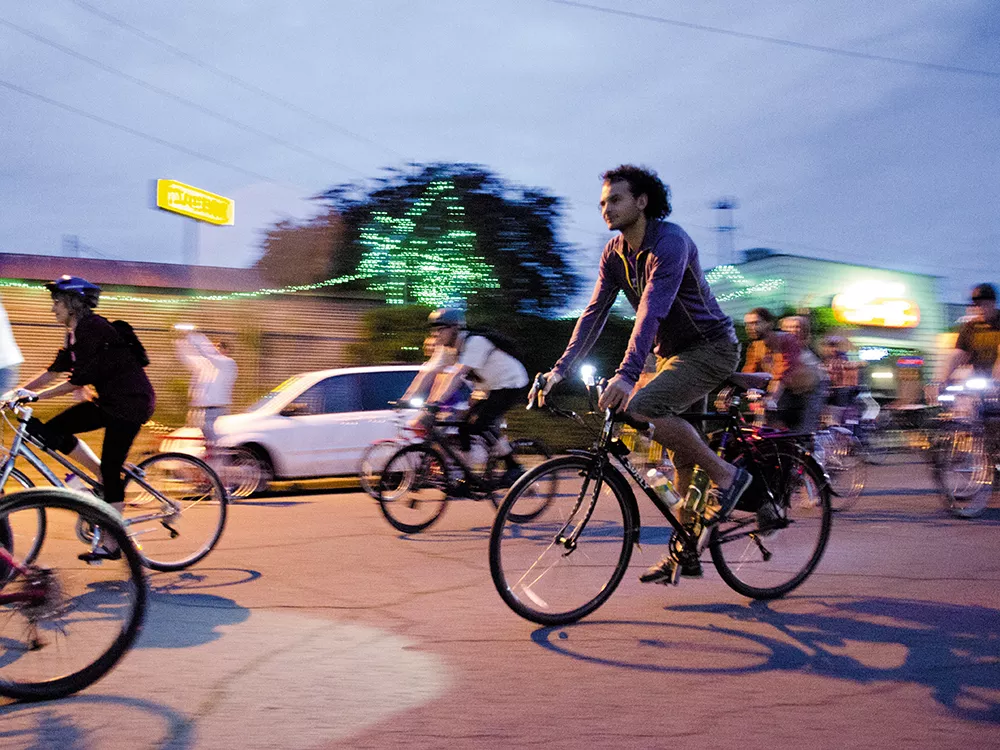 As night falls over the The Swamp, a neighborhood bar on the west fringe of downtown Spokane, about 200 people are ready to pedal. They stand over fixies and cruisers, BMX and mountain bikes. A family with four small children waits alongside people with cycling jerseys and flashy messenger bags.
This is the F---ing Bike Club, probably the closest thing to a convergence of all of Spokane's biking community, a gathering that's as much about biking as a your neighborhood book group is about reading.
The group has spent the past two hours pouring beer from pitchers and sipping red wine on the bar's patio. Now, they'll spill across the highway into Browne's Addition on their way to another bar. They wind their way through downtown, circle the fountain at Riverfront Park and ride through the Gonzaga neighborhood to Litz's. There, they'll lock their bikes to racks, signs and fences, and promptly deplete the bar's stock of PBR and Rolling Rock.
This Saturday, the club simultaneously celebrates both its sixth birthday and its death. Organizer Jeff Everett, who brought the idea from St. Louis, says he's no longer able to dedicate the time it takes to organize the ride, find bars to serve as starting and ending locations and design and print the customized spoke cards for each ride. He's a full-time graphic designer, a husband and the father of a one-year-old, and says the FBC has become a "part-time job."
Everett isn't handing the club over to anyone — he wants people to feel free to create their own project, and he doesn't want to be connected to something that fails.
"Everybody sort of associates me with FBC," he says, with the hint of a southern drawl. "If somebody were to take over and mess it up somehow, it would still kind of fall on me."
His advice to a would-be successor: "stick with it."
When Everett started the club, he spent the first four rides showing up to an empty bar.
"I would ride around the neighborhood, have a drink, go home and call it a fiasco," he says.
On the fifth ride, when a handful of people actually showed up, Everett didn't even have a destination in mind because he expected to be on his own again. These days, the "Full Moon Fiasco" rides often attract more than 100 riders.
Today, looking back on the club's six-year run, Everett and regular riders credit it with something bigger than creating a social scene. It's made cycling more accessible, they say, showing people "you can be a bike rider" instead of a "cyclist" and use two wheels as often as four on a daily basis.
It's also, they hope, changed the way drivers see bikes.
"I think it's brought to light cycling in a positive way," Everett says. "We can prove to those people in cars that we're not really in your way. We're not a big problem for you. … If 100 people are not in your way, one guy is not in your way."
The whole premise of the group — a swarm of cyclists, many who are already close friends, getting together for beers — can seem cliquish, but FBC veterans are eager to prove the opposite. Anyone is welcome on the ride, and experienced riders stop along the route to make sure no one's lost, having bike trouble or breaking the club's only rule ("don't be an asshole").
Spokane native Will Zobrist, who met Everett at a South Hill bakery, says he barely rode before he started going to FBC rides back in 2009. Once he got a car in high school, he says, he just didn't think about biking. But when he could use riding as a way to meet new people — and have a beer — he started going to almost every ride and inviting his friends.
"It's a lot of fun; it's low pressure," he says. "During the summer you see a lot of people out for the first time. They just got a bike or their friend got them into biking."
Moreover, FBC was at the root of a rise in bike culture in Spokane over the last decade, says Ken Paulman, who rode in some of the earliest FBC rides and has since moved to St. Paul, Minn. When it started, nothing else like it existed, he says, so it drew a diverse group of people who kept coming back.
For the people who'll miss FBC when it's gone next month, that's what they're losing: the chance to get together with a group of like-minded people, have drinks and happen to ride a bike along the way.
"That's the really unique thing about a city of Spokane's size," Paulman says. "You can convene your whole cycling community once a month." 
FBC Final Fiasco • Sat, July 27, meeting at 7 pm, ride at 9 pm • Swamp Tavern • 1904 W. 5th Ave. • fbcspokane.blogspot.com