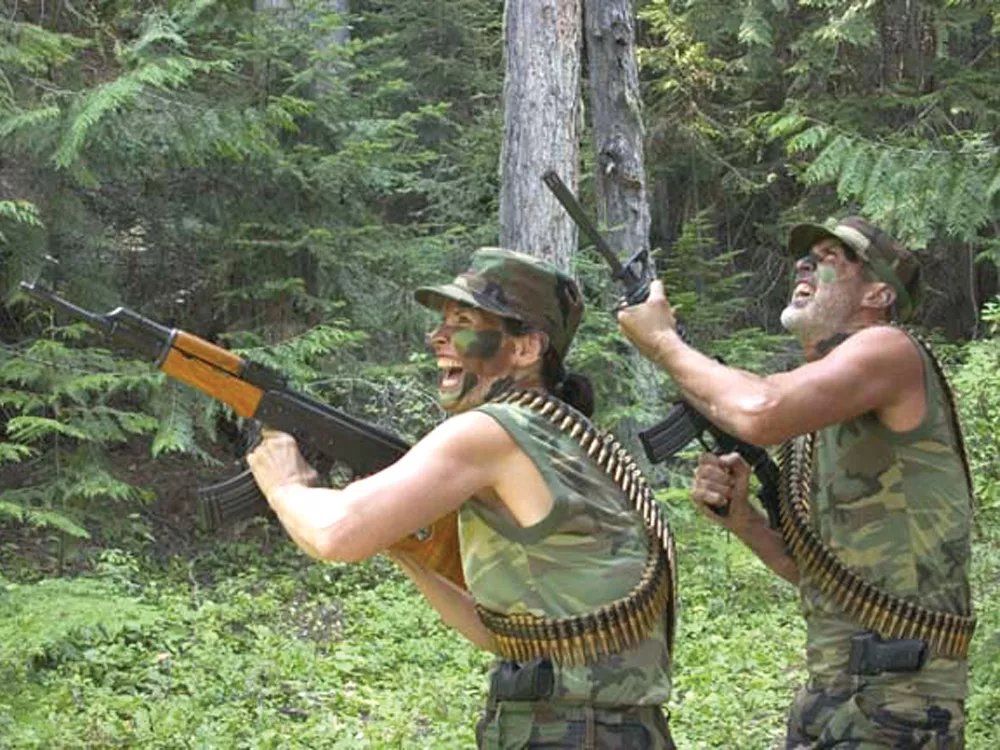 Doppelganger Donna - The Evil Twin starts off like any other movie: a title sequence, the opening credits. After watching just a few minutes, though, it becomes clear: This is no ordinary movie.
The film follows real-life siblings David Ball and sister Donna Ball Larsen. After a few accidents, David begins to suspect that something is not quite right with Donna.
Trailing her one night, he discovers that scantily clad "Moan-eek," Donna's evil twin, is behind a series of the mishaps. A wacky film follows — filled with encounters with a biker gang, a psychiatrist and a priest — as the pair tries to rid their lives of Moan-eek forever.
It's an out-of-the-ordinary film from a couple of pretty out-of-the-ordinary filmmakers, who came up with the idea during their family's Christmas party.
With such a large extended family (45 people and counting), it was decided that instead of buying gifts, each household would provide some form of entertainment — a game, skit or song — during the annual Christmas party. After one group showed a slideshow of their newborn baby, Ball and Larsen realized that not having to perform live meant they could have some fun with this.
At the next year's party, the pair debuted their first film, The Lynda Blair Witch Project.
It wasn't perfect. Since neither sibling knew how to edit, they shot each scene in one take, using whatever they managed to capture. The next year, the pair decided to add credits to the end of their second film, In Search of the Lost Amulet.
"The first time we did credits, we typed it and printed it and I pulled it across the table while Donna filmed it," Ball recalls.
Five years ago, though, the pair recruited a friend who runs his own videography business to film their movies. And Larsen's boyfriend, Steve Whitacre, also got in on the action — building equipment and stepping in front of the camera as "Father O'Malley" and "Guy On Bike" in Doppelganger Donna.
Over the last few years, though, the siblings' films have gained an audience beyond the family Christmas party. With support from their friends and family, Ball and Larsen began to bring their creations to local screens. In 2007, the pair rented space at WSU's Riverpoint campus for a complete film retrospective, playing Films 1 through 7 and debuting their eighth: Yaak Commandos.
This year, they've rented the largest space yet — the Garland Theater — to premiere their 11th and most recent film, On the Lam, which follows Ball and Larsen on the run after they witness a murder.
Making each film is stressful, with weeks of planning and shooting and countless hours of editing involved. But both siblings frequently mention how much fun they have working together.
"David and I are the very best friends," Larsen says, laughing. "We tell each other that we have to die together because we couldn't handle being without each other."

On the Lam • Sat, Jan. 7 at 7 pm • $5 suggested donation • Garland Theatre • 924 W. Garland Ave • garlandtheater.com • 327-1050