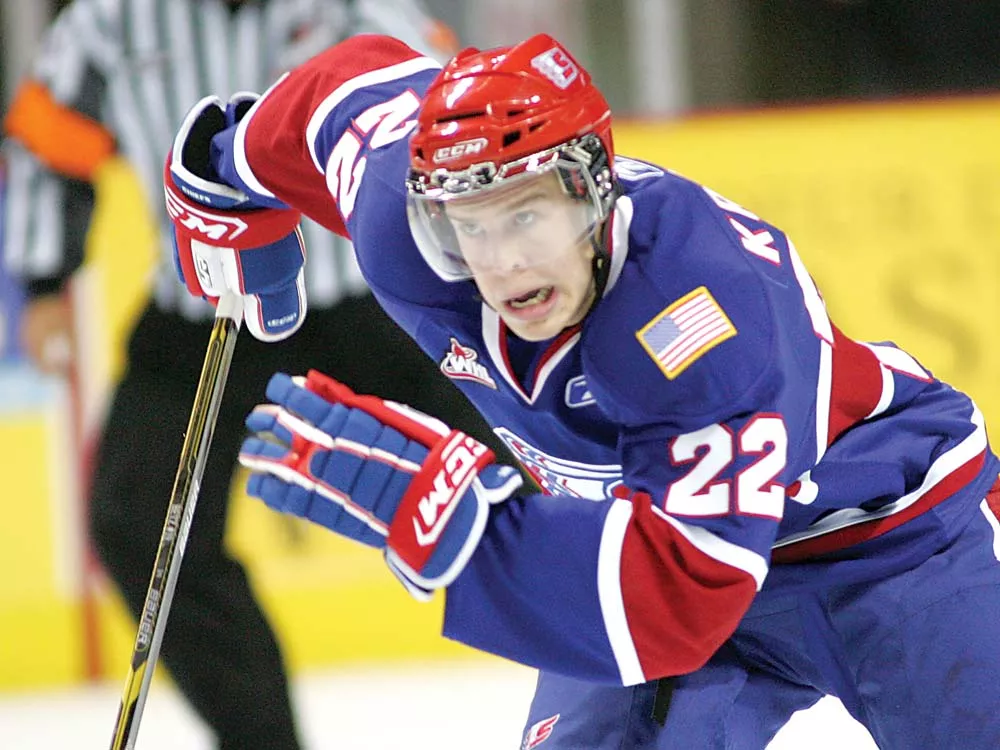 Like most fourth-line hockey players, Darren Kramer has to fight for ice time. What makes Kramer different than most players is that he literally fights for ice time.
Kramer, one of the busiest and best fighters in the Western Hockey League, quickly became a favorite with Spokane Chiefs fans as a rookie this season. The 6-foot-2, 207-pounder from Peace River, Alberta (population 6,200) led the WHL with a whopping 306 penalty minutes.
Kramer scored just seven goals and 14 points in 68 regular-season games. However, the rugged left winger tied for second on the team with five goals in the first two rounds (11 games) of the playoffs, and he had just six penalty minutes to go with his six points.
With the Chiefs battling Portland in the WHL playoffs, The Inlander sat down with Kramer to discuss his role as the team enforcer.
INLANDER: Let's cut to the chase — why do you fight so much?
KRAMER: There's a need for the role. I think it's a very important role. It's very exciting. It's good for the fans as well.
How do you respond to those who say hockey should ban fighting?
I understand it. I mean … It's going to happen. You have people who don't agree with it. That's like everything in life. There are things I don't agree with in life as well. You just have to cope with it. They don't understand, but the people who know about the sport, they understand that it's something important, and they're the people that matter.

What does your mother think about her son getting in so many fights?
When I was 17, I had 22 fighting majors in 38 games. At that point, she was kind of shocked, I think. She didn't know that that was hockey. She was used to her son scoring goals. She thinks it's exciting now. She comes down and she loves to see how excited the fans get when I go at it. She's gotten used to it after about a hundred fights.
It can't be easy fighting on ice on skates. What are the keys to winning a hockey fight?
You have to be confident, [but] you've got to go into it scared. [Smiles] You know your life is on the line, so you're going to go as hard as you can go. You just have to make sure you're staying balanced and have a good grip [on your opponent's jersey], because if you don't have that good grip, at any minute, you can be eatin' one, and they'll be taking you down.
The rest are secrets. [More smiles] You don't want to give away too many tips to the public. I mean, there are little strategies that you learn over the years that you use. Other fighters use different strategies.
It's a whole new world when you're toe-to-toe with one person and the whole crowd and your teammates are watching you. You do what you can. It comes down to instincts in the end.
Do you agree that most hockey enforcers, like yourself, are unusually popular and friendly people off the ice?
Absolutely … you have to be a good guy to do it.

The Spokane Chiefs and Portland Winter- hawks play in the Western Hockey League Western Conference finals • Fri, April 29, at 7 pm • Spokane Arena • $11-$20 • All-ages • spokanechiefs.com • 328-0450