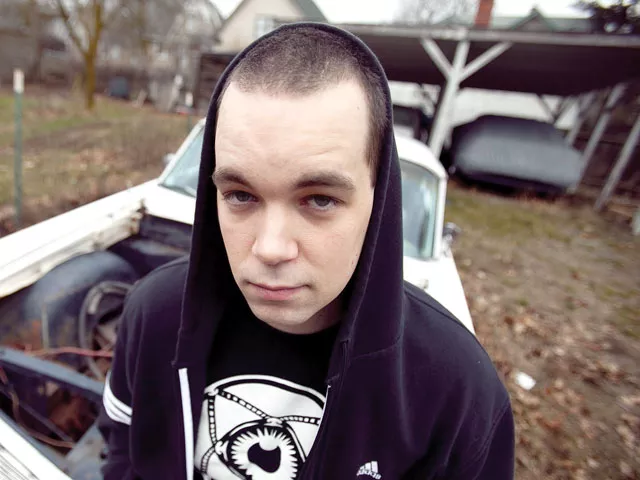 "I'm not saying that Elkfest doesn't have a party vibe," Patrick Kendrick of Platform Booking says, "but they have to be done over there by 10 pm. So that's when Junkfest starts.
"It's like an indoor Elkfest after-party."
Timing and location aren't the only things that separate Elkfest and Junkfest, however. Kendrick has booked a diverse array of bands, rappers, solo acts and DJs for his moonlit gala.
"For the last four years of booking," he says, "I've tried to mesh very different acts together, with hopefully seamless transitions between them. These [performers] are some of my favorites that I've booked, some of the more unique ones that I wanted to bring back. This has pretty much been my objective, since I moved here — putting together good shows with crazy, interesting acts that I like."
QUIZ ALBUM RELEASE
The first evening of Junkfest doubles as a CD release show for the prolific local hip-hop artist Quiz. Always an experimenter, Quiz has been keeping his hustle steady and putting together interesting new projects in addition to finishing his first official solo album, Not A Mixtape.
"It is intended as a commentary on current music versus the attention span of today's average listener," Quiz says. "It's not a mixtape — it's an album; songs that serve a purpose, when played side-by-side. It's spaced-out and gritty."
He has also been recording guest vocals and producing a few tracks for rap femme fatale Jaeda, planning an audio engineering-oriented schooling venture, and "working on a garage-techno, TV On The Radio-type of thing, with [the French production team] RoRoStalingradVilla. It's a project with no rapping at all, just instrumentals and shit."
XRIN ARMS
"Harsh psychedelics" is how the nomadic Midwestern/ Californian musician Anthony Vincent refers to his own music. That label is not at all inaccurate, but it fails to fully capture the bizarre mix of electro-psych, soul and screaming digital grindcore that he makes as Xrin Arms (which is, oddly, pronounced "you're-in-arms"). The constantly touring Vincent concocts intense, manic songs like "Black Apples" that interweave chanting sonic violence with moments of reflective profundity. His latest album-length release, Coy Insanity, adds a substantial amount of melodic diversity to his harder-edged tracks, but Vincent really must be seen live to be understood. The ragged, funkier aspects of his music coalesce into an experience of propulsive immersion, dragging those present down with him, into his abyss.
Quiz plays with Metal Shakespeare Company, Hillstomp, Jaeda, Freetime Synthetic, DJ Stone Tobey and Benjamin Jorgens at the Sunset Junction on Friday, June 4, at 7 pm. Xrin Arms play with Limbs, Belt of Vapor, Please Draw In Me, Team Growl and DJ Likes Girls at the Sunset Junction on Saturday, June 5, at 7pm. Tickets: $8. Call 455-9131.