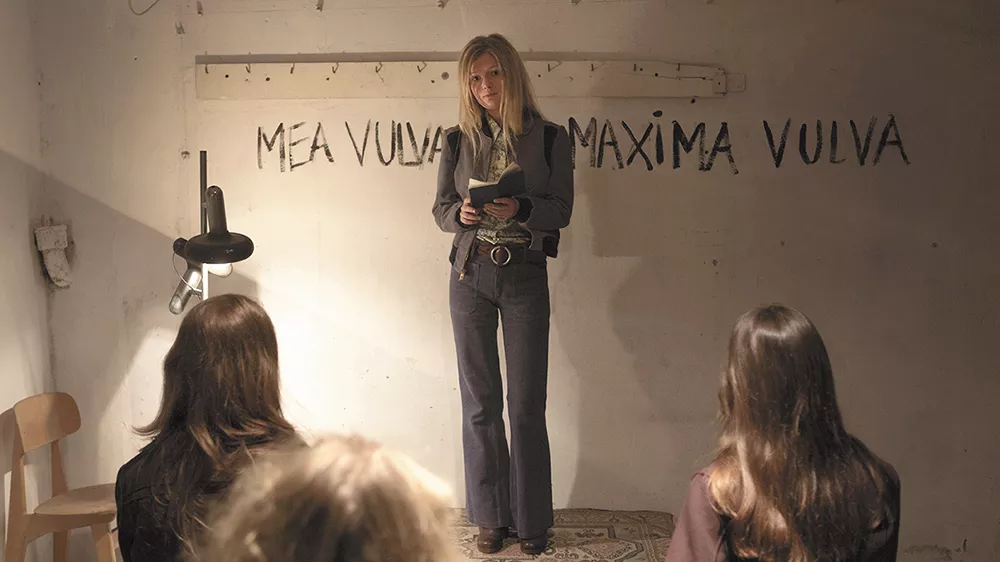 Near the end of the closing credits of Lars von Trier's epic sex addiction film, there's a disclaimer: "None of the professional actors had penetrative sexual intercourse, and all such scenes were performed by body doubles."
If only that sentence was at the beginning of the film, I wouldn't have been wondering, while watching, if that was really Shia LaBeouf doing that with newcomer Stacy Martin.
I know this is going to disappoint some of you, but Nymphomaniac: Vol. I is erotic, not pornographic. Oh, there's plenty of full-frontal male and female nudity, and there are a variety of explicit sex acts. But it's really a character study, one that might make you squirm and every once in a while make you laugh... until the squirming resumes.
Dark and moody in atmosphere, the film opens with a camera roaming through a dreary back alley, stopping to examine an unconscious, bloodied woman on the ground, complemented by the jarring noise of German metal band Rammstein. An older fellow who lives nearby discovers and revives her, takes her to his apartment to rest, then sits by while she explains what led up to her predicament. She is Joe (Charlotte Gainsbourg) and he is Seligman (Stellan Skarsgård).
The film turns into a series of flashbacks of her discovering feelings of intense sexual desires as a young girl, then putting them to work for her own unquenchable pleasure, and keeps returning to the bleak apartment where she's telling the story, while he continually drifts off into his own totally nonsexual flashbacks.
This is far more Joe's story than Seligman's. He remains an enigma throughout, while she's convinced that she is a bad person, and explains why. But you've got to wonder what was going on in the head of von Trier to come up with this bizarre, compelling fantasy of a strong-willed young woman (most of the flashbacks are of Joe, at around 16, played by the obviously fearless Stacy Martin) as a sexual huntress, recklessly determined to have as many men as possible, not caring that she might be ruining some of their lives.
There's physical violence, but it's all done off-camera, and an abundance of emotional violence on display, including an amazing turn by Uma Thurman as an angry woman whose marriage has been turned upside down by Joe.
It's probably a good thing that von Trier cut his disturbing, yet quite moving 5½-hour film into two parts. Nymphomaniac: Vol. I ends with a cliffhanger. You'll have to wait until next week, when Vol. II opens, to find out what led up to Joe in the alley. ♦