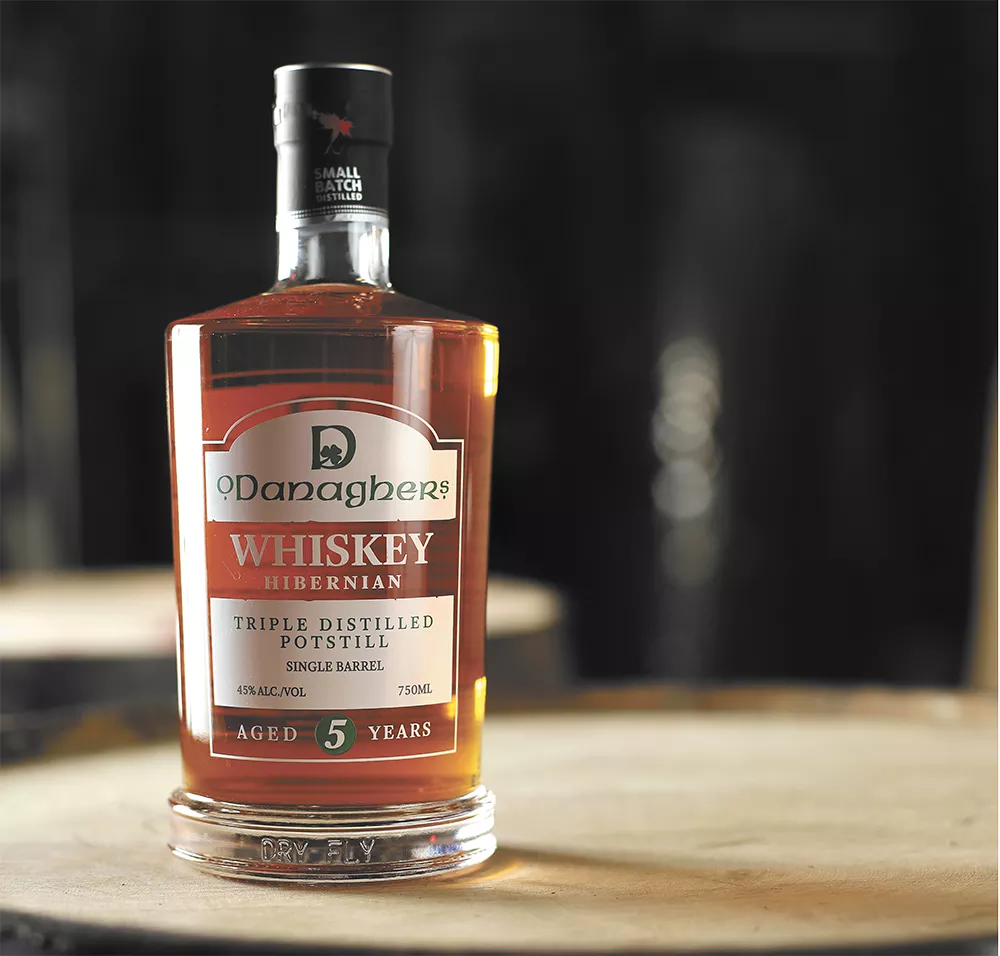 On a cold morning in late November, there was a line beginning in front of a building just off Trent Avenue in Spokane's Logan neighborhood. When the doors finally opened hours later, those who'd weathered the elements weren't treated to Gonzaga basketball tickets or a viewing of the new Star Wars movie, but rather a bottle of whiskey that only a few people in the world would get their hands on.
This is the sort of fanbase that Dry Fly Distilling has cultivated since they began making spirits in 2007. When they announced that after five years their new, ultra-limited, Irish-style whiskey (although they can't call it that, given that it's made in the U.S.) was finally in the bottle, those fans responded. By the end of the day, most of the 600 bottles of O'Danagher's Single Barrel "Hibernian" Whiskey had been swooped up, either at the distillery itself or at Total Wine and More.
Dry Fly partners Don Poffenroth and Kent Fleischmann, both of whom were marketing executives before establishing one of the Northwest's most renowned craft distilleries, still wanted to let people know about the whiskey. It's almost cruel to tempt people like this.
"If you missed batch one, that's a tough break because there's only one batch one, but there will be another batch coming out soon," says Fleischmann. "We've made this and waited years for it. You had your chance to get in line and if you didn't, we're going to tease you."
Fear not, though: Dry Fly plans to release another 350 or so bottles in March in time for St. Patrick's Day.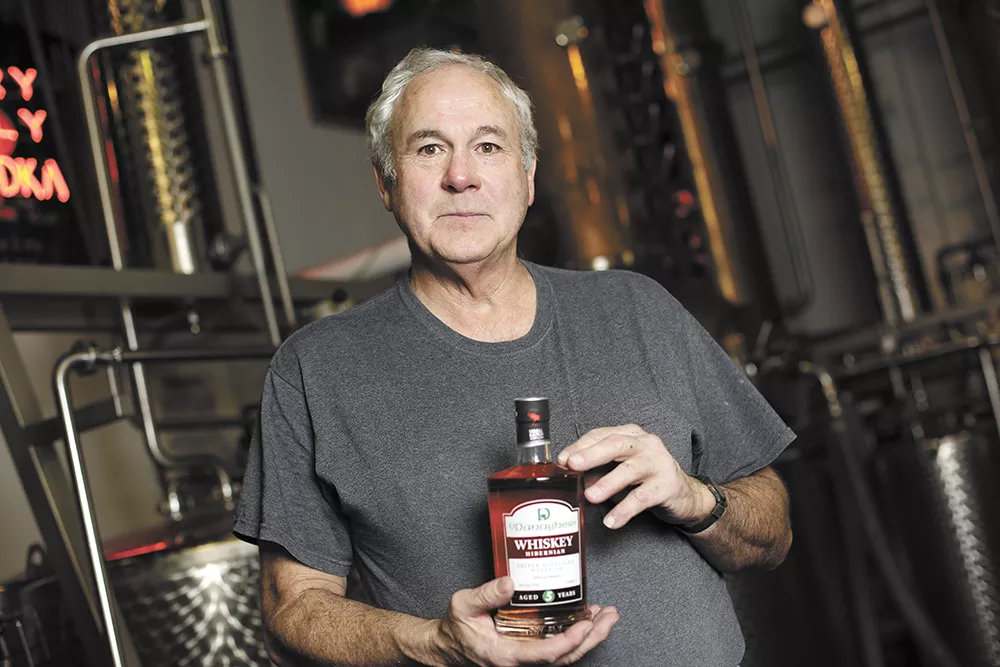 The story behind O'Danagher's only sweetens its appeal. The triple-distilled creation is the brainchild of Tim Danaher, who christened the liquor with his family's original name when they came to the U.S. from Ireland in the 1840s. Danaher has been a farmer in Colfax for most of his life, raising wheat, barley, legumes and other crops, and in 2008 he signed up for Dry Fly's Consultation Program.
He sucked up all the knowledge he could from the weeklong workshop that has served as a jumping-off point for distilleries around the country. But that wasn't enough. When he wasn't farming, he was hanging around the distillery.
"I took this class and I kept coming back and bugging these guys. They finally said, 'What do you want to do?' I said I wanted to make whiskey," says Danaher.
Specifically, he wanted to make something resembling an Irish whiskey, and wanted to use his own wheat and barley to do it. Eventually, Dry Fly signed him on as the supervising distiller on O'Danagher's. Since then, he's been waiting for his baby to hit five years old.
"It's like having a child. You get to find out really fast if you've done a good job with that child," says Danaher, who was more than pleased with the smooth final product. "It's a dream come true. [Dry Fly] has been so generous and so patient."
For the distillery, the partnership has resulted in one of their most sought-after products.
"He made us wait five fricking years to taste it, which was annoying as hell, but that's the kind of thing that we wanted and needed from Tim. That's why he's the supervising distiller, because he has the patience and knows what we need to do to make a superior product," says Fleischmann.
As a company that's now distributing nationally and to 20 countries, O'Danagher's represents just a sliver of what Dry Fly is doing. Their vodka and gin continue to be among the best-selling craft spirits in the Northwest, and their Washington Wheat whiskey and bourbon were recently written up in Men's Journal in a piece about the surge in whiskeys coming out of the region. Currently, their barrel storage is big enough to take up a 15,000-square-foot warehouse.
Fleischmann says that projects like O'Danagher's are a way to keep Dry Fly innovative while also giving their devoted followers a treat here and there. In about 18 months, Danaher's next creation, a Scottish-style whiskey, should be ready for the bottle. Dry Fly also has whiskey awaiting the 10-year mark, which Fleischmann says will be a landmark release for the company when it's finally ready for the bottle.
"We're very grateful for the fans that we have," says Fleischmann. "We know that our fans like to get a glimpse of a product that isn't always readily available. There's fun in that." ♦