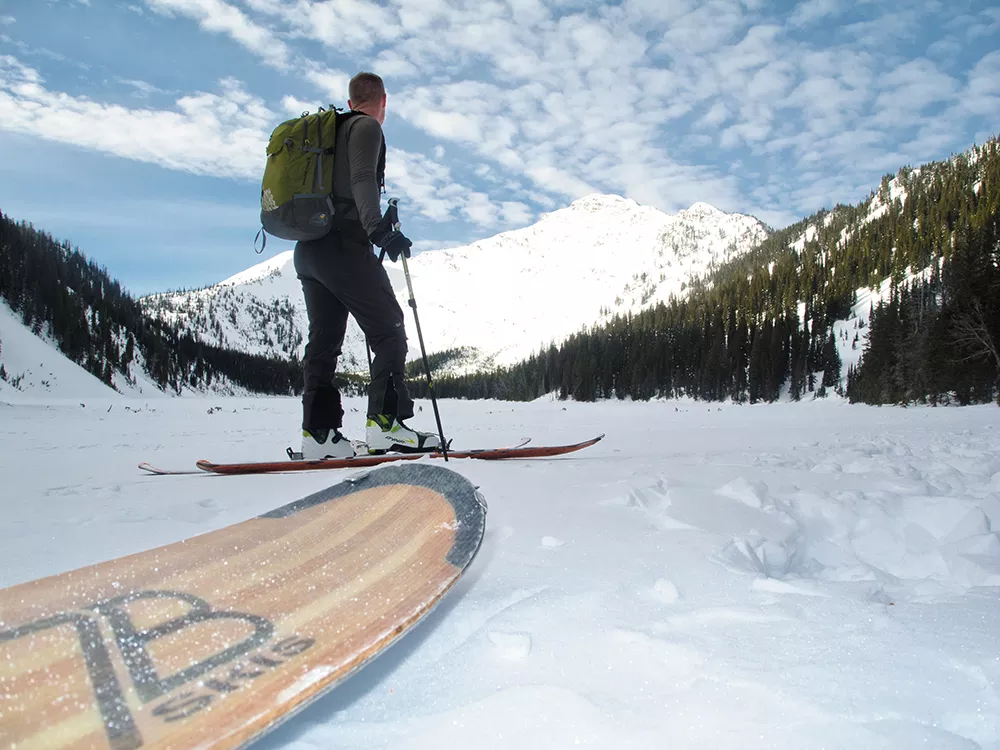 Five years ago David Marx was working at Schweitzer Mountain Resort and skiing as much as possible. The 49-year-old was a lifelong skier who preferred the backcountry.
"I was always one who was just kind of out exploring the boundaries as much as possible," Marx says.
However, he says he was increasingly annoyed by the sheer amount of gear that went into most backcountry trips. The terrain that was accessible was generally low angle (think logging road). Skinning up — putting a synthetic skin on the bottom of your ski — was overkill, and using snowshoes and carrying your gear was, as Marx says, a "useless waste of time."
So, Marx decided to create his own skis. Skis designed specifically for the terrain. Marx, who is a part-time woodworker, says he realized that he had nearly all the necessary equipment. In fact, the process turned out to be fairly simple. He carved small grooves set in the base of the skis (a typical design in cross-country skis) that catch the snow. This allowed him to both ski up and down hills.
Marx didn't know it at the time, but he'd planted the seeds of his future company — 7B Skis.
Three years after building that first pair, Marx says he began marketing and selling skis. In that time, he tweaked the design and manufacturing process in addition to focusing primarily on skis for broad useage.
"Really, what 7B Skis has become is I'm building handmade, customizable skis for the general market," he says. "They are based on a backcountry mentality in the sense that they're lightweight."
So far, 7B Skis has sold around 50 pairs, costing about $700. Marx does all the design and manufacturing from his home in Sandpoint, and while you can rent and buy 7B Skis at Schweitzer, most of his business is done online. Although he sees himself competing with corporate ski manufacturers, Marx approaches skiing and ski design much differently. He believes firmly in the adage "less is more."
"When you look at what has become of modern ski design, it's just silly," Marx says. "They're [skiers] out there packing all this weight, all this size. But the reality is that with a properly designed ski … you don't need all this mass."
And that, he adds, is the backcountry mentality.