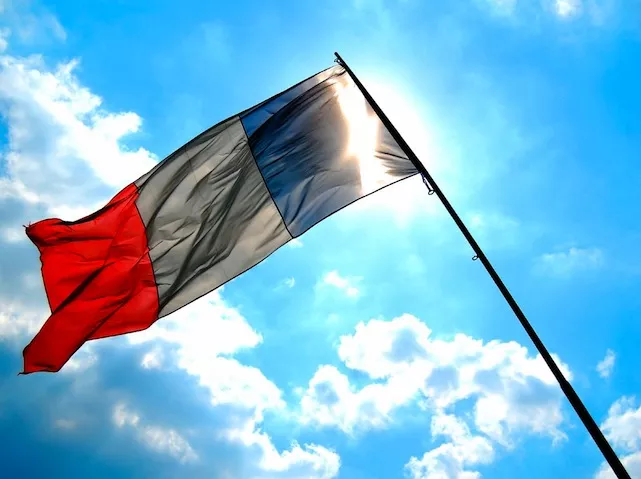 What does Eckart Preu know about French music, anyway? Well, he lived in Paris for two years while studying conducting. The Spokane Symphony's music director may have been poor back in the mid-'90s ("a croissant was a luxury"), but he ate a daily baguette ("like heaven on a stick").
As an ambitious student — and a German — he expected rigor and discipline. Instead, the French lingered over two-hour lunches ("I was bored — they put me to sleep") and socialized during rehearsals ("you couldn't get any work done").
In the age-old competition between German and French music, it's clear which side Eckart is on. "The French have very good musicians, but they have very few great orchestras," he says. "It's that cult of French individuality."
With that familiarity/bias in mind, we asked our German maestro to rate the Frenchiness of Friday night's music.
Then we offered him 50 bucks to wear a beret during the performance. (More on that later.)
---
FRANZ JOSEPH HAYDN, Symphony No. 85, "La Reine"
Frenchiness rating: Not very, like French Fries. Haydn was Austrian and borrowed a French tune to suck up to Parisians.
And it worked: No. 85 was La Reine's — the queen's, Marie Antoinette's — favorite.
What's French about it? The second movement (of four) presents several variations on a popular French song of the era. "He hammers that thing to death," Preu says. "It's as if you were asked to write music for the president of the United States, and you did variations on 'America the Beautiful' — of course he'd like it. It was a cheap trick, really."
---
JEAN-PHILIPPE RAMEAU, Suite from Les Fetes d'Hébé
Frenchiness rating: Relatively French, like flying buttresses The Fates of what? Ftes — the title means "The Festivities of Hebe." She was the Greek goddess of youth, cupbearer to the gods, and wife of Hercules.
Background: In 1739, the organist wrote a two-hour "opera-ballet." (Don't worry, the suite's only a few minutes long.) Subtitled "The Lyric Talents," it's a celebration of poetry, music and dance involving lots of obscure mythological characters — France at its most neoclassical. Trs élégant.
But this concert is entitled "Casual Classics 3: Paris — In the Theater with the Sun King": Yeah, we know, and Louis XIV had died a generation before Rameau's opera premiered. But Preu had originally planned to begin this concert with a work by an earlier composer, Jean-Baptiste Lully. The Symphony marketing department, evidently, didn't get the memo.
---
DARIUS MILHAUD, Le boeuf sur le toit ("The Bull on the Roof")
Proper French salutation: "Whassup, DAHRee-us mee-YO?"
Like a Brazilian samba? Yes, but in a French way. "Milhaud didn't want to write jazz — he is a Frenchman writing jazz," Preu says. "Similarly, he wanted to write his version of South American music."
Mood: Boisterous Moulin Rouge craziness. As Preu says, "This was from a time in Paris [1919] when nothing was taboo."
Man, I've heard this somewhere before: "The main melody is pretty famous," Preu says, "and besides, he repeats it so much, halfway through, you'll feel as if you know it."
---
FRANK MARTIN, Petite Symphonie Concertante
He was Swiss: So it's not MART-un, but mahr- TEH [n] , with that Gallic nasal sound.
Set-up: Premiered in 1946, the Petite Symphonie is a 22-minute work for a string orchestra that's divided in two and seated to the rear of three soloists: harp and harpsichord on the sides, piano up front.
Gallic identity: As a Swiss living next to France, says Preu, Martin "had a nose for French musical flavor."
---
MAURICE RAVEL, Mother Goose Suite (Ma mere l'oye, 1912)
Rating: the Frenchiest of Friday's French music. Like a mime wearing a beret, holding a baguette.
Narratives: retells in music the stories of Sleeping Beauty, Beauty and the Beast, Tom Thumb and assorted fairies.
Eckart sez: "Ravel has the French taste for delicacy and Impressionism ... It's never bombastic music, like you would find in Beethoven or so."
---
Summing up, Preu says, "I love the Ravel and the Milhaud. The Rameau, I have never done. And I think people will think the Martin is such a discovery."
As for that beret, Preu says, "I've never worn a beret, and I don't own one. But 50 dollars is a lot of money...."
And then Eckart throws back his head and laughs his big open-mouthed laugh, pounding a nearby table with his hand. He's the very picture of joie de vivre.
How very French.

Eckart Preu conducts the Spokane Symphony Orchestra in a program of French music at the Fox on Friday, May 21, at 8 pm. Tickets: $19-$30. Visit spokanesymphony.org or call 624-1200 or (800) 325-SEAT.