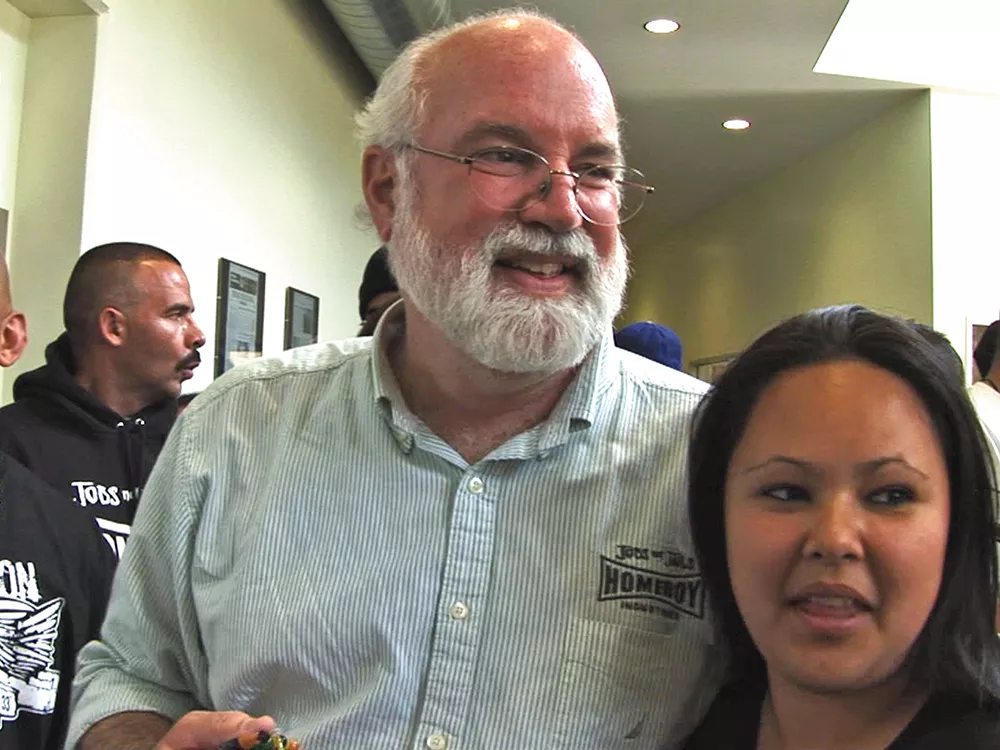 I had never heard the name of Father Greg Boyle when it was announced that the Jesuit priest would be the commencement speaker at my college graduation. With a prominent film school, Loyola Marymount had the ties to bring in Goldie Hawn the previous year and a pre-publicly insane Mel Gibson the year before that.
I figured we'd at least get Burt Reynolds. But Father Boyle did not disappoint. He told the rapt graduating class assembled under a warm Los Angeles sun about how he had devoted his life to helping gang members no longer need to be gang members. He called these guys "homies," and it was tough not to giggle at the sight of a white Catholic priest using street slang. But Boyle — who did his undergrad work at Gonzaga — was no joke. Through his Homeboy Industries, he'd found a way to assimilate gang members into the folds of society by finding a spot for them in the workforce.
Coincidentally, when I took my first job a month after Boyle's speech, it was as a cub police reporter working the night shift in L.A., which meant dealing nearly exclusively with gang violence. And I never forgot that somewhere out in East L.A., Father Boyle was trying to stop this sort of destruction.
Now Boyle has popped up on my radar again, this time as the subject of a new documentary, appropriately dubbed G-Dog, the nickname the former gang members have given him. Directed by Freida Mock, who won a Best Documentary Oscar for 1994's Maya Lin: A Strong Clear Vision, the film takes us into the heart of Homeboy Industries and how Boyle's notion that "nothing stops a bullet like a job" is proving to be true on the streets of Los Angeles. In the film, we see former hardcore gangbangers learning job skills, ranging from restaurant work to clothing sales, by working at Homeboy Industries' businesses. The organization also provides fatherhood training, substance abuse assistance and tattoo removal.
More than anything, we see Boyle — through Mock's lens — shining a humanistic light on a subculture written off by society, to the point that gang killings weren't even making the evening news in L.A. when the violence was at its worst over the past decade.
"Gang violence is not about anything, it's just the language of kids who've given up," says Boyle at one point in the film.
Mock says that she made the film, in part, because society at large doesn't understand gang life.
"This film has been an eye-opener to confront my own misconceptions, and to realize that gangs are both a complex social and public safety issue," says Mock in her director's statement.
The film's cinematographer, Erik Daarstad, lives in North Idaho and is bringing the documentary to Sandpoint's Panida Theater. Both screenings are also slated to include a Q&A with Daarstad and Mock, the film's director.
Sandpoint doesn't have a gang problem, of course, but perhaps it's time we acknowledge that it is a problem. Even if it takes a guy like G-Dog to tell you about it.
G-Dog • Fri, June 7 and Sat, June 8 at 7:30 pm • $7/adults, $6/students • Panida Theater • 300 N. 1st St., Sandpoint • panida.org