The longer I live in Spokane, the more I notice the pops of color on the walls of bridges, buildings and alleys.
In the Garland District you can find murals in many of the nooks and crannies of the four-block neighborhood. And this Saturday, July 27, a group of artists will expand the Garland's mural collection with a day-long painting party.
The alley's existing murals, and their respective artists, inspired the decision to offer the community an opportunity to watch artists in action. People can bring lawn chairs and cameras to take in the art being created right in front of them. It's also a unique event because so many artists will be working at the same time, something that rarely happens.
"The Art Alley started two years ago because the artists that were doing the Maple Street Bridge mural needed a place to practice with some of the muralists that they would be working with," says Julie Shepard-Hall, the president of the Garland Business District, of brothers Cain and Todd Benson.
The idea of filling the alley with art was inspired by attractions like the gum wall in Seattle and an art alley in Rapid City, South Dakota. Shepard-Hall's goal with Saturday's event is to create a destination in Spokane that shows off art and feels like a "must-see" stop when people come to the city.
"I wanted to find a way to set us apart, to create an environment where people want to come. Hopefully, that pushes people to shop the shops and experience the district," Shepard-Hall says. "We're always looking for a way to increase foot traffic in our district and I think this is a good way to do that."
The event will also serve as a fundraiser serving the artists and future work in the alley.
"My goal is to raise some money so we can have a fund to have grant money set aside for people to apply to cover costs for supplies," Shepard-Hall said. "Several of us have paid out of pocket to cover artists' supplies and time, so I think it would be nice so we can help the artists. I don't expect them to paint for free. Artists need to be compensated for their time."
In order to raise some money, this weekend's event will have a $5 suggested donation, and they'll be accepting private donations to continue the growth of the Art Alley.
Shepard-Hall says she also hopes the mural event will help decrease graffiti and tagging in the area.
"Two summers ago we got hit really bad with tagging and graffiti through all four blocks of Garland. They've continued to happen, but we have found that where the art is, they don't graffiti it," Shepard-Hall says. "They seem to have a respect for the art and so the more art we have, the less graffiti we see ... I hope that they will come and it would inspire them to seek out other ways to create art other than tagging property."
So far 11 artists have painted in the alley, and for Saturday's event 17 artists will be adding their work, including Amanda Caldwell, Crash, Elaine Gerard and Kyle Macy. Some have already painted multiple murals in the district and others are new to the medium, like Cody Peone.
Peone is new to spray painting and was inspired by artists like Daniel Lopez, an artist who has already painted multiple murals in the district and around Spokane. Lopez will also be participating Saturday.
"I've been working with all different mediums of art my entire life," Peone says. "I felt like this is the start of a new journey and this event is like the gateway to that; it's like the harbinger of good things to come."
Peone, who grew up on the Kalispel Reservation and currently lives in Spokane, will be painting something Native American-themed for his mural. He says he wants to use this event to share his art with the community as well as learn from other artists.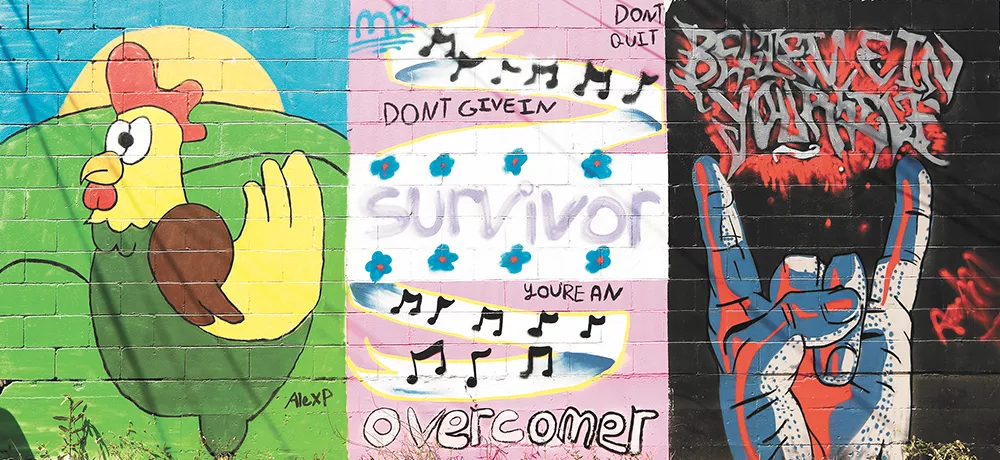 "It's kind of a new adventure and for people to come, that makes it not just about me but about other people as well, and that's what being a Spokanite is all about," Peone says. "It's about being there for each other and about the community and I think the art testifies to that. People will come just to see the art and it says different things to different people. And when we come together with different views and opinions, we have a community after that."
To create an artistic space for people to come and share their views, stories and experiences through art is a big goal of the event. It will feature many different artists and styles, and Shepard-Hall says there will be something for everyone.
"The nice thing about the murals is they're not age-specific. People admire them if they're 4 years old or 80 years old," Shepard-Hall says. "That's the fun part; that it attracts so many different people." ♦
ART in Action Garland Art Alley Mural Event • Sat, July 27, noon-6 pm • $5 suggested donation/ free for kids 12 and under • Garland Business District • Alley south of Garland Avenue, between Monroe and Post streets