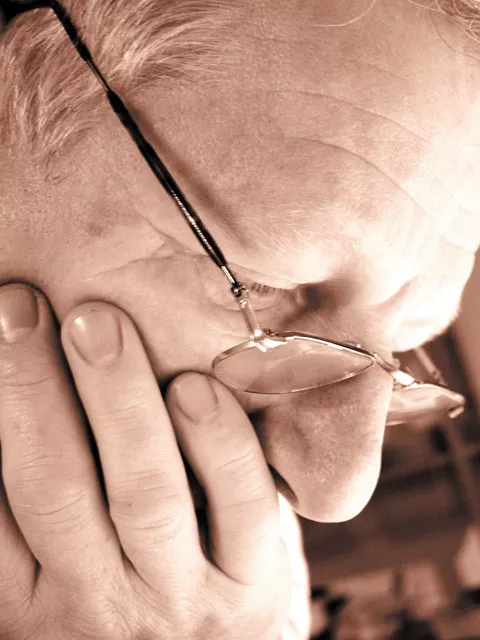 Don Bridwell's phone rang. It was his elderly mother calling, again. Again in a crisis. Why does your voice sound so muffled? Bridwell asked.
"I'm hiding in the closet," his mother said. She was afraid, she explained, of the people hiding in the television. Afraid they would come out of the television and chase her around the room.
It got worse. The garbage wasn't being taken out. Bills weren't being paid — the electricity and phone were disconnected.
Pam Sloan, director of Elder Services at Spokane Mental Health, says that many seniors and family members don't know where to turn when confronted with mental illness.
"There's a huge stigma, especially with … people who are 75 years of age or older," Sloan says. They see themselves as tough, she says; they've lived through tough times. They're used to pulling themselves up by their bootstraps. And, compared to younger generations' seeming willingness to keep few secrets, their generation was a private one, not needing or willing to ask for help.
While getting older comes with a number of challenges, mental illness — usually in the form of depression — is not a normal part of aging. Depression does, however, occur more frequently in people suffering from another medical problem, such as cancer, diabetes or cardiovascular disease. National estimates show that depression affects nearly 20 percent of Americans 65 and older.
It can mimic the symptoms of dementia and is associated with increased dependency and disability. In fact, a recent study at the University of Washington showed annual treatment costs for depressed patients with diabetes or congestive heart failure were nearly two times as much as for those without depression — $22,900, as compared to $11,956.
For depressed patients, more money was spent on everything from inpatient care to medical equipment to skilled nursing home care. Everything, that is, except for mental health care, which amounted to less than 1 percent of total health care costs.
The stigma of mental illness probably contributed to some seniors' reluctance to access treatment. "For older people, the self-referral rate is extremely low," Sloan says. "Less than 1 percent of the people we serve are self-referred."
Since 1978, Elder Services has run a program called "Gatekeepers," as a way to reach seniors in the community who may be suffering from a mental disorder.
The program trains employees of local businesses who come in contact with older people — bank clerks, postal workers, apartment managers, among others — to note unusual behavior and report potential difficulties for seniors living alone in the community without much support. Sloan says staff members can then follow up with the older person. "That's just a matter of having them learn … that we're there to help them," Sloan says.
The University of Washington study's researchers also concluded that seniors may have been reluctant to seek mental health care in part because Medicare requires a higher co-pay on those services.
Fortunately, on January 1, 2010, Medicare will gradually begin reimbursing mental health treatment the same way it currently reimburses treatment for physical illnesses. By 2012, the full 80 percent of mental health treatment will be reimbursed, allowing seniors to see a psychiatrist. If they can find one.
John Tran is one of just three geriatric psychiatrists in Spokane. Only 40 percent of available spots for geriatric training fellowships are occupied.
Most psychiatrists, Tran says, know they can make a lot more money in other areas of specialty. Medicare reimbursement just isn't adequate, he says. "If I were to open my own private clinic, I would lose at least $30 to $45 each half an hour I see a patient," Tran says. "They have a very strange system."
For family members, caring for a loved one with mental illness can be overwhelming. "You become kind of a psychologist, kind of a doctor, kind of a maid, kind of a cook," Bridwell says. "All these hats you never thought you'd have to wear, you have to wear."
One thing helped him more than anything else: He joined a support group where he found people experiencing the same sort of grief he was.
"Did I think I'd be doing my mother's sheets every morning? No. Did I think I would be playing games with applesauce to get an 80-year-old woman to take her medication? No," Bridwell says. "You have to get into a support group."