CBS
By Ashley Graham
Who watches: The 40-plus crowd and folks who obviously don't remember the glory days of Must-See TV sitcoms.
When we watched it: Sept 15-20
Hours wasted: 10
Sign of the Apocalypse or the new Golden Age of TV?: It is 2012...
Shows with detectives: 11 ½ (of 21!)
Shows starring Angelina Jolie's ex-husband: 1
Sitcom-to-drama ratio: 6 to 11
---
Partners
NEW
Air time: 8:30 pm, Mondays
Watch if: You miss Will & Grace, and love a laugh track.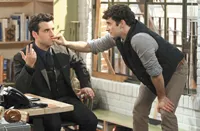 The creators of
Will & Grace
present
Will & Grace: Bromance Edition
! Or something? Michael Urie (
Ugly Betty
) and David Krumholtz (
NUMB3RS
) star as lifelong friends — one gay, one straight — and successful business partners. Krumholtz is Joe, newly engaged to Sophia Bush's Ali. Urie is Louis, dating Brandon Routh's Wyatt.
Redeeming qualities? Partners has a few — all of which are contained within Urie, who is such an obviously talented song-and-dance man, entertaining to the max, that, well, it's a damn shame he didn't land a role on The New Normal. (Pardon the lump-in, but that show is awesome.) The duo at the show's heart may hold your attention, but the struggle here lies in it keeping that attention week after week with a not-entirely-interesting supporting crew.
In other words, don't show up looking for a Jack or a Karen, because all you're getting is Brooke Davis (ahem, Bush's former onscreen counterpart on One Tree Hill).
---
Elementary
NEW
Air time: 10 pm, Thursdays
Watch if: You've been wondering when CBS would get a murder-mystery show starring a British dude.
Robert Downey Jr.'s Sherlock Holmes not
sexy
or
British
enough for you? Too tough to track down the DVDs of BBC's
Sherlock
here across the pond? No worry! Enter Jonny Lee Miller — Trainspotter, Hacker, Angelina Jolie ex, Jude Law BFF — playing a modern-day Holmes in this new, intriguing re-imagining of the classic character.
Now buddied-up with the NYPD, Holmes is a recovering addict with a sponsor — nay, "sober companion" — following him around named Dr. Joan Watson (Lucy Liu). Yes, a lady! If you can get over the fact that Watson involves herself in the action a lil' too quickly/easily/awkwardly, there's OK stuff here. Is Holmes a little too everywhere right now? Sure! But Liu reigniting her career, Jonny Lee Miller potentially hitting the mainstream with a great performance, and sexual tension aplenty between 'em? Worth a watch! And just try saying the show's name without a British accent. You can't!
---
Hawaii Five-0
HANGING IN THERE
Air time: 10 pm, Mondays
Watch if: You don't care why the power went out on Revolution.
It's hard to say why the writers of
Hawaii Five-0
messed with their concept just one season in, but it sure made for a wild and crazy Season Two, packed with guest stars and lots of changing of the guards. Really, it was kinda exhausting, wasn't it? Thankfully, the most important part remained: that rock solid relationship between McGarrett (Alex O'Loughlin) and Danno (Scott Caan). The banter! The eyerolls! Faaantastic.
Now, with Lori Weston gone, the not-terribly-likable Tom Sizemore gone (maybe Terry O'Quinn too?) and the distraction of Chin's personal life up in the air (OMG, sad), the show can get back to its regularly scheduled week-to-week butt-kickin', right? Except for the new mystery of just how exactly Steve's mother is still alive (guest star — drumroll — Christine Lahti). And who knows... that fella Wo Fat might even still be lurking in the shadows. Oh, you thought Wo Fat was taken care of? Think again, man. In other words: sigh.

---
CSI
MAINSTAY
Air time: 10 pm, Wednesdays
Watch if: You've logged countless hours in front of CSI over the last 12 seasons.
When last we saw our dearest
CSI
s, everything had run amok. D.B.'s granddaughter was missing! Nick had quit! Undersheriff Ecklie was gunned down! And Finn was cavorting with... ehh, who cares.
It was a hell of a shakeup for a 12th season finale, and the latest incarnation of CSI's dynamo cast starts out the 13th season quite handily. After all, CSI's staying power is owed almost entirely to its ability to change time and time again, to different but totally fine results. Seriously, what other show has survived this many re-castings? It's found a good rhythm with Ted Danson steering the ship, and the support crew of Nick (George Eads) and Greg (Eric Szmanda) is by many accounts the saving grace at this point. How long can it last? Well, it certainly shows no signs of stopping.