AMC
Who watches: Thinkers, documentary fans and overweight, middle-aged comic book lovers.
When we watched it: Sept 5-20
Hours wasted: 3
Sign of the Apocalypse or the new Golden Age of TV: In the Golden Age, the streets will be paved with tiny blue meth crystals.
Examples of extreme geekery: at least 2
With Mad Men on a break, number of shows with sexy leading men: 0
---
Ink Master
HANGING ON
Air time: 10 pm, Tuesdays (premiering Oct. 9)
Watch if: You enjoy seeing people make permanent mistakes on other people's flesh.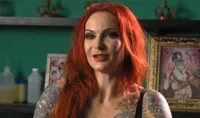 It couldn't have been more than a week ago when I was yakking someone's ear off about what an insufferable douchebag Dave Navarro is. And then, here I am, totally sucking in episode after episode of Navarro-hosted
Ink Master
, a show that pits top tattoo artists against each other for the title of Ink Master. Totally dumb, right? Welllll, yeah — but if pinstriped hot rods, head tattoos and body painting are things you even marginally like, you'll be impressed by the indentation you can make in the couch after watching all of the
Ink Master
 archives.
---
Flip Men
MAINSTAY
Air time: 10 pm, Sundays
Watch if: You're sick of your wife laughing at your HGTV habit.
Fe-men, open those blinds, turn on those lights. No more needing to watch HGTV in fear.
Flip Men
 is, essentially, an HGTV program for dudes — dudes who like winning auctions, sledgehammering walls, hiring people to do shit and making buttloads of cash. The
Flip Men
 are two very annoying men who
kinda
 do work, but mostly assess the damage of houses previously occupied by human parasites. Might be a good show if the hosts had the slightest tinge of likability.
---
Wilfred
HANGING ON
Air time: 10 pm, Thursdays
Watch if: A sad man talking to an Australian man in a dog suit sounds entertaining to you.
When we first heard about
Wilfred
, it sounded like a cheap
Harvey
 ripoff. Not so. In this dark comedy, Ryan (Elijah Wood) finds himself talking to Wilfred, a man in a dog suit who everyone else sees as just a plain old dog. What makes this interesting is that Wilfred is a pot smoking, beer drinking, conniving asshole who is unbelievably loyal to his owner and hilariously attracted to chasing bubbles. The kickoff of season two finds Ryan in a mental institution, pleading with doctors to tell him why he sees a dog as a man in a dog suit.
---
Louie
MAINSTAY
Air time: 10:30 pm, Thursdays
Watch if: You hate everyone and believe in nothing.
Louis C.K. does something that few others can: he's hilarious and lovable, and yet he's also a complete, unapologetic dickhead. In its third season,
Louie
 continues with the same format this season: in each episode, C.K. performs brilliant stand-up, then downshifts to scenes from day-to-day life. Onstage, he's candid and self-effacing, but in the real-life scenes he's doofy, boyish and pitiful, finding himself in a persistent, hilarious tornado of shame, excuses and avoidable screw-ups.
---
Sons of Anarchy
MAINSTAY
Air time: 10 pm, Tuesdays
Watch if: You're a heterosexual female.
Sorry, ladies, but forget Jax Teller and all his white-sneakered bullshit — in Season 5, Opie Winston, in all his totally greasy, bearded, brooding glory, is
on the market
. Can I get a hell yeah?! Sure, he's kind of a fixer-upper, considering all the
DRA-MA
 he's had with past ladies and now with the whole deal with Clay (ewwww) and his dad. But Opie's a man of honesty and loyalty — you saw last week's episode, right? Pretty sure that goes a long way with SAMCRO, and Jax and Opie will make the head of the table significantly hotter by the end of the season. Also, Gemma Teller? Total bitch. Love her.
---
It's Always Sunny in Philadelphia
MAINSTAY
Air time: 10 pm, Thursdays (premiering Oct. 11)
Watch if: If literally nothing offends you.
Do any of the following topics make you uncomfortable? Crackhead hookers?
The Jersey Shore
? Child beauty pageants? Pedophilia? The IRS? Cyber-stalking? Obesity? Gay marriage? Public pools? Arson? Abortion? Santa Claus? The mortgage crisis? Feral cats? Cannibalism? Glory holes? Pooped beds? Hallucinogenic drugs? Organized crime?
If you answered yes to any of these topics, do not ever watch It's Always Sunny in Philadelphia.
Ever.
---
Comic Book Men
HANGING ON
Air time: 11:30 pm, Sundays (premiering Oct. 14)
Watch if: If you belonged to chess, debate or A/V club in high school.
click to enlarge
Comic Book Men is a funny little reality show that follows the staff of Jay and Silent Bob's Secret Stash, a comic book shop in Red Bank, N.J., owned by beloved director/geek, Kevin Smith. It is a very nerdy show, but it's tasteful in that the camera never exploits the foibles of its characters (like, say, Here Comes Honey Boo-Boo). These guys are proud geeks. The show overlays the antics of the store employees with a lot of chit-chat from Smith's podcast that he co-hosts with the employees. Funny and quirky for an episode, but I was kinda over it after one go-round.
---
The Walking Dead
MAINSTAY
Air time: 9 pm, Sundays
Watch if: You're kinda over vampires and ready for the next undead trend.
What's the problem guys? You know there is a zombie apocalypse at hand. The "walkers" can't be cured, and will kill you — regardless if you once loved the person that inhabited their saggy, slow-moving corpse a minute ago. So why,
Walking Dead
 characters, must you throw yourselves into crowds of walkers? Why must you jeopardize the lives of everyone else? They can't be cured! That's the main thing I'm screaming at the TV during this otherwise awesome show: the selfish characters, and their unwillingness to let the dead stay dead. Sigh. Way to ruin it for everyone, jerks.