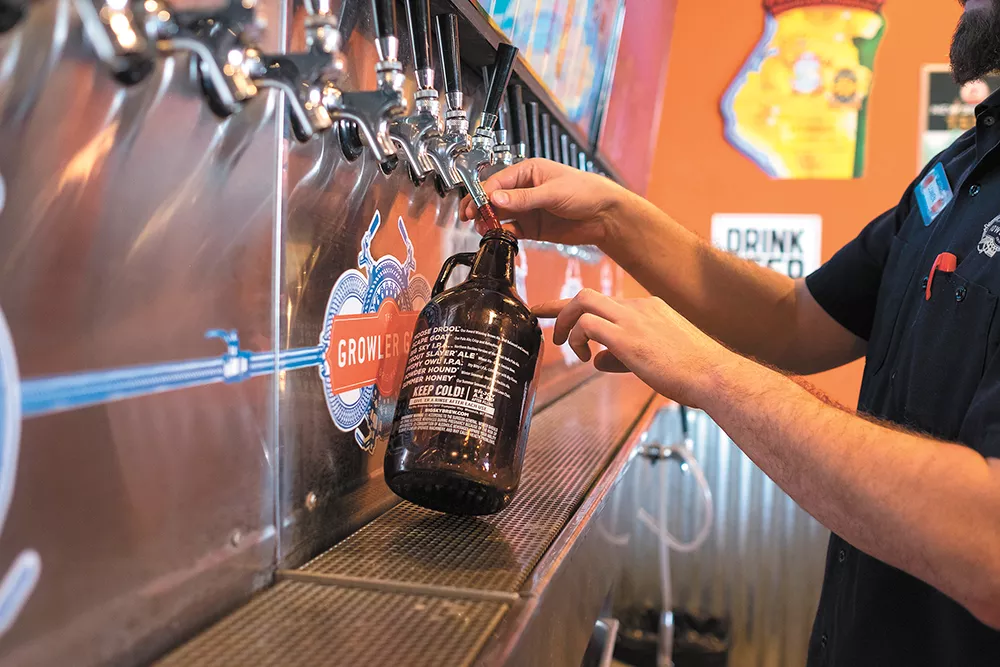 Beginning as Bend, Oregon's first growler-fill station in 2012, the Growler Guys has grown into a multi-state brand, with individual franchises across Washington, Oregon and Idaho. Fortunately for beer lovers in the Spokane region, three of those franchises are in North Spokane (Newport Highway), on the South Hill and in Coeur d'Alene.
Each location is under separate management, but between the three sites, local beer drinkers will find a diverse lineup of craft beer, cider and kombucha available to try and take home.
Each Growler Guys spot also sports an impressive number of taps: 52 at the Newport Highway location, 56 on the South Hill, and 59 in Coeur d'Alene. Along rotating and seasonal beer offerings, each location hosts various events and tap takeovers.
"We try to have breweries in every other week and feature their beer," says Brittany Merriman, manager at the Coeur d'Alene location. "Customers then get to try four or five of that brewery's beers we'll have on tap." Along with offering new and notable beers, growler-filling establishments aim to deliver a high-quality product.
Sean Kirkpatrick, who manages the South Hill location, explains the benefit to getting your beer to-go: "Draft beer is the freshest beer possible. Beer is a perishable product, so a growler is the freshest beer you can have at home." Kirkpatrick also touts the Crowler — a can of beer filled from draught, then sealed — which is also available for filling at the Growler Guys. "We're finding the cans will keep the beer fresh significantly longer than a standard growler," he says. "Because we flush the cans with CO2, some beers can stay fresh six to eight weeks after being sealed."
Along with crowler fills, some locations offer the ability to order and consume pints of your favorite brew on the premises.
"Offering pints was a big game-changer for us," explains Alex Arent, manager at the Newport Highway location. "Before that, a customer was in and out of the store in less than 15 minutes. Now we get to have more interaction with the customer, and more of a relationship with the community."
While the three Growler Guys locations work under separate leadership, all of them value employees who are personable and well-informed. "My staff is incredibly knowledgeable about the beers we have on tap," says Kirkpatrick. "Usually we can find something on our tap list to appeal to any palate."
2nd PLACE: Steady Flow Growler House; 3rd PLACE: JB's Bottleworks