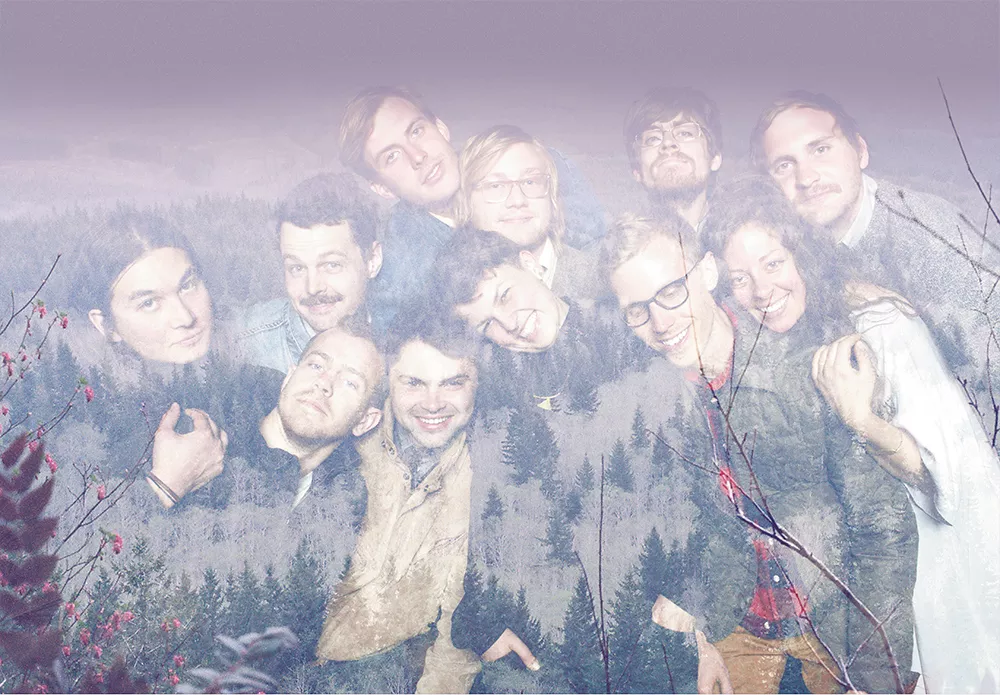 Kyle Morton doesn't believe there are too many musicians crammed into Typhoon, his 11-piece rock orchestra. He promises that the band was never conceived as a see-how-many-people-we-put-on-stage sort of ploy.
"No, that's the argument for why I ride the bus instead of taking a car," he says over the phone last weekend. "You combine all of these people in one band and you're saving everyone from three or four bands."
It's a sunny afternoon in Portland and Morton is taking advantage of it, sprawled out on his front porch steps. There was a time he lived with bandmates — some of whom are friends he's had since high school, or earlier. Now he lives apart from the band. As Typhoon's main singer and songwriter, Morton is the natural leader. But for him, the act is about being able to create music with his friends.
"I wanted a place where everyone could be included," Morton explains. Even buddies who don't play music have been assigned to other duties like graphics or promotions.
Morton moved from Salem, Ore., in 2004 to attend Portland State University, where he took music theory classes and continued to hone his guitar technique playing in a punk band back home. The next year, the collective would take shape.
"It was strictly going to be a recording project, but it was so much fun we went ahead and signed up for a show," Morton recalls. "Typhoon was just a working title."
After that, no one wanted to do anything else. They all moved to Portland, playing as many gigs as could be finagled. The city took notice and Typhoon soon became a favorite among its indie rock scene.
When you live in Portland, Morton says, it becomes refreshing to meet someone who's not in a band.
"There is a lot of competition here," he says. "But playing here just feels like home. We're so blessed to have fans come out to our shows at all."
Last year, the band recorded White Lighter at Pendarvis Farm, the same stretch of green southeast of Portland where the Pickathon Music Festival is held.
"We holed up there for six weeks to get it done," Morton says. "I want to go back all of the time. To just write and be out with nature."
The record, which made many top-10 album lists of the year including the Inlander's, was the group's most acclaimed yet. The pop-rock is complex, to say the least. Piquing interest from the start, the syncopations, the rests, the assorted speeds, the varied time signatures and the melodic changes coherently weave through each track.
"Yeah, there was a point I was worried we were becoming a prog rock band," Morton says. "But the aesthetic works because we keep the lyrical content pretty steady. That is the thread that binds each song."
No matter how majestic and peppy the instrumentation may seem, with horns, strings, cymbals and claps, the lyrics flow out with a tinge of sadness. Health-wise, Morton has been through hell. As a kid, he contracted Lyme disease from a tick bite. It would go undiagnosed for years. There was a point when he wasn't sure he would make it to adulthood.
"I'm completely cured now," Morton says. "I'm still working towards happiness; the peace of mind. That's what I get to work out in my music."
With the advent of a new year comes new possibilities for the group; more writing and recording. Next week, Typhoon kicks off its third national tour, playing Spokane for the first time.
Originally set to headline the new all-ages music venue, The Bartlett, last fall, the group is now poised to help kick off the rescheduled grand opening next weekend.
They'll pack into their humongous passenger van and hit the road. With so many members, the band frets about the size of the stage at their next venue. One time at a gig in Philadelphia, they were forced to put bandmates on a balcony across the room. Never again, they vowed. Yet smaller spaces can make performances more exciting.
"You're right; if someone hits another person in the eyeball with their bow or smashes a foot in a cymbal, we would just continue," Morton says, laughing. "But in truth, we're well aware of one another. We'll make it work; we're very used to this now." ♦
The Bartlett Grand Opening Weekend • Jan. 16-18 • Typhoon with Silver Torches and guests • Fri, Jan 17, at 8 pm • The Bartlett • 228 W. Sprague • $15/$20 day of • All-ages • thebartlettspokane.com