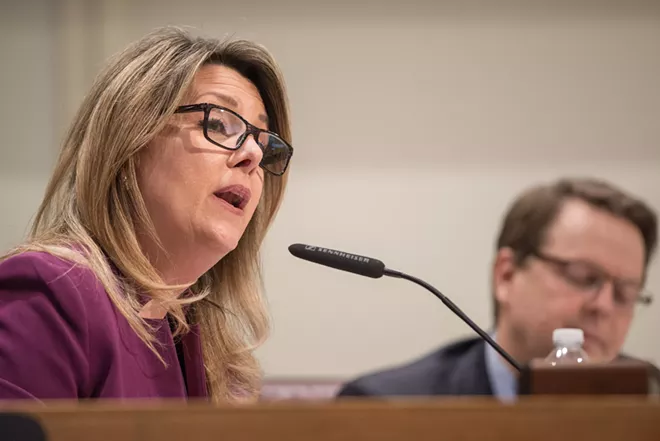 I
n his eight years as mayor
, Mayor David Condon only rarely made an appearance in the City Council chambers, even in the midst of their greatest points of conflict. He certainly never took a seat on the council dais.
But at the beginning of the first council meeting of the Woodward-Beggs era of the city of government, there Woodward was, sitting to the right of City Council President Breean Beggs, as a symbol of unity.
"Tonight is a unique moment," Woodward said.
Nobody she'd talked to, Woodward said shortly into Monday night's City Council meeting, had ever remembered a time since the city moved to a "strong mayor" form of government that a Spokane mayor had joined the City Council on the dais.
"My presence here with you is my commitment to collaboration," Woodward said. "It is a new beginning, a fresh start, and I'm confident the relationship between the mayor and the City Council will be stronger than ever. There will, of course, be times when we disagree on policies and proposed legislation, but that disagreement must be met with civil discourse, listening together and ultimately doing what is best for citizens."
And this wouldn't be her last City Council meeting, she assured the audience. She said she looked forward to attending as many council meetings as she could.
"The Bible says that without unity there can be no strength, and that a '
house divided against itself cannot stand
,'" Woodward said. "It is time to be united. It is time to move forward together and that begins tonight."
F
or his part,
Breean Beggs began his first City Council meeting in the role as City Council president by noting how razor-thin both his and Woodward's victories had been.
In a city of over 217,000, Beggs won the election by only 957 votes, while Woodward won by only 848 votes.
"By some measures, it was the most divided city that we've ever had. And yet, but for a few hundred votes either way, you would not have the two of us here," Beggs said, referring to himself and Woodward. "We came from two different sides of the electorate on it. Essentially if you voted, one of your people are here tonight. So we're perhaps the most together city we've ever had. But that only works if we work together."
<!———StartFragment———>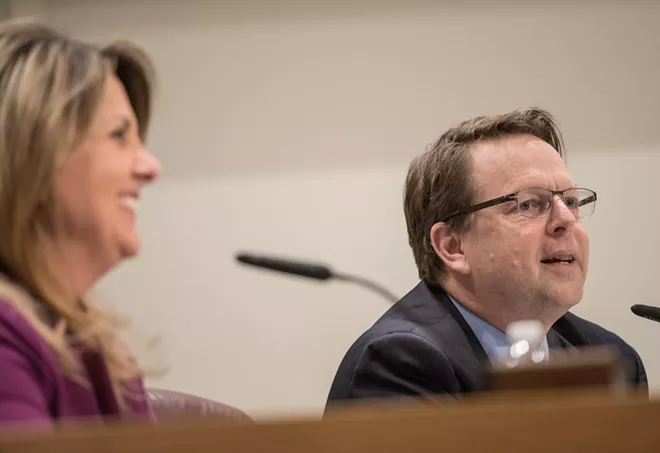 Two decades ago, Beggs noted, the city moved to the strong mayor-council form of government because there was a crisis of faith in the city manager system. So voters chose to grant stronger powers to both the mayor and the council. It's a recipe for teamwork — or total stalemate.
"Either one of us has just enough power to stop the other," Beggs said. "But without collaboration, we can't get anything great done."
Beggs said he'd invited Woodward to come and join him at the first council meeting, and she responded positively and made it happen. That meant when citizens shared their frustrations at the City Council's weekly public forum — about Planned Parenthood and Matt Shea and how the city's handled homelessness — the mayor was there to witness it.
"People can speak about the concerns with the city about both the branches of government that can do something about it. So often, as you know they're talking to us on the council about things only the administration can do," Beggs said. "There's an energy in the room that is unique. And you don't catch it on the TV. It's great for her to see the milieu that we're living in, so when we're talking about issues and community concerns she knows where we're coming from."
Woodward's campaign spent much of her campaign last year criticizing the City Council for clashing with Condon, accusing the council of "enabling" homeless people. She was open about her hope that the City Council's 6-1 liberal-leaning majority would be weakened.
But for now, Woodward's tone has been far warmer and more trusting toward her fellow council members.
<!———StartFragment———>
"It's a fresh start," Woodward told the
Inlander
during a recess in the meeting. "We're hitting the reset button. I'm looking forward to a good working relationship. Even to be invited to sit up on the dais with them is a big deal. I think it shows unity. We both talked about this. We need to be seen as unified, and I should attend meetings when I possibly can."
Her new city administrator pick, Wes Crago, said that he plans to be at many council meetings as well — and when he can't, he'll make sure that someone from the Mayor's Office will be. Crago said he's meeting individually with every council member.
"One of the focuses that I have is to strengthen and build the council and the mayor's relationship, just for efficiency's sake if nothing else," Crago tells the
Inlander
. "It all starts with relationships. It's one on one, one person at a time. You build trust, one step at a time. You don't go from zero to 100 miles an hour. It takes a little bit of time."
At times, communication between the City Council and the Condon administration ground to a
halt
— with both sides issuing statements accusing the other of sabotage and arguing in bad faith.
But Woodward said she's intent on forging a different sort of path.
"We've been working on reopening the lines of communication with council so we can have a positive step forward in the new year, with a new administration," Woodward said.
W
oodward didn't join Condon's condemnation
last month of the council's changes to their budget. And similarly, Beggs and Councilwoman Lori Kinnear have both rallied behind Woodward's plan to relocate the downtown police precinct, currently sequestered away at the Intermodal Center, into a more visible and central downtown location.
Spokane Police Chief Craig Meidl, who largely avoided taking sides over the debate last year about moving the precinct, told the
Inlander
last month he was fine with the move. After all, once the new police officers paid for by the public safety levy come on board, Meidl says there won't be enough room in the Intermodal Center for all the downtown officers.
"If the community overall feels that we would be more effective and visible being in a different location, I would be supportive of moving to that location so long as we have sufficient space," Meidl said.
Of course, both Beggs and Woodward know that they'll have clashes in the days ahead.
It remains to be seen how Woodward will turn her "hand-up, not a hand-out" philosophy into homelessness policy, and the degree to which those policies will clash with council members
like Kate Burke
, who chained herself outside City Hall in 2018 to protest the city's slow response to open new shelter space for the homeless.
And now that there's a new mayor, Beggs suggests it's an opportunity to rewrite parts of the mayor-council strategic plan the council cobbled together with Condon.
"We're ready to revisit that plan again," Beggs said. "Sometime in this next year — not the first few weeks, let you get your sea legs — let's revisit that joint-strategic plan."
It's the sort of process that could lead to more unity and stronger collaboration. Or a whole new sets of feuds and skirmishes.