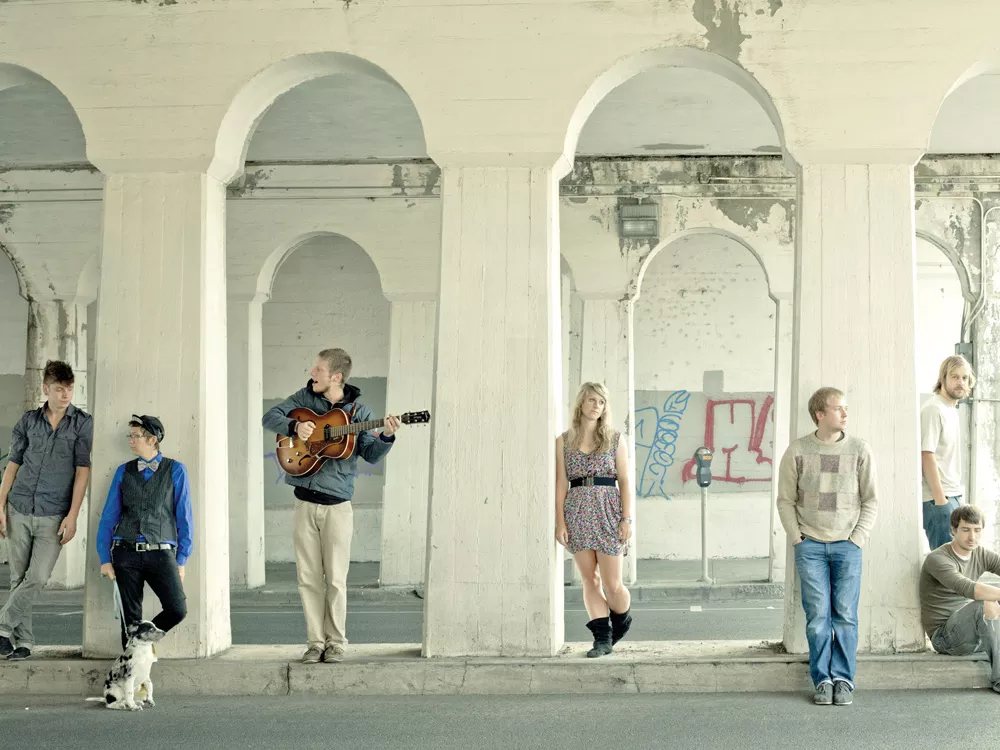 They made it to Portland on the Fourth of July without any money and spent the next three nights busking the streets. Kent Ueland and Sarah Berentson sang Beatles covers, like "I Want to Hold Your Hand," filling an open guitar case with $80 a night.
And when they got home, they formed a band.
"Me and my girlfriend were just trying to get a free trip in Portland and people were so generous," says Ueland, the 21-year-old lead singer and guitarist for that band, Terrible Buttons. "People were giving us beer and Starbursts and cornbread — whatever they had, they just threw it in. That trip kind of solidified our relationship and desire to make music."
It was three years ago that Ueland and Berentson, the younger siblings of successful ex-Spokane musicians Dane Ueland and Kaylee Cole, took that trip. That's when their "college house" — occupied by musicians, Whitworth dropouts, graduates and students — became home to their new seven-piece folk band. They wanted to be a mellow band, maybe like Horse Feathers.
But they became something different.
The group of early 20-somethings became the band they are today: a crowd of melancholy minstrels, who — behind a wall of accordions, keyboards, glockenspiels, violins, banjos, percussion, and guitar — sing about poisonings, the evils of marriage, loneliness and the absence of god. Ueland is the anachronism at the center of the dark folksy carnival that is Terrible Buttons. His throaty vocals warble alongside Berentson's, creating a playful and absurd sound. The mini orchestra draws from the sounds of Tom Waits, Fleet Foxes and the agnostic, sorrowful lyrics of David Bazan.
"The genre has kind of become a point of contention within the band," Ueland says. "I describe it as horror folk because not only the things we talk about, but the vibe of our music is much darker."
"We are not a happy-go-lucky band by any means," he adds, wearing a black hoodie and yellow plastic bracelet that reads "gluttony."
Ueland says sadness and religion are effective lyrical tools to get his message across. The songwriter grew up in a devout Christian home, graduated from a private Christian school in Oregon with only four other people in his class, and now attends a private religious university. As a result, his lyrics question the morality, vernacular and lifestyle of everything he's ever known.
"At one point I said 'I will never write another song about Jesus,' which of course has not been true," he says. "I just want people to wake up to the world that they're in … to slow down and take a second look at how what we believe affects what we do."
Despite the grave subject matter, Terrible Buttons maintains its youthfulness, and under Ueland's direction, themes of godlessness, love and abandonment sound innocent, instead of trite.
"I don't have what Aristotle would call practical wisdom," Ueland says. "But youth is such a powerful thing. Revolutions occur because the youth get mobilized. Do I have the life experience to be an expert on subject matters that I sing about? Probably not. But I do think it's worth your time."


Today, Terrible Buttons still busks for "whiskey and beer money" while on tour. In fact, most of the band members are unemployed. "None of us are big contributors to society other than this band," Ueland says, half joking.
Once they busked the streets at Western Washington University' Red Square. The cops were called when they sang "Weed and Whiskey."
"The cops told us we had to leave and it was kind of this Bob Dylan moment," Ueland says. "We didn't stop playing while the cops were talking to us. We just walked away while screaming 'Weed and Whiskey.'"
The band has created a juggernaut online presence and religiously devout fans. Their 2010 Brute Neighbors EP and 2011 Plates of Ether EP has even landed them a contract with Plastic Horse Records based out of Minnesota. If everything goes as planned, the band's upcoming tour will lead them to Minnesota where they'll record more material, and by this time next year, Ueland says the whole band hopes to live there.
Until then, Terrible Buttons will continue to woo Spokane with their sorrowful tunes.
Says Ueland: "I think everyone leaves our shows a little sadder than before they came."
Terrible Buttons with Nude and Jesse Aldulaimi • Wed, Nov. 2, at 9 pm • Marquee • Free • 21 • marqueelounge.com • 838-3332