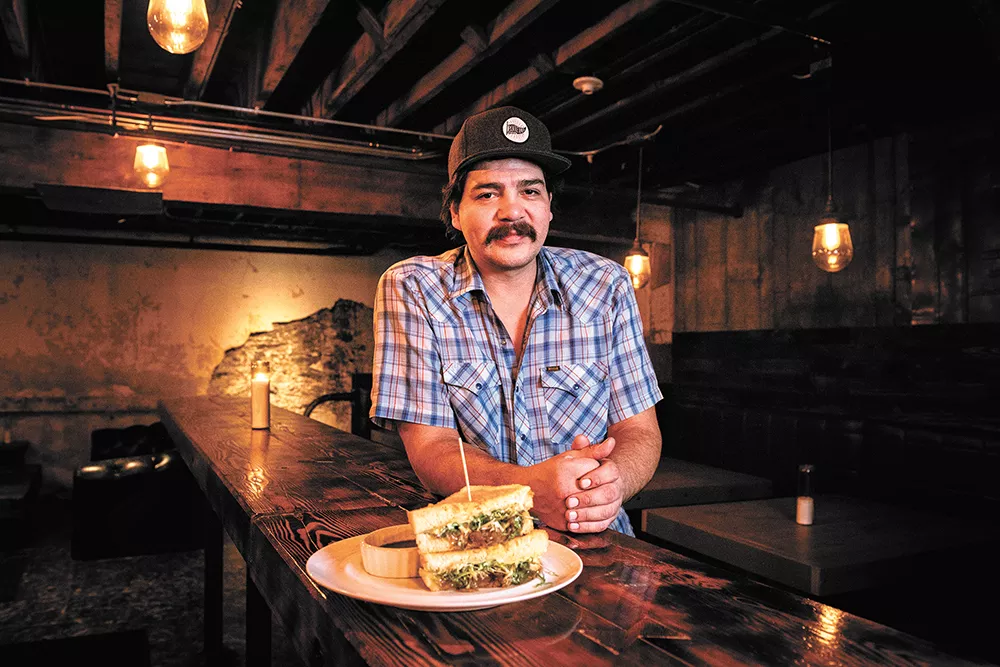 Cooking and working in kitchens since he was 15, CJ Callahan has been helming the kitchen at Hogwash Whiskey Den and assisting at Inland Pacific Kitchen since February of 2018. The 37-year-old got his start in the food culture of Chicago, experiencing culinary successes he hopes Spokane can soon emulate.
The Inlander stopped by Hogwash to chat about his aspirations, favorite eats and the challenges of doing what he does every day.
INLANDER: When did you know you wanted to become a chef?
CALLAHAN: According to someone I knew when I grew up, I said that when I was, like, 10. I don't remember that. I don't remember ever saying that — no one should ever say that.
I went to a proper college for psychology and philosophy, so I thought maybe I wanted to be a psychologist. But that seemed like a lot of schooling and cooking was just more fun. I don't think I picked it. I think it picked me, which is unfortunate, because it's a pain in the ass.
Favorite guilty pleasure?
Jimmy Dean frozen sausage biscuits. Those f—-kin' things. I can't help it. I'll eat a whole box. I grew up eating them. I'm not gonna lie, I'll cook those and I'll throw a little slice of American cheese on each one of them, because I don't like the ones that come with cheese. That cheese is gross.
Name one restaurant in the Inland Northwest you return to over and over again.
I'm a regular at so many, I don't wanna leave anyone out. I'm gonna say three: Italia Trattoria brunch, Ruins and Brooklyn Deli. Those are my staples, like, I go back to them constantly.
What's the hardest thing about your job?
Maintaining your mental health, honestly. And considering the morale of your staff, so personnel management. The hours are always gonna be there, you're always gonna work too much. Just keeping yourself in the game, trying not to pour alcohol on everything. That's the biggest thing in this industry. That's the hardest part for me. It's hard to say it out loud, but it's just taking care of yourself and I'm terrible at it. Most of us are. The biggest challenge is doing a good job of not forgetting that you are a person who needs to be taken care of as well.
What's your favorite thing to eat from your own menu?
Jamboni. It's a sandwich that I shamelessly ripped off from the Flying J truck stop in college. With their version, it's a fried chicken sandwich with ham and Swiss cheese, an inside-out cordon bleu. The one I ate in college, they threw romaine lettuce and ranch on it, but the one we do here is house-made ham, non-processed and non-frozen boneless chicken thighs, generic Swiss cheese because it melts the best, a homemade bun, spicy dill pickles and honey mustard. I've seen a couple get in a fight over it once.
Where would you travel just for the food and why?
Chicago. I mean, in my mind, it's the best food city in America. It's also what I know. I have so many good memories and experiences with the food, so many friends who are chefs there who have opened new restaurants that I need to go try. I'm actually going there for Thanksgiving, so hopefully I can try some.
I'll always go to Chicago for food, and I'll always recommend people do that. It's just a great food city, it's got a very high standard for quality and competitiveness, and at the same time, community.
What would you be doing if you weren't a chef?
I think about this a lot. I'm really good at math, so maybe an accountant. That sounds boring though. I probably would've eventually gotten my masters and Ph.D., but that'd take so much time. I've got big plans to run for mayor one day. I don't know why.
What's next for you, five or 10 years down the line?
Shit, I don't know. Five or 10 years, I'd like to keep working here. Between this restaurant and that restaurant [Inland Pacific] in five to 10 years, Spokane will have the palate and the population to sustain them both and accept what we're doing up there. I feel like it's not exactly the speed that Spokane's used to, or they think that it's something it's not. I'd like to keep doing this, and these are the places I want to work at and turn into juggernauts, and have people come eat our food and drink our drinks. That's what I've been doing, and that's why I moved here. ♦