As a general rule, if you start spray-painting Riverfront Park, Riverfront Park gets mad at you. Fortunately, this time at least, everyone got permission.
The
Inlander
recruited
Tom Pettoello, a Rogers High School art teacher, to commemorate 2020's high school graduates by spray-painting a logo in the Clock Tower Meadow in Riverfront Park.

The idea came from Inlander publisher Ted S. McGregor Jr., who served on the Spokane Park Board during the renovation of Riverfront Park. And so when Inlander graphic designer Ali Blackwood pitched Pettoello the idea, he readily agreed.

"I said sure," Pettoello says. "That be great and easy."

While the
Inlander
reimbursed
Pettoello for the cost of the paint — and designed the logo itself —
Pettoello volunteered his time and talent to paint the 30-foot-by-30-foot logo on the meadow.


By now, he's gotten pretty good at this sort of thing. This is hardly the first field Pettoello has painted. He's
spent more than two decades professionally painting fields for everyone from Eastern Washington University to a field for the Babe Ruth World Series.


And so when the coronavirus cut short the senior year of high school students across the nation,
Pettoello found a way to use his skills to commemorate what this class has been through.


The athletic director for East Valley High School called him and pitched him on a concept that had been employed in Idaho: Paint the logo of the school on the football field — but then paint the names of every graduating student below it.
Think of it as the biggest and coolest graduation ceremony brochure ever.
<!————StartFragment————>It took a bit to get Rogers High School principal on board, but once he'd painted East Valley and Rogers' fields, he was suddenly in high demand.

"I had no idea it would get as big as it did," he says. "We're going on to California to do logos. Seattle. Minnesota. New York."
<!————EndFragment————> <!————EndFragment————>
He says he just has a knack for logos. He takes some measurements and starts painting.
All the names, however? That's more about stamina and grit: 12 hours of bending over and painting name after name and name. But it's worth it.
"It gets a little tedious and tough at the end of the day, but then when the kids come out and see it, it's really energizing because you see how meaningful it is to them and their parents,"
Pettoello says.
"
It's almost overwhelming. They come out and many of them are in tears or have huge smiles."

<!————StartFragment————>
His favorite might be Moses Lake, where he painted all 638 names of the massive graduating class.
"A drone shows you the logo and then starts dropping down across all the names,"
Pettoello says. "
It's almost like the beginning of Star Wars — when the names go up on the screen. It just keeps going and going."

"Parents are always coming up and thanking us for what we're doing," he says. "So it feels good. It feels like I'm providing a service to the kids but also to their families as a way of recognizing this big moment in their lives.
<!————EndFragment————>
<!————StartFragment————>"I think when all is said and done, I'll have painted 5,000 [names]," he says.
Fortunately, he didn't have to paint the names of every graduating student in Spokane in the Clock Tower meadow. Instead, he selected a design from logos created by
Inlander graphic designers Ali Blackwood and
Rachael Skipper, and in a little more than two hours, created this crisp design: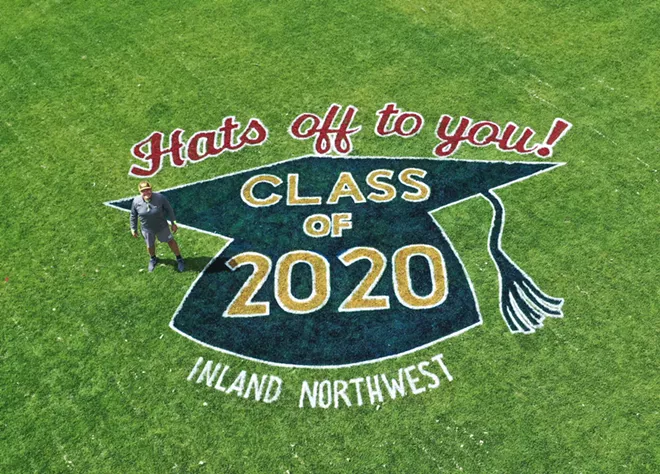 Get a free poster of this design by picking up the upcoming June 4 issue of the
Inlander
.