You're forgiven if you've been having trouble keeping up with the Inland Northwest craft-brewing scene. It seems a new operation pops up just about every month, whether it's a small-scale outfit run by homebrewers looking to take the next step, or a larger-scale brewpub. Allow us to get you caught up, because chances are there are beers you haven't had a chance to taste, and that just won't stand.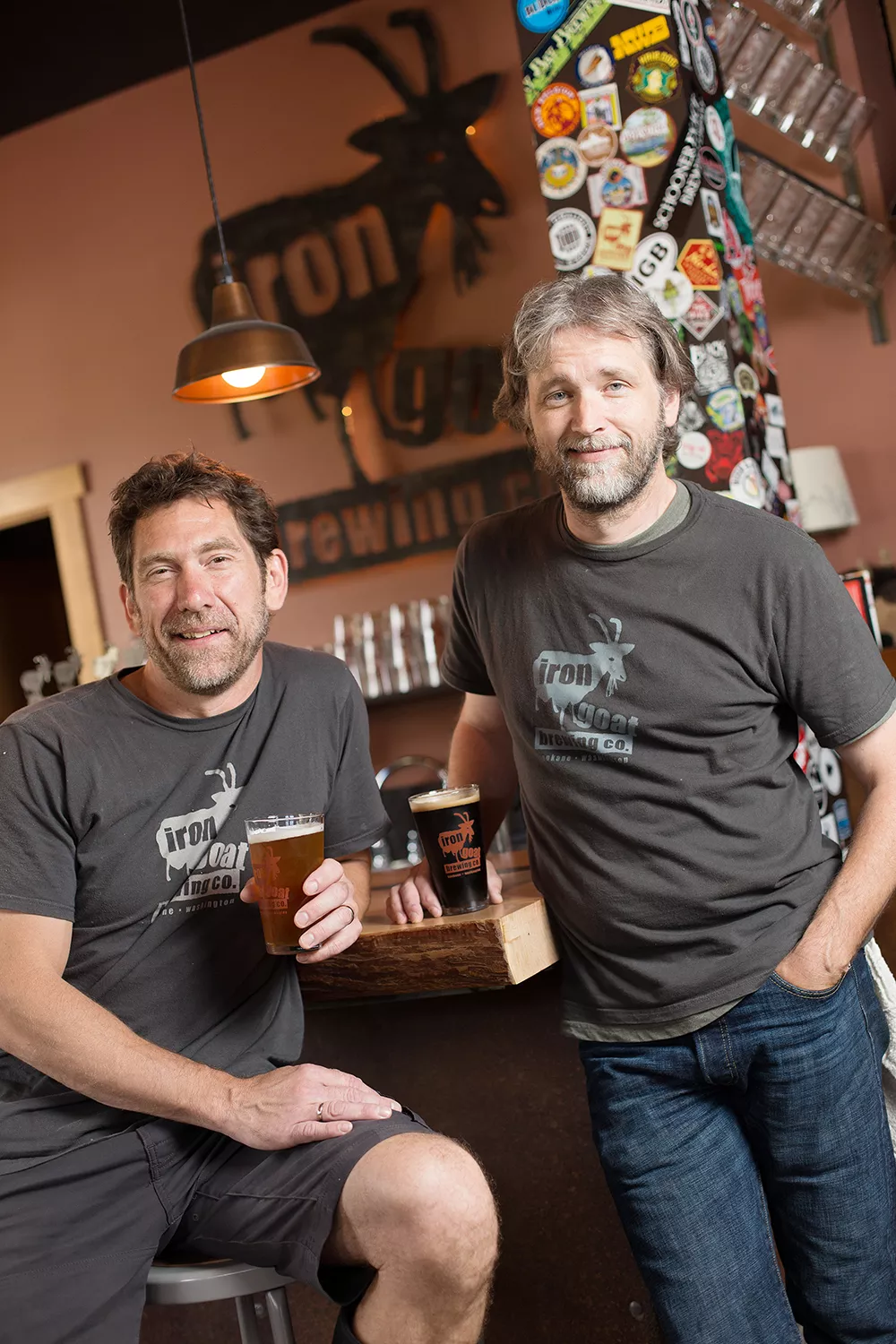 GREG BRANDT (left) AND PAUL EDMINSTER
Iron Goat Brewing Co., established 2012
When they need to do some serious thinking, Greg Brandt and Paul Edminster return to the same table at Jones Radiator where it all began back in 2011. The two met at a meeting of homebrewers, and within months were starting to think about taking things to the next level.
"We both were looking for something to do different and both had a passion for brewing," says Brandt.
The two, along with their wives, Heather Brandt and Sheila Evans, are now in their third year of operating Iron Goat Brewing Co., which they run out of a brick building in east-central Spokane that was once Evans' art studio. It has hardly been an easy endeavor to get off the ground, even though Iron Goat's growth has far exceeded expectations.
"We all worked our full-time jobs and did the brewing on the nights and weekends," says Brandt, who worked in information technology before launching Iron Goat.
The brewery is considering an expansion, given that pretty much all the beer they make goes right out the door, thanks in part to a loyal following they've cultivated over the past two-plus years.
"I remember that first time I saw a car on the highway with an Iron Goat sticker on it, and it was somebody I didn't know. I had to stop a second and go, 'Wow,'" Brandt recalls.
Brandt and Edminster have hung Iron Goat's reputation on bold, distinctively flavored beers like their Head Butt IPA and Goatmeal Stout. They've also experimented with barrel-aged beers, including an IPA made in a gin barrel from Dry Fly Distillery and a collaborative beer with Oregon craft superstar Ninkasi in the spring of 2014.
"You have the faithful standbys," says Brandt, "but everyone likes to experience something different. We like to keep it interesting and fun."
---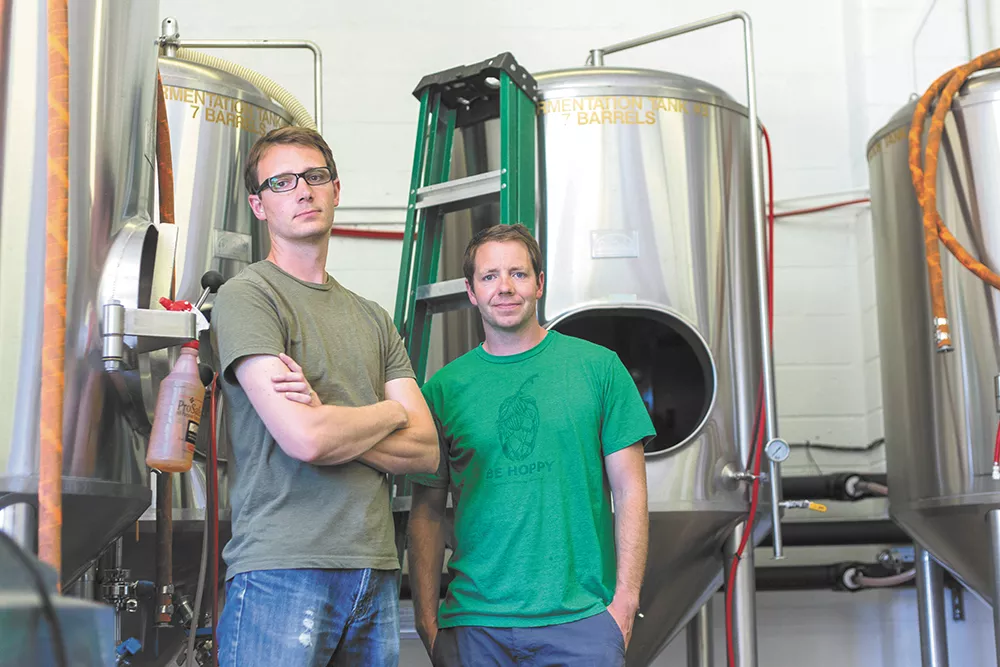 MICKEY (left) and DUFFY MAHONEY
MickDuff's Brewing Company, established 2006
Mickey and Duffy Mahoney moved to Sandpoint with one goal in mind — start a high-quality brewpub. Opening long before the craft-brewing boom hit the region, MickDuff's became a mainstay of downtown Sandpoint with a lineup of beers that have become beloved by locals and tourists alike.
Mickey, now 35, was working for Scuttlebutt Brewing Company in Everett, Wash., when he and his brother decided to venture out on their own.
"We'd been to Sandpoint before, back when there was the Pend Oreille Brewing Company, but that was long gone. There wasn't a brewpub downtown, and we wanted to fill that," says Mickey, who runs the brewery while Duffy manages operations and the restaurant side of the business.
Many of the beers, including the ever-popular Tipsy Toehead Blonde Ale, have been on tap since Day One. The brewery also delivers plenty of seasonal beers, with Mickey often tailoring his creations to the tastes of his customers, rather than his own preferences.
"I like bitter beers and hoppy beers, but I have to brew what people drink around here," says Mickey.
MickDuff's has been patient over the past eight years, not rushing to bottle or can their beers, but has recently expanded. They moved their brewing operation to the old Pend d'Oreille Winery location, which has allowed them to double production and place their beer, including the tasty NOHO IPA, on Washington and Idaho taps. The location also boasts a new beer hall.
It's been a slow-moving philosophy, but a successful one for the Mahoneys.
"We don't want to expand too fast. We've always wanted to keep this beer locally focused," says Mickey.
---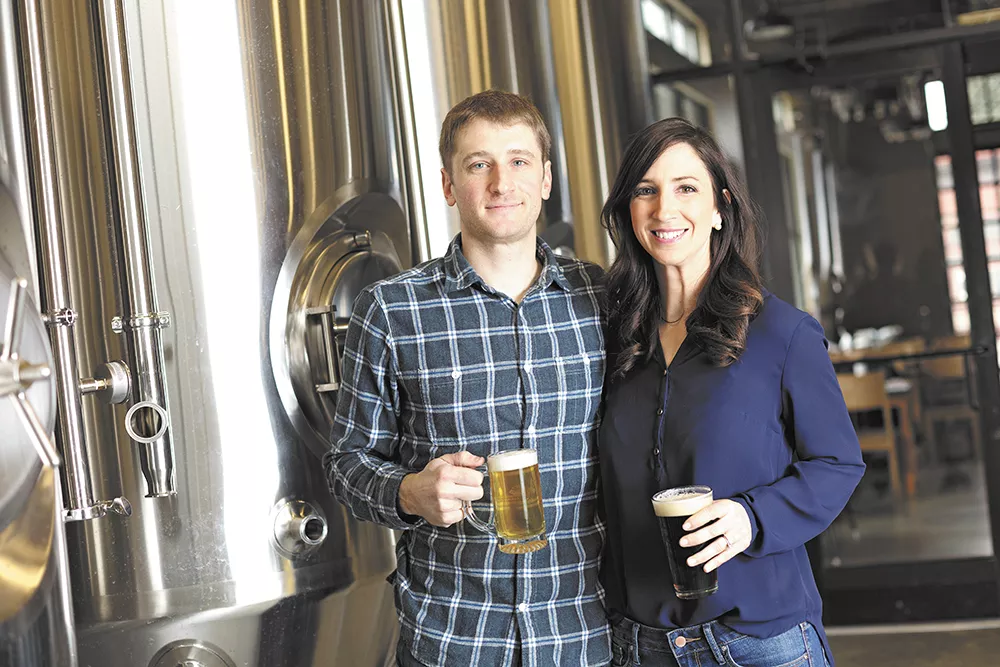 BEN and CHRISTY LUKES
Perry Street Brewing, established 2014
You could call Ben Lukes a beer scientist. The guy is meticulous with the details of his brewing. That might be part of the reason for the buzz around Perry Street Brewing, which he opened with his wife Christy in March of 2014.
Lukes was a photojournalist in Portland before relocating to his native Missoula, Montana, to take a job at Big Sky Brewing Co., where he worked his way up the ladder, eventually heading up quality control and operating the brewery's laboratory. There, he honed the sort of scientific know-how he's employing at Perry Street.
After six years at Big Sky, Ben and Christy decided to venture out on their own in her hometown of Spokane, setting up shop in a newly built structure in the up-and-coming Perry District.
"Early on as a brewer — even a homebrewer — you talk with your friends and say, 'We should start a brewery,'" says Lukes, 34, with a laugh.
In its first months of operation, Perry Street has featured a diverse array of beer styles, even using different yeasts; most breweries stick to just one. While making beers that are authentic to their style, Lukes doesn't want his brewery to be pegged as too narrowly focused.
"I want to do every style with the appropriate ingredients from the region, and with the yeast that it was meant to have," says Lukes, who has found success with styles as seemingly divergent as a Czech pilsner and a double IPA.
"I'm not trying to limit myself by saying, 'Hey, we're a Northwest-style brewery and we're going to do pales and IPAs.'"
---
12 String Brewing Company
11616 E. Montgomery Dr., Suite 26
Spokane Valley, Wash.
241-3697
12 String has been at the front of the Inland Northwest craft brewing boom, providing excellent brews in their Spokane Valley taproom. They make an excellent stout (and double stout) and a nice collection of specialty beers, including a fresh hop beer in the fall and a rye IPA. In the middle of an expansion that will more than double their production, they will soon release their brew in bottles.
Big Barn Brewing Company
16004 N. Applewood Ln.
Mead, Wash.
238-2489
facebook.com/BodaciousBerriesFruitsAndBrews
Green Bluff-based Big Barn Brewing Co. keeps it local and infuses their beer with berries grown in the connected berry farm, Bodacious Berries & Fruit. Their seasonal brews include a strawberry cream ale and a blackberry porter. They also recently began growing their own hops and malting barley. Enjoy a pint while sitting on their old-timey deck and overlooking the farm.
Black Label Brewing Company
19 W. Main Ave.
Spokane, Wash.
facebook.com/BlackLabelBrewingCompany
Black Label Brewing recently started making beer at the back of the new Saranac Commons space, alongside several new food vendors. The brewers use hops grown on their farm in some of their brews; in the Honey Bandit Blonde, you'll be drinking honey from their farm. You don't have to be 21 to enjoy something from Black Label. They make root beer, too.
Budge Brothers
2018 E. Riverside Ave.
Spokane, Wash.
426-3340
The strip-mall-like location off Sprague is sparse, but inside, a friendly barkeep is happy to pour you a flight ranging from the light Orangutan Pale to the dark, caramelly Extra Stout. Their Hoptrain IPA has a dense, floral nose, due partly to the 19 pounds of hops added after fermentation. Their stout is rich without tasting like alcoholic chocolate milk, and earthy without tasting like a coffee porter.
English Setter Brewing
15310 E. Marietta Ave., Suite 4
Spokane Valley, Wash.
413-3663
English Setter Brewing began with Jeff Bendio brewing out of his garage for special events. In the past year, he got a facility for his upland-bird-hunting-dog-themed brewery in Spokane Valley and opened up a taproom. You can try the On-Point Pale, Fetching Blonde, Wiggly Butt IPA and several others, along with a lunch and dinner menu and live music.
Hopped Up Brewing Company
10421 E. Sprague Ave.
Spokane Valley, Wash.
413-2488
This brewery, owned by husband and wife Steve and Sue Ewan, serves its creations in the tasting room, ranging from an IPA and an imperial amber that live up to the brewery's name to a two stouts and a porter. Steve Ewan says Hopped Up has been a long time in the making; more than 10 years ago, he bought the brewing equipment. It sat in storage until recently, when Steve, a longtime homebrewer, decided to jump into the burgeoning Inland Northwest brewing boom.
Iron Goat Brewing Co.
2204 E. Mallon Ave.
Spokane, Wash.
474-0722
Inside the brick Iron Goat building is a recently expanded taproom with bar and table seating, perfect for drinking a sampler of beers or grabbing a pint. Iron Goat provides beers — several of which have taken home awards — that aren't for the faint of palate: expect hoppy brews and a huge amount of flavor. They've got several perfectly accessible beers on tap, too. You can't go wrong with their Headbutt IPA.
Laughing Dog Brewing
1109 Fontaine Dr.
Ponderay, Idaho
208-263-9222
Owners Fred and Michelle Colby say their family dog Ben is the inspiration behind all the company's brews. His smiling face, after all, is their logo. Laughing Dog's new taproom is home to the brewery's bevy of creative brews, but if you want to play it safe and tasty, go for the cream ale.
Mad Bomber Brewing Company
9265 N. Government Way
Hayden, Idaho
208-762-7343
In 2013, three former Army bomb squad soldiers (hence the name of the operation) with an interest in home brewing decided to make their hobby a career and founded Mad Bomber. As a super-small-batch brewery, they can switch out their beers on a frequent basis, meaning you'll often see something new on the tap list.
MickDuff's Brewing Co.
312 N. First Ave.
Sandpoint, Idaho
208-255-4351
Brothers Mickey and Duffy Mahoney were early to the region's craft-beer boom, opening their downtown Sandpoint operation in 2006. This summer, they opened a beer hall and production facility at 220 Cedar Street and have increased output of tried-and-true brews like their Lake Paddler pale ale and Irish Redhead red ale. The pub on First Avenue (and its delicious fries) is still very much open.
Moscow Brewing
Company
630 N. Almon St.
Moscow, Idaho
208-874-7340
In business for more than a year, Moscow Brewing is looking to keep things simple. Their beers are named simply by their style — like the Cedar-Smoked IPA and the Oatmeal Stout — and brewer Lucas Rate says they're keeping their dreams local. The brewery has a taproom, but mostly you can find their brews at restaurants and bars in Moscow and Pullman.
No-Li Brewhouse
1003 E. Trent Ave.
Spokane, Wash.
242-2739
No-Li has been winning some big awards, and expanded distribution to Seattle, Portland, Colorado, the D.C. area, and even Sweden. But it's not forgetting its roots — all ingredients are still locally sourced, and the bottles are mini-billboards of Spokane pride. So far it doesn't seem like the hometown crowd minds sharing No-Li, especially since we can drink straight from the source at the brewhouse and eat off of their exceptional pub-food menu.
Orlison Brewing
12921 W. 17th Ave.
Airway Heights, Wash.
244-2536
Formerly known as Golden Hills Brewing, Orlison unveiled its new name, logo and increased production last summer. Its clear, crisp, cold lagers, made with Northwest ingredients, can be found on tap around the region and sold in artful cans at locations all around the state.
Paragon Brewing
5785 N. Government Way
Coeur d'Alene, Idaho
208-772-9292
This North Idaho brewery plans to make their own beers, but they're starting off with food first. Dishes like Scotch eggs, burgers, fish and chips and beer-brined, breaded pork chops are on the menu. Local wine and beer is being served until the seven-barrel brew house opens in early September 2014.
Perry Street Brewing
1025 S. Perry St.
Spokane, Wash.
279-2820
To much fanfare, Perry Street Brewing opened this year in the burgeoning South Perry District. You'll find Ben and Christy Lukes making various styles from regional ingredients, like their milk stout, Czech-style pilsner and winter warmer. Food trucks tend to hang around the brewery, so grabbing a bite with your beer isn't too hard to do.
Ramblin' Road Craft
730 N. Columbus St.
Spokane, Wash.
995-3901
Ramblin' Road, opened by husband-and-wife Brian and Danielle Guthrie in 2012, recently added a sleek taproom to their brewery, just adjacent to Gonzaga University. They focus primarily on Belgian-style beers, including a rye saison and wit beers, but also do some Northwest influenced brews, like their popular IPA.
River City
121 S. Cedar St.
Spokane, Wash.
413-2388
River City, which made a splash with their River City Red, opened up a new taproom at the beginning of this year. The space, adjacent to their brewery in the Eldridge Building, keeps all of their standards on tap. You can try them by the pint, half-pint and tasters, fill up a growler or take a keg.
Selkirk Abbey Brewing Company
6180 E. Seltice Way
Post Falls, Idaho
208-292-4901
After two years of operation, Selkirk Abbey has experienced major growth, expanding from the Inland Northwest to include western Washington and parts of Canada. Find bottles of their flagship Infidel Belgian-style IPA, or stop by the taproom for a taste of everything they do, including the Saint Stephen saison or the Deacon Pale Ale.
Slate Creek Brewing Co.
1710 N. Fourth St.
Coeur d'Alene, Idaho
208-664-7727
In the Inland Northwest, beer and nature appreciation go hand in hand, so why not bring it all under one roof? Brothers Ryan and Jason Wing did just this when they opened Slate Creek Brewery. It has a rustic, industrial theme and plenty of earthy colors. The beers fit the theme, with names like Mountain Hop IPA, Backcountry Brown and Norse Nectar.
Steam Plant Brewing Company
159 S. Lincoln St.
Spokane, Wash.
777-3900
Steam Plant's 10-barrel system nestled in the back of the restaurant makes nine brews, including the Highland Scottish Ale, Jalapeño Ale and the popular Double Stack Stout. Many of the hops and grains used to make the beers are sourced locally and regionally. You can fill up a growler to go, buy it by the keg or order a pint to go with dinner.
Tricksters Brewing Company
3850 N. Schreiber Way
Coeur d'Alene, Idaho
208-966-4232
Matt Morrow, a veteran of the burgeoning Colorado brewing scene, opened Tricksters Brewing two years ago in a semi-industrial area of Coeur d'Alene. Just months later, the place became a target for North Idaho beer lovers, who descend on the tasting room for growler fills (only $8) or a cold pint of their popular Bear Trap Brown.
Waddell's Brewpub & Grille
6501 N. Cedar St.
Spokane, Wash.
321-7818
Building on the success of the South Hill food and beer hub, Waddell's owner Michael Noble opened the doors of this Northside counterpart in 2013 and started up a brewery inside the new restaurant. Waddell's Brewpub makes house beer with names reflecting the story of turn-of-the-century ballplayer Rube Waddell, like the South Paw Pale Ale, Fireman's Amber Ale and Alligator Stout.
Wallace Brewing Company
610 Bank St.
Wallace, Idaho
208-660-3430
Wallace Brewing Company brews beer in the spirit of their town's notorious past. Their beer names are mining, bordello-inspired like the Red Light Irish Red Ale and Jackleg Stout. The place is equipped with a tasting room that includes darts and a pool table.
Young Buck Brewing
32 W. 2nd Ave., Suite 300
Spokane, Wash.
Young Buck is a brand-new brewery planning to open in the fall of 2014, alongside a few other homebrewers in a brewery incubator next to the former Spokane Public Market. Cameron Johnson, Young Buck's owner, says the incubator will give homebrewers a chance to test the professional waters without having to jump into the brewing business feet first.