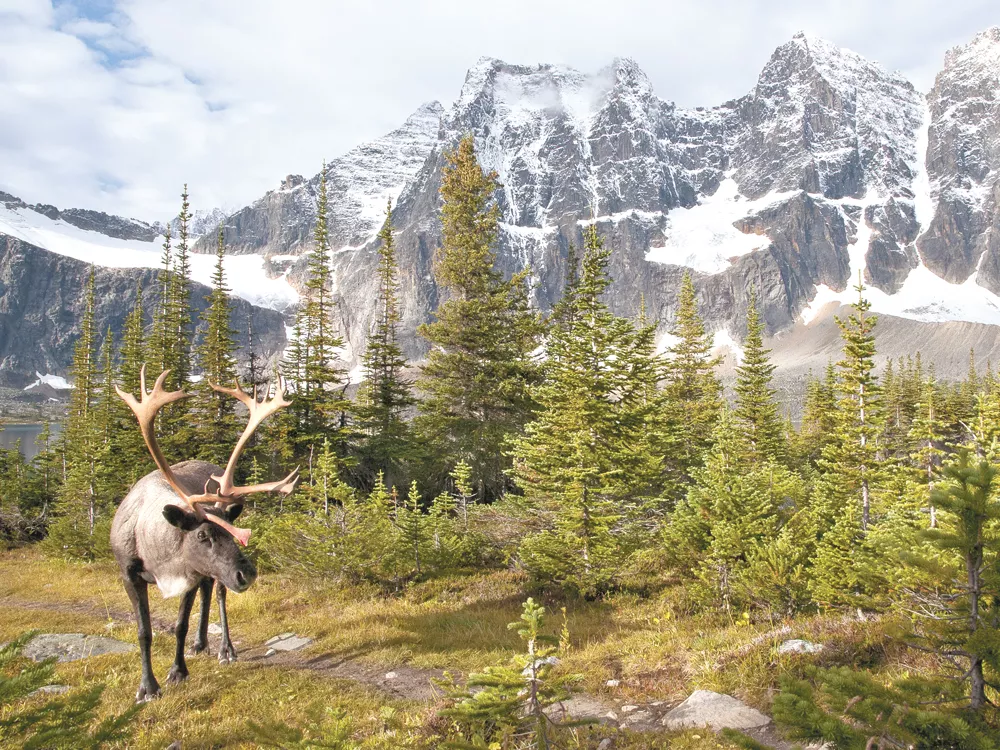 Stagleap Provincial Park along Canadian Highway 3 feels less like a park than some long-abandoned outpost. Other than a pull-off for cars and a pair of forlorn outhouses, the only features of the park's entrance are a trailhead and a warning sign. The sign asks if we know how to avoid avalanches and, if not, can we rescue ourselves from them? We don't and we can't, but we're not turning back.
It's taken a 155-mile drive and a pop quiz by the Canadian Border Patrol to get here.
Once in British Columbia, we drive up the Kootenay Pass, which reaches an elevation of over 5,800 feet. As my ears pop from the elevation, the car passes bighorn sheep grazing and deer bounding up the mountainside.
At the park, we strap on snowshoes — my traveling companion and I are first-timers — and follow the trail south of the highway. We're just five miles from where Washington, Idaho and British Columbia meet. Snow surrounds us — tightly packed beneath our feet, with large, fluffy flakes falling from the sky. As we advance along the trail, the occasional rumbling of vehicles falls away. There's only silence. We hear no birds, no animals. Just the sound of my wheezing lungs as we lope into sub-alpine forest.
We're searching for any sign of the elusive woodland caribou. Only an estimated 1,850 remain in the world, just slightly more than the number of endangered pandas. Most of these reside further north in the Canadian Rockies, but a small subset — the Southern Selkirk herd — dwells in this border country. While estimates vary, the herd is thought to number about 40. Few people are familiar with the caribou. Fewer still have seen one.
But this creature has sparked lawsuits and court-ordered land closures. Now, a controversial federal plan to help save the species is provoking fears of economic decline, cries of "social engineering" and efforts to remove it from the Endangered Species List.
At the center of the debate is math: How do you calculate the value of an entire species?


For an animal so difficult to see, the mark of the woodland caribou is everywhere. The Cabela's in Post Falls boasts a mounted head near its taxidermy-cum-museum. The word "caribou" is found all over local maps: creeks in Bonner and Kootenai counties, a road in Bonners Ferry, a county in southeastern Idaho. At the Village Kitchen Restaurant in Priest River, you'll find a T-shirt displayed that touts a recipe for "Woodland Caribou Stew." It calls for one caribou, 40 pounds of Idaho potatoes, a giant cooking pot and 50 gallons of water.
Woodland caribou are one of seven caribou subspecies, two of which are already extinct. They're cousins to the more common barren-ground caribou found in Alaska and Canada as well as in Scandinavia, where they're known as reindeer. The woodland subspecies has antlers that grow to about 40 inches wide, slightly smaller than their cousins but thicker in the middle and not as robust at the tip. Their hooves are concave and rounded to navigate the deep patches of snow they find in the mountains.
But while the barren-ground variety remains common, the woodland caribou has been on the decline for over a century. They once ranged from Maine to Michigan and Minnesota. In the Northwest, they roamed south of Coeur d'Alene and into the Bitterroot Mountains of central Idaho. They were found as far east as Kalispell, Mont., and west into northeastern Washington. But over the decades, wildfires and human settlement — hunting, logging and development — ravaged caribou and their habitat.
By 1908, the animals were gone from New England; by World War II, they vanished from the Great Lakes region. In the 1950s, there were an estimated 100 caribou in the Selkirk herd roaming across the Inland Northwest, according to federal reports. By 1983, when the federal government listed them under the Endangered Species Act, there were only about 30 animals left.
As part of the listing, the U.S. Fish and Wildlife Service was supposed to designate an area of land considered necessary for the animal to survive. In the case of the woodland caribou, this means sub-alpine forests containing their food, a lichen known as "Old Man's Beard" that hangs from tree branches and takes decades to grow. But the critical habitat was never established, so the Spokane-based Lands Council sued the federal Wildlife Service to designate a habitat for the caribou.
In 2009, a federal court ruled in favor of the Lands Council, spawning a proposal released in November that would create a swath of critical habitat embracing 375,000 acres, or about 650 square miles, in North Idaho and northeastern Washington.

View Proposed Habitat Area for Woodland Caribou in a larger map
Of this, only about 15,000 acres are private property, according to Byron Holt, a supervisory fish and wildlife biologist with the Wildlife Service. State and government manage the rest.
The designation would force landowners and other groups to apply for federal permits when making changes to land under the proposal. Such changes include logging, building a new road, filling in wetlands and obtaining snowmobile trail-grooming permits.
For Mike Petersen, executive director of the Lands Council, creating the critical habitat means the country takes "the Endangered Species Act and our appreciation for diverse animals seriously."
"We've come together as a nation and passed those laws that say we want to have those species recovered," Petersen says. "They're one of our most endangered species.
"At what point do we give up on something?" he continues. "I think everybody would be very sad if the bald eagle disappeared."
But caribou?
Priest Lake, Idaho, meanders for a crooked 19 miles along the western flank of the Selkirk Mountains. Dense forests ring the lake and provide a home for deer, black bears, moose and bald eagles. Vacationers in the summer come for the camping and boating. In the winter, sled dog teams and snowmobiles avail themselves of the open spaces.
When "caribou" crosses the lips of Priest Lake residents, it sounds like they're uttering an ancient curse.
"The caribou in that area has been kind of like a black cloud," says regional economist Dan Green.
That animosity goes back to a pair of land closures — one in 1994 and another in 2007 — to protect caribou habitat. The latter restricted snowmobile use on about 230,000 acres in the area — much of the same land being looked at in the new proposal.
Green, who is conducting a financial-impact study that's being underwritten by the Idaho Snowmobile Association, says the earlier closures hurt Priest Lake's recreation sector — the area's dominant industry, since forest and timber jobs left. He notes that area resorts have lost between 30 and 70 percent of their winter business since the 2007 closure.
Green admits that the Great Recession, which officially began in December 2007, contributed to some of the decline. But he points out that snowmobile enthusiasts tend to fall into higher income brackets and are more insulated from economic shocks.
"They have about $50,000 to $100,000 invested in their pickup, their trailer, their machines," he says.
A snowmobile sells for between $7,000 and $12,000. Built for the trail, the machines go as fast as 80 mph. But it's not the rush of speed that draws Ed Porter to the snowmobile. It's the scenery.
"It's incredible, it's like being out there in a Clydesdale commercial or a Christmas card," Porter, 65, says. "It's just beautiful pristine white."
In 2006, Porter bought Priest Lake Power Sports, a cramped sales and maintenance shop on Highway 57 just south of Nordman, on the west side of the lake. Ninety percent of his wintertime business is based on snowmobiles. He rents them, sells them, fixes them. Six years ago, Porter had 30 snowmobiles that he rented.
"They were all out, almost every weekend," Porter says. "Now, I have five snowmobiles, and there's not rentals to speak of."
Porter says that even though a judge later re-opened some of the trails that were shut down in the 2007 action, the initial closure and the subsequent media coverage ended Priest Lake's run as a winter destination.
Snowmobile registrations, in fact, decreased in each of six Idaho snowmobile regions between 2007 and 2011, according to Idaho Parks and Recreation. But the northern region — Bonner, Boundary, Benewah, Kootenai and Shoshone counties — saw the second-highest drop over that time. Snowmobile tags there dropped by about 28 percent. Only the cluster of counties directly south saw a higher decline, with a 35 percent drop.
"[But] can you really blame it on caribou?" asks Tim Layser, a wildlife biologist with the Selkirk Conservation Alliance. "I would probably blame it more on the economy."
Before his time at the Alliance, Layser spent 20 years tracking woodland caribou with the U.S. Fire Service. Flying in a Cessna 182 in January, Layser spotted four caribou about six miles south of the international border. He also reports seeing snowmobile tracks in the closed areas.
It's because of this that Layser is less concerned that caribou protection is chasing off snowmobilers than that snowmobilers are chasing off caribou.
Snowmobiles generate 100 decibels of sound, according to the National Institutes of Health, just a notch below chain saws and rock concerts (105). Heavy city traffic registers as 85; lawnmowers rank at 90. To avoid gradual hearing loss at 100 decibels, the NIH recommends no more than 15 minutes of exposure to continuous noise.
"There's been study after study that caribou will move out of an area due to motorized activity," says Petersen, of the Lands Council. He points to a 2001 report conducted in Canada on the interaction between snowmobiles and caribou. While the report doesn't make a conclusion, it notes that caribou have been known to leave places they once occupied when snowmobiling increases.
Layser and Petersen say that racket is scaring the caribou out of their historical habitat, potentially bringing the herd closer to extinction.
A March public meeting between Bonner County Commissioners and the Wildlife Service underscored just how wide the chasm is between the feds and the locals.
At the meeting, Holt, 50, sits in a conference room at The Inn at Priest Lake. He speaks like a good-natured and wonkish scientist, probably because he is. He dives into the debates with salvos of science, with words like "augmentation" (caribou-transplantation attempts) and "ungulates" (cloven-hoof animals like caribou).
Across from him are two Bonner County Commissioners and a county attorney, along with a small army of volunteer researchers. An audience of about 40, most of them against the proposal, watches the two sides engage in verbal wrangling.
If Holt has an alter-ego twin, it's Mike Nielsen. The county commissioner adamantly disputes the idea that the plan is necessary for protecting caribou. He unleashes a bevy of arguments against the Wildlife Service and the plan: that the feds didn't talk with the county before releasing the plan; that predators are killing the caribou; and that government land closures are killing business and punishing snowmobile riders.
"People are very upset, and it's impacting businesses," Nielsen says, later adding, "This is social engineering."
Nielsen argues that there's no evidence of snowmobiles killing caribou. And they can't drive away the animals, he says, because no caribou are found as south as Priest Lake. Moreover, Nielsen argues that the proposal doesn't include a predator-management plan. That, he says, is the biggest threat facing the caribou.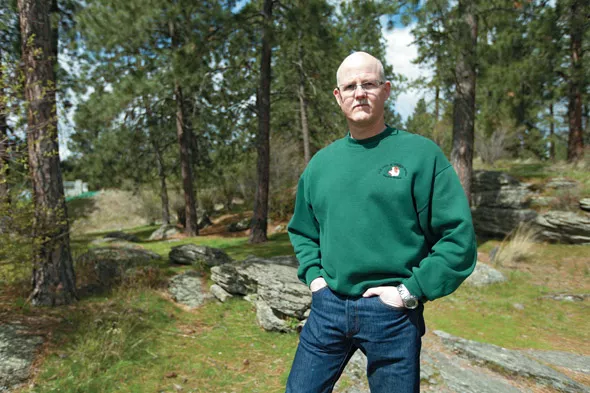 Holt, the biologist, agrees that predators are a problem. Development and logging in North Idaho have opened up the old-growth forests, drawing in deer. Mountain lions come for the deer and then find the caribou.
Nielsen also argues that wolves reintroduced into Yellowstone Park have migrated up to the Selkirks. But he and Holt disagree on whether they're snapping up caribou.
"To what degree wolves will prey on caribou here, we don't know," Holt says.
Dale Goble, a law professor at the University of Idaho, agrees with the concept of the proposal. A critical-habitat designation won't impact landowners, he says. The plan mostly outlines a coordination process for the myriad layers of government that have a stake in the land.
"You can use your property. They're not attempting to restrict what people do on their own land," Goble says.
Given the Selkirk herd's low numbers, Goble says, a critical-habitat proposal could help an animal so close to extinction.
"Their population appears to be so low that killing one or two might jeopardize the species," he says.
Before it makes a decision on the critical-habitat designation, the Wildlife Service has two more public hearings: on April 28 in Bonners Ferry and June 16 in Coolin, Idaho. A final decision should be made on the habitat designation by the end of the year, according to Holt.
A quick look at Commissioner Nielsen will tell you he is former military and law enforcement. His hair is neatly trimmed, his tie clip is neatly pinned. At his Sandpoint office, a few weeks after the March meeting, he sits behind a desk topped with neatly stacked papers.
Nielsen describes himself as liking caribou — he recalls driving through a stray herd of barren-ground caribou when he lived in Alaska — but doesn't see this plan as necessary for so few animals and such a high cost.
Nielsen made a motion earlier in the year, approved by his fellow Bonner County Commissioners, to spend up to $10,000 to pay the Pacific Legal Foundation, a California-based nonprofit, in an effort to de-list woodland caribou from the Endangered Species Act.
If the caribou were to be de-listed, "the whole conversation is moot, it's no longer an issue," he says.
Nielsen says he hopes the feds will reduce the portion of Idaho covered under the new proposal to just the northwest corner of the state, which is the area where caribou are consistently seen.
"If they want to put that into wilderness and call it wilderness, I don't think any of us would object to that," he says. "But not 375,000 acres. That's overkill for four animals."
The financial concerns go beyond snowmobiling. Logging could decline even further if the proposal passes, according to the Idaho Department of Lands, which oversees 65,000 acres covered in the proposal. A letter that the department plans to submit as public comment warns of several consequences, including the loss of 66 jobs; $23 million in lost timber revenue over the next 30 years; reduced public school funding from falling logging revenue; and slower and more expensive forest fire responses, due to hampered road maintenance and upgrades.
Jason Kirchner, a spokesman for Idaho Panhandle National Forest, says the proposal will affect logging, hiking, watershed projects, firewood collection. Forest management that included logging would likely require the U.S. Forest Service to consult with U.S. Fish and Wildlife, he says. In that case, the Forest Service would submit its plan to the wildlife agency, which would examine the impact to caribou habitat. While it would not be a binding decision, Kirchner says, it would carry weight.
"If it's something where they say, 'This is not OK,' we're going to listen to that," he says.
Kirchner wouldn't comment on the U.S. Forest Service's position on the proposal — he says the agency will soon submit its thoughts as part of the public comment. But he does acknowledge the presence of snowmobilers riding illegally on stretches of closed land, despite Forest Service patrols.
"We know that it's happening, but the vast majority of the people going up there to snowmobile are staying on the trails," Kirchner says.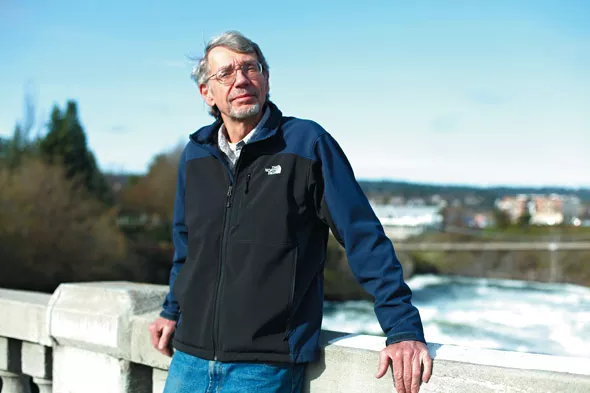 Petersen, of the Lands Council, disputes the Idaho Department of Lands' public-comment letter forecasting a host of ill economic effects.
"Just because it's a critical caribou habitat doesn't mean that you can't log," he says. "I don't know what they're basing their number on.
"We've identified over 300,000 acres that aren't anywhere near the caribou habitat that are suitable for the timber production," he adds, referring to a collaboration he's working on with timber producers and others.
Petersen also dismisses complaints that the proposal goes too far. The plan, as it is, he says, may not do enough to protect the caribou.
"They need to talk about what activities should and shouldn't take place within that critical habitat proposal," he says, adding that the plan should consider specifically protecting trees that caribou eat from.
Jim Peek, a professor emeritus of wildlife resources at the University of Idaho, is hopeful that the decline of logging over the last generation will set the caribou habitat up for a natural resurgence. As cut forests thicken up, deer move out, taking the predators with them.
But Peek says the burden falls on people to make sure the habitat survives.
"If the habitat's there and we've done our job … and [the caribou] still blink out, I'll feel like we did our best under the circumstances.
"If they vanish without any help, I think it's very serious. We're just too damn selfish."


At Stagleap Provincial Park, fir trees tower in the sky, with Old Man's Beard hanging off stubby branches like Christmas tinsel. One tree is dead and enshrouded with it. The black and light-green varieties intermingle, lending the trees a surreal two-tone pattern.
We see nothing but snowshoe tracks on the main trail, so we head up a steeper offshoot. The forest closes in on us and the incline registers in my legs. We're probably above 6,000 feet. We stop at several points to admire the view from our elevation. We look for caribou. We look for hoof prints. We see neither. We keep going.
The snowfall has been coming down thick, and we eventually abandon our search and head back to the car. Other than a squirrel dashing near the highway at the outset of our hike, we haven't seen any animals. We buzz back through Kootenay Pass again, hoping to see caribou on the roadside. But even the bighorn sheep and bounding deer from earlier have disappeared. A "caribou crossing" sign mocks us.
I point my Mercury station wagon back east, and we end up in a Bonners Ferry bar sitting next to a wiry man named Terry Sherven. Sherven, 64, worked in area schools for over 20 years. In his time off, he'd get out to the wilderness to hunt or fish, or just to get away from people.
"Never saw a caribou," Sherven says. "Never did." Heading home, my Mercury glides through the darkness of the caribous' ancestral home, bound for Spokane.
Only one stop remains. I pull off the highway in Post Falls and find the Cabela's, the big-box homage to everything rugged. It doesn't take long to find the massive woodland caribou head mounted on a column. Mouth closed, it stares at us dully, refusing to yield the hideouts of its living brethren, refusing to share any hints about their precarious future.