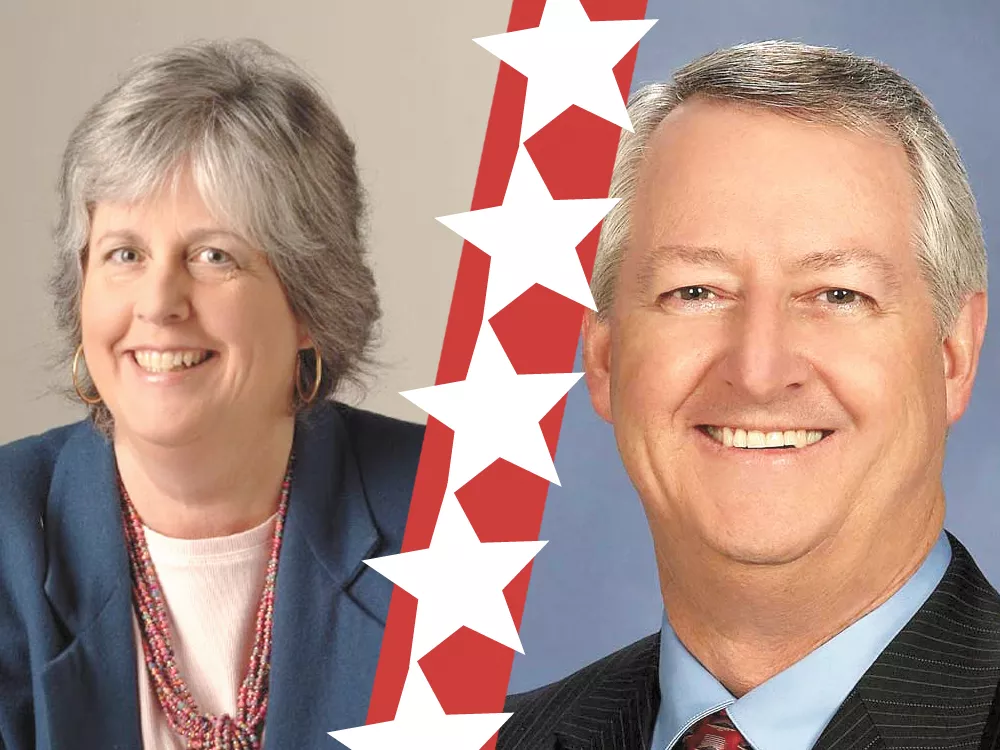 Two-to-one. In any game, or on any battlefield, those odds generally signal a loss for the overwhelmed and outflanked loner.
Just ask Bonnie Mager. Since joining the board of county commissioners almost four years ago, she has suffered loss after loss at the hands of the other two commissioners — Todd Mielke and Mark Richard — who regularly form a voting bloc against her.
"It's hard to run on, 'Yeah, it could have been worse,'" she says with an acquiescent laugh. It's not much of a battle cry when running for re-election — Stand with the lonely loser! — but Mager doesn't have much of a choice. "But it could have been worse. It really could have been. Much worse."
Why? Her fellow commissioners are in the pocket of special interests, says Mager, a Democrat.
"A lot of it goes down to special interest voting. … Are we trying to protect our quality of life, or are we trying to do favors for a particular industry?" she says. "The developers are kicking in big bucks to buy the third seat on the county commission."
Thirteen months ago, Republican Al French announced he was challenging Mager in the Journal of Business, an avenue he preferred because, "I see myself as business-friendly," he told the paper. French, who served eight years on the Spokane City Council, has been an architect for more than 30 years.
And though he says he will listen to every constituent who comes to him with a problem, he's unapologetic about how he views the world.
"I am very much pro-growth, in terms of how do we grow in a community, how do we grow an economy," he says. "I am very much a stickler for private property rights."

GROWTH AND TAXES
At a recent debate, Mager and French were asked about the "benefits and drawbacks" of the state Growth Management Act, which gives guidelines for local governments to control urban sprawl.
French began by touting his development bona fides before going into how it was important to "protect property rights for property owners and allow them to be able to achieve the visions they have for their property … and balance that with the interests of the community."
Mager's answer dug deeper into the county's balance sheet. She discussed how revenue has been hobbled by a voter-approved cap on property tax increases, as well as by the annexation of income-tax-rich county property by surrounding cities.
Last year, commissioners plugged a $10.5 million hole in the budget, mainly by cutting 114 positions from the county's rolls.
Knowing this, Mager said, "I would propose an amendment that would give the county more tools to raise taxes, because we have basically a two-legged stool instead of the three-legged stool that the municipalities have. They have the utility tax, property tax and sales tax."
It may have been a financially sound answer — even if it probably wasn't the wisest thing to say during election season — and French soon rolled out a clip of her response, which has circulated on Facebook.
Regardless, Mager's approach to the county's finances has earned her plaudits.
"The interesting thing about Bonnie, on many of the fiscal issues, she's the one speaking out for more of the conservative approach," former Republican Commissioner Kate McCaslin said last year about Mager. McCaslin is supporting French in the race.
RACE DAY
Mager's two pet issues in the campaign are the county's purchase of the Spokane County Raceway on the West Plains and the proposed expansion of the jail.
Almost from day one, Mager opposed buying the racetrack, which is estimated to end up costing the county $7 million. Mager has called it a "totally irresponsible" use of county funds.
French agrees — to a point.
Fact:
Of the 51 2-1 votes recorded since Bonnie Mager joined the county commission, she cast the minority vote 60 percent of the time.
When he first announced his candidacy, he told the Journal that buying the racetrack was "a good overall move" aside from "a hiccup with their operator. That's something that can be resolved." "I was told that the goal was to buy the whole property, retain the sports complex and then sell the racetrack back into the private sector," he says. "When I found out that that wasn't the case, then I didn't support what they were doing because I don't think government should be owning and operating a racetrack."
"That's a million-dollar hiccup," Mager says of the difficulties with Bucky Austin, the track's first operator who contracted a bunch of work at the raceway and then left town without paying his bills. "[French's] trying to say … somebody misinformed him. It's not his fault. … He had the information."
French admits he wasn't as informed on the raceway as he should have been.
"In hindsight, quite frankly, I wished I'd have done more hands-on analysis of the racetrack personally and not relied on other people's information," he says. "A major decision like that shouldn't be made by just two people in the county. And that's what it was. Two people in the county made the decision."
Still, he can't resist hedging a bit for the men he hopes to work with. Mielke and Richard "make a very good argument that this was a good economic development investment. … If you're going to just look at it from a numbers standpoint, it's a great argument. I look at it from a philosophical standpoint: Should government operate a business that could be operated by the private sector? And I say no."

'HUG A CRIMINAL'
When it comes to expanding the jail, however, French is more blunt.
"It goes back to one of the core functions of government: keep your population safe," he says. "That's the difference between Bonnie and I. I want to make sure those bad people are put in jail, not put in a program. I don't want to hug a criminal. I want to put him in jail."
But he doesn't support a new jail simply as a get-tough conservative, he says. Despite a recent dip in jail population, more room is needed for inmates, he says, and slowly building jail pods in Medical Lake is the wisest financial decision.
Mager, however, wants to put the brakes on the $210 million project. And, surprise, she frequently finds herself on the losing end of 2-1 votes concerning the jail.
"One of the priorities of government is certainly public safety, that takes up most of our budget," she says. "My feeling is that we haven't done a good enough job to show people" that we're building the right-sized jail.
Mager argues that "evidence-based programs" haven't been given a chance to succeed fully at the jail, programs like work release and electronic monitoring. She also says that people with mental health and substance abuse issues shouldn't be locked behind bars.
"We haven't done what we're being told works," she says of the programs. "We're just heading to more bricks and mortar."

EXPERIENCE MATTERS
French considers the eight years he spent on the City Council as his biggest strength heading toward Election Day. He says this experience will allow him to elicit greater cooperation from municipal leaders.
Mager, however, points to the municipally elected officials who support her: Spokane Mayor Mary Verner and a majority of the Spokane City Council; Spokane Valley Mayor Tom Towey, Liberty Lake Mayor Wendy Van Orman, Cheney Mayor Tom Trulove and Rockford Mayor Mickey Harnois.
"I think Al's misinformed about county government," Mager says. "I don't think having been part of the City Council gives him any particular experience for being a county commissioner. What gives you experience is being somebody who gets along with people in city government. I'm the one who has that. I have the relationships. I can broker the win-win."
"Four years in office, tell me something she's led.
She takes credit for things that were led or started by other people," French says. "I can point to dozens of things I led and took the political heat for being on the front side of things. You don't have to be singing kumbaya to come to an agreement with people. I've been doing it for eight years, coming to agreements with people who didn't like me, didn't agree with me, wished I was dead. And that's OK. That's OK."