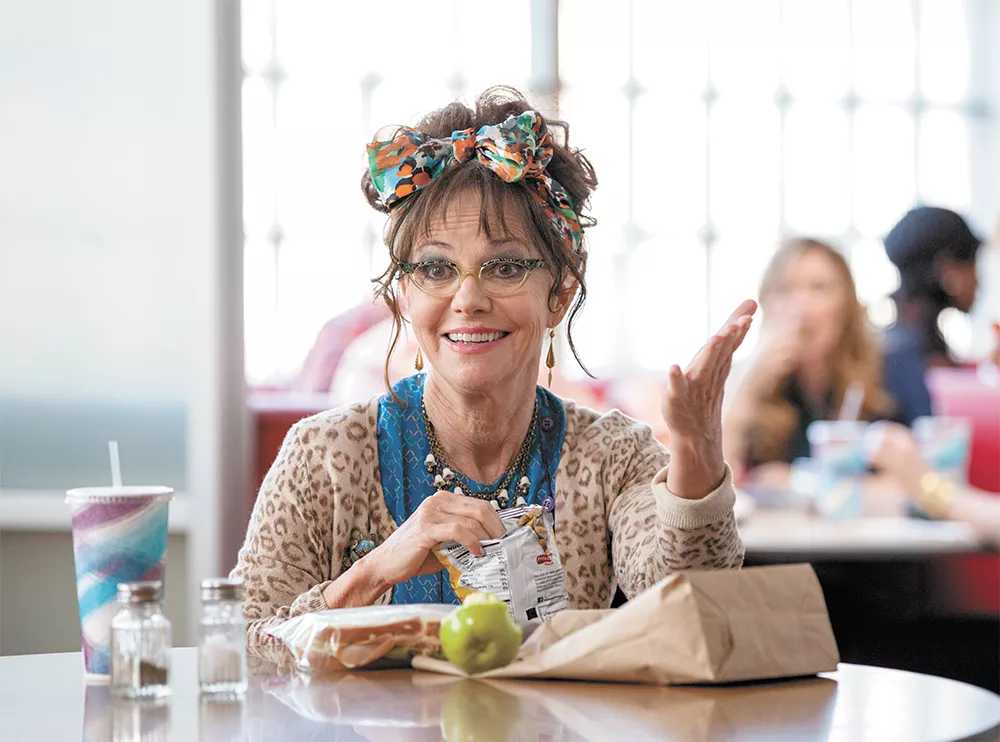 Laura Terruso's 9-minute Funny or Die short film Doris & the Intern is — to put it charitably — a one-joke concept. Doris, a frumpy older woman, becomes infatuated with the young new intern in her office. She fantasizes about him with his shirt off; she follows him when she spots him with his girlfriend, and is caught by him coming out of a store where she has just purchased a sex toy. The music of Notorious B.I.G. plays as an improbable underscore. Doris is a horny weirdo, and that's about all.
So what Terruso and co-writer/director Michael Showalter (The Baxter) do in Hello, My Name Is Doris becomes a fascinating object lesson in adapting a short to feature length. You get a sense for how much richer a story can be when you start with compassion for your characters. And you get a sense for how awkward it can be trying to flesh out 9 minutes into 90.
The feature's heroine, Doris Miller (Sally Field), is a never-married 60-something woman whose life for years has consisted of nothing more than taking care of her elderly mother in their Staten Island home and doing data entry in the same Manhattan office. Then Doris' mother dies, leaving her alone and adrift. At around the same time, her company hires new art director John Fremont (New Girl's Max Greenfield), inspiring an infatuation that completely takes over Doris' thoughts, fueled by the inspiration of a motivational guru (Peter Gallagher).
It is not, however, the same kind of lascivious attraction that made up virtually the entirety of the short film (leaving aside a funny scene where John assisting Doris with an underinflated office "posture ball" turns into a parade of double entendres). Showalter and Terruso transform Doris into a woman who has spent decades not daring to imagine a real relationship for herself. When they do drop a few of Doris' fantasies into the story, they're a chaste brand of romanticism. It's the story of someone who wonders if being in love could still be possible.
There is, however, a lot of time to fill in Doris between the first stirrings of her crush and whatever epiphanies she might reach, and Showalter ends up with wildly different ideas bumping up against one another. As Doris begins Facebook-stalking John to learn more about him, she discovers his favorite EDM band, and arranges to be with him at a Brooklyn club where the band will be playing. The neon-clad but hopelessly unhip Doris suddenly winds up backstage with the band and their photographer (Kyle Mooney, essentially playing the exact same character he played in Zoolander 2). Doris becomes a darling of the band's fans and John's trendy friends; one self-identifies as a "teacher at a gay preschool in Park Slope," while Thanksgiving dinner involves a smudging ritual and the reading of banal confessional poetry. For a few delightful moments, it feels as though Doris is going to turn into the Williamsburg hipster version of Being There.
Showalter and Terruso also try to add emotional heft to Doris' story by turning her into a hoarder — and it's here that the narrative starts to get more than slightly bumpy. As Doris starts to clash with her brother (Stephen Root) and sister-in-law (Wendi McLendon-Covey) over her refusal to clean up and sell the family home, she begins meeting with a therapist (Elizabeth Reaser). Yet Doris really doesn't seem to know how to deal with Doris' hoarding — as a quirky character trait ("You've got duck sauce in your fridge from the 1970s!" "It keeps!") or as a genuine mental illness. The film's generally whimsical tone in telling the story of a lonely woman gets much less whimsical as that woman starts to seem more than merely lonely.
What carries Doris through its unevenness is Field's lovely performance, capturing a kind of eager, giddy watchfulness in her attempts to attract John's attention. Hers is the behavior of a senior citizen who still acts toward the guy she likes as though she were a swooning middle-school girl, sharing secrets with the teenage granddaughter of her best friend (Tyne Daly). It's crucial to have her as the appealing anchor in the attempt to take a 9-minute cougar cartoon and make it the story of an actual woman. ♦