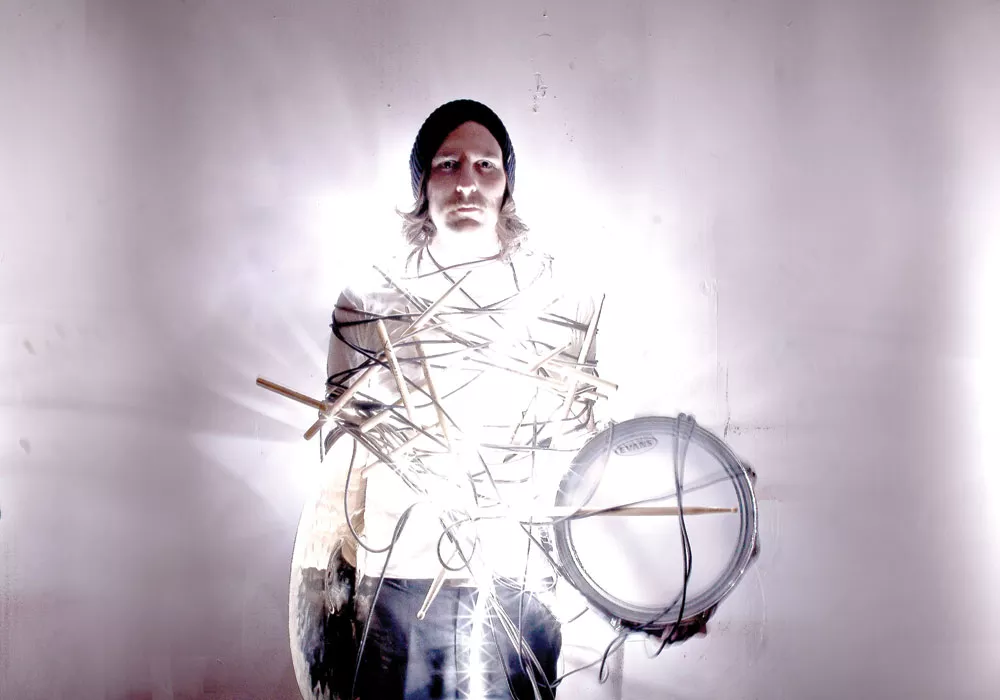 Steadily, over the course of 14 months, Drag Like Pull made themselves sick of their own music.
It's a long time to spend with just five songs. A long time to deconstruct them. Record them. Lose them. Re-write them. Re-record them.
But after all that time, Drag Like Pull, a local three-piece that is as heavy as it is melodic, can say they've finally got something — a record they're proud of. It's an EP, called Fall, an album that overflows with five big songs about the orange and red season sandwiched between summer and winter.
They say it's the first in a set of four planned EPs — one for each season.
"I think we were all tired of playing the songs that were on Fall, so we were like, 'We need to release this and move on. It's time to move on,'" drummer Shayne Garcia says.
But it wasn't just perfectionism that held the band up for so long. At the start, the trio — Garcia, bassist Anthony Burgess (Le Train Train Quotidien) and singer/guitarist Will Haworth (Behold, William Alan) — was just rising from the remains of another band, the Toy Garden.
When it was official that Drag Like Pull would form from three of that band's four members, they say it took some time to figure out how to write as a trio. With just three, how would their sound fill out? Where had they pigeonholed themselves in the past? What would this band even sound like? Do kids even care about heavy music anymore?
"The point of the band from the beginning was to not ever use that expression, 'Oh, this is too heavy for us, oh, this is too quiet for us,' or 'This is too happy or sad for us,'" Haworth says. "We just write."
But they struggled: Was it possible for them to avoid influence? To not sit down at practice and rattle off a list of bands they wanted to derive inspiration from?
"It's always a question you ask each other when you first start playing together, I think. You talk about bands you're influenced by and things you want to sound like," Garcia says. "We don't really have that discussion anymore."
Many a heavy music fan remembers that the Toy Garden and Haworth's beloved ex-band, Behold, had been loud enough to make eardrums bleed.
"[Behold] would get so loud that I couldn't even tell what we were playing. And I just had to watch our drummer to know where we were at," he says.
Garcia says they wanted some of that sheer physical volume in Drag Like Pull — but maybe with a little more clarity.
"We're not trying to just be noisy. But we're not a quiet band," he says.
They laugh. "We've cleared out a couple of coffee shops and pizza parlors in our day," Haworth says, smiling.
But Fall strikes that balance with songs that bear-hug hardcore, early 2000s emo and ambient post-rock. Its sound is in your face but not brutally loud — only piquing with dramatic, well-placed spikes of noise. And the songs are raw — like what you might hear if you stood and watched the band live.
Now with Fall done, the band has moved on to recording Spring. Even after all the time and energy that it took them to record Fall, Drag Like Pull is just giving it away. It's free to all on their website. They won't press CDs, or even burn any.
"We're not charging anything, so we're not really putting anything into it. I mean, money-wise. It's got a lot of blood, sweat and tears in it, but not a penny," Haworth says. He pauses.
"Besides beer. Food. Cigarettes. Gas. Caffeine…"
Drag Like Pull with The Hague, Empty Space Orchestra, The Lion Oh My • Mootsy's • Sat, Jan. 21, at 9 pm • $5 • 21 • draglikepull.bandcamp.com • 838-1570