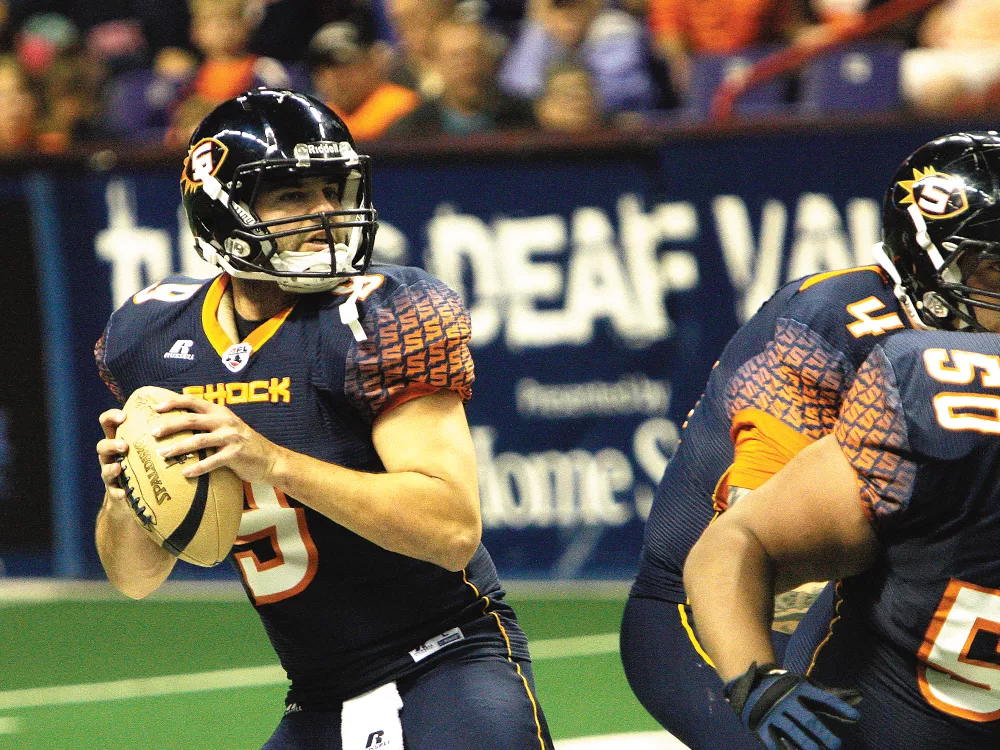 Three times, major league baseball teams drafted Erik Meyer as a pitcher. Three times, he turned them down because of his love for football. Three times, National Football League teams signed Meyer. Three times, he was released without playing in a game. Three times, the Spokane Shock signed Meyer. Three times, he failed to land the starting quarterback job on a full-time basis.
Finally, six years after he last played regularly and eight years after he starred at Eastern Washington University, Meyer is starting — and often playing spectacularly — for the Shock.
"I think we all saw the potential there," Shock coach Andy Olson says. "Every time he's been healthy — every time he's actually got a chance to prove himself — he's been very efficient."
Meyer, finally healthy, has been far more than "efficient" as the Arena Football League season nears the midway point. He leads the league with 2,055 passing yards and 50 touchdown passes in seven games, and just two of his 264 passes have been intercepted.
"I'm glad I stayed with it," Meyer says, "and I do feel rewarded."
Meyer's pro football odyssey has taken him to three countries and four states. He won the Walter Payton Award as the top offensive player in NCAA Division I-AA (now the Football Championship Subdivision) when he passed for 4,003 yards and 30 touchdowns as a senior at Eastern in 2005, but went undrafted.
Cut in training camp the following year by Cincinnati, Meyer started for Cologne (Germany) in the NFL Europe minor league in 2007. He played well enough to earn a training camp invite from the Seattle Seahawks, but was released before the season. He didn't even make it to training camp with Oakland in 2008 or Hamilton (Ontario) of the Canadian Football League in 2009 before getting his walking papers.
Meyer was a backup on Spokane's AFL champions in 2010, missed most of the 2011 season (split between Utah and Spokane) with a shoulder injury, then sat out last season after suffering a concussion in the season opener. Meyer says he occasionally thought about quitting, but not for long.
"There were some tough times," he acknowledges, "but I still wanted to play and I still have a passion to play."
Meyer, 30, agrees with Olson that he trained "to be the best you can be" this year after focusing too much on doing whatever he could to avoid injuries prior to last season. Meyer's superb play this spring helped the Shock start 5-0 and rise to No. 1 in the AFL rankings before suffering two close losses the past two weeks.
"It's been a lot of fun," Meyer says, "especially with the type of season we have going and with the group of guys we have."
"He's extremely smart," Olson says. "He listens to the coaching staff. He learns, and he's trusts his receivers. I'd say that's the biggest thing: He trusts every guy out there."
Meyer, also a talented baseball player who pitched in one unofficial instructional league game with San Francisco Giants farmhands in the fall of 2006, says he hasn't given up on his goal of playing in the NFL.
For now, the La Mirada, Calif., native is content to play in the AFL, though a stint as an unpaid assistant coach at Eastern Washington last season convinced him that he wants to coach in college once his late-blooming playing career comes to an end.
Spokane Shock (5-2) vs. Orlando Predators (1-5) • Sat, May 11 at 7 pm • Spokane Arena • $14-$47 • ticketswest.com • 800-325-SEAT • SWX television and ESPN 700 radio