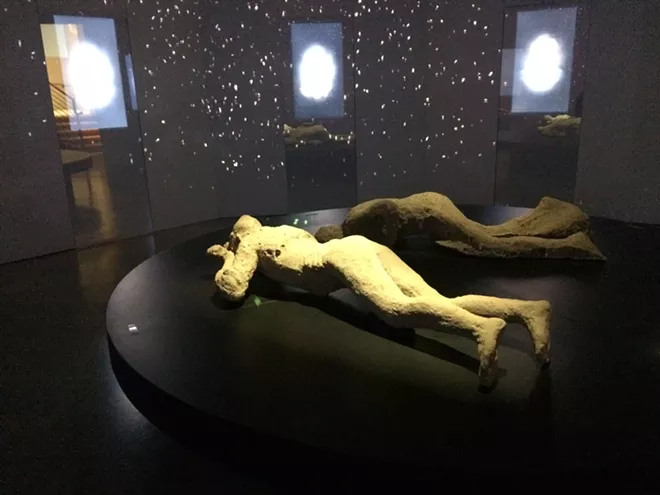 W
hen public spaces were closed back in late March
to slow the coronavirus's spread, the Northwest Museum of Arts & Culture lost more than a month from its already short run of the internationally traveling exhibit
Pompeii: The Immortal City
.
The exhibit
, originally scheduled for display from Feb. 13 to May 3, alongside the MAC's house-curated
Mount St. Helens: Critical Memory
in commemoration of the regional mountain's catastrophic eruption 40 years ago, have now both been extended through Labor Day weekend. The last day to see both is Sunday, Sept. 6, although the museum remains closed until at least mid-June.
Even though Spokane County was given early clearance today to move into phase 2 of Washington's reopening plan, it'll be at least three more weeks until the county can enter phase 3, which includes museums. That means the soonest the MAC could reopen its exhibit halls would be Friday, June 12, but only if the county meets necessary criteria by then.
"We have reached an agreement to hold the Pompeii exhibition past its original May closing date and have it available for visitors to experience through Labor Day," says
Wes Jessup, MAC executive director, in a press release.
"The museum is ready with our reopening plan to address the safety and health of all patrons once we are given the go-ahead to open during Spokane's phase 3 in mid to late June," Jessup continues.
In the meantime, museum patrons can continue to access several free, digital programs connected to both exhibits, including virtual tours and prerecorded lectures.
Pompeii: The Immortal City explores what first-century Roman life was like, and how the catastrophic 79 AD eruption of Mount Vesuvius completely buried the cities of Pompeii and Herculaneum. The exhibit features immersive experiences and many artifacts recovered during ongoing
archaeological
excavations of the ancient city, including replica body casts of ill-fated
Pompeian
residents buried under the volcanic ash.