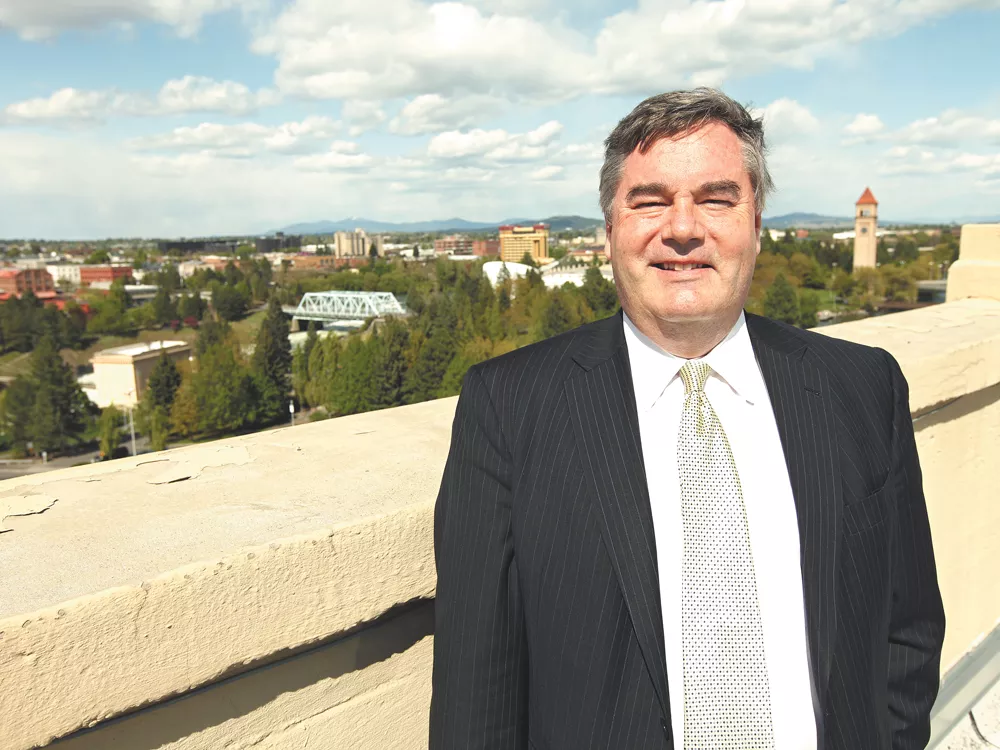 It's not hard to find developers and business owners telling horror stories in Spokane. They talk about major projects — with millions of dollars on the line — trapped for months, or even years, in bureaucratic purgatory.
Jim Frank, developer of the expansive Kendall Yards project in West Central, will tell you about agonizing delays while he waited for answers about permit requirements for extending the Centennial Trail. And that was for a project that the city had praised and incentivized.
Bethe Bowman, co-owner of Italia Trattoria in Browne's Addition, will tell you about regulatory hurdles that prevented her from turning her parking lot into a patio.
Developer Ron Wells will tell you about waiting for 15 months as he tried to change the way an old lot was laid out so he could put in condos.
But their stories have changed. Wells will now tell you about the out-of-the-blue phone call he received late last year: It was Scott Chesney, the city's recently hired planning director. Chesney wanted to meet.
"Nobody before that ever bothered to call me," Wells says. "We talked philosophically about what was wrong."
Sitting with the Plan Commission, Chesney acts serious, cautious, rarely saying a word. But behind the scenes, he's been toppling the status quo.
"When I came, it was to help reinvigorate the planning process," Chesney says. "Part of that is speed, being nimble to move projects quickly through the system."
Even though Chesney was hired at the tail end of the Mary Verner administration, he's quickly become part of the swift change that has characterized the Condon administration so far. He's trying to slash permit delays in half, grant more power to neighborhoods and give more certainty to developers.
Not only that, he's proposing the biggest change to Spokane planning in years. Instead of modifying which set of rules applies to various parts of the city, Chesney's suggesting writing a whole new type of rulebook.
Courting Both Sides
This isn't the first time Chesney has proposed big changes. At his previous job as development director in El Mirage, Ariz., Chesney dreamed up an ambitious vision to transform the city of 40,000 into an eco-friendly urban arts hub, complete with work/live spaces for artists.
Yet, he's also had trouble. Before El Mirage, he worked for the larger, nearby town of Surprise, Ariz. — where the Arizona Republic reported a minor scandal, finding that he had repeatedly failed to properly turn in receipts, and that he had been purchasing alcohol for himself and employees with a city credit card.
He resigned from his position at Surprise but says it wasn't because of the scandal. He says, without elaborating, that he had differences with the city manager over how the city should grow.
In Spokane, however, Chesney's managed to garner praise from both neighborhood councils and developers — two groups that don't always like city planning, or each other. Wells calls Chesney "everything in terms of a progressive visionary we could have ever hoped for," while Frank calls him a "breath of fresh air."
Dave Griswold of the Hillyard Neighborhood Council calls the new planning department "a bright light in the bleak area [that has been] planning in the past."
Instead of just presenting problems, they say Chesney's swiftly helped them identify solutions, work-arounds or ways to change the rules.
"I came here because I saw an opportunity to turn a planning agency from a regulatory agency … to a growth agency," Chesney says.
Condon and City Council President Ben Stuckart both campaigned on fixing the permitting process. Chesney, Engineering Services Director Mike Taylor, and their boss, Jan Quintrall, have been working on doing just that.
Now, instead of requiring developers to navigate through a maze of different city employees, developers talk to one person. In Frank's case, it's Chesney himself.
Developers of all major projects meet weekly with a team from the planning department, Chesney says. That way, answers to questions are often instantaneous.
"We're not being held back by process," Frank says. "It's enabled us to make investments in the West Central neighborhood that we couldn't possibly make before."
Similarly, neighborhood council members across the city say they've met personally with Chesney. A few neighborhood councils have been frustrated that they've spent years putting together a neighborhood plan, only to see nothing come of it once they'd finished. Chesney wants to put neighborhood plans in the same document as the city's Comprehensive Plan. He wants to make that plan actually happen.
For example, the Southgate Neighborhood Council has long planned to change 44th Avenue to an arterial. But now, in the last few months, the city's introduced an emergency amendment to make that happen. Several planning commissioners did raise concerns with the speed: Did it really deserve to be called an emergency?
Nevertheless, Chesney and other department heads have been tackling delays around permitting. Where once a city planner may not have looked at a permit request for four weeks, now initial feedback — spotting any major issues — comes within 48 hours.
"What we're pledging now, on commercial projects, the average time will be 30 days or less," Chesney says. It used to be 62 days.
Chesney's not done with changes. He plans to reorganize the planning staff even more. Instead of just preparing for how Spokane will evolve, he wants the planning department to catalyze that evolution.
"We're being restructured with the primary goal of making projects happen," Chesney says.
The Function of Form
Standing atop the roof of City Hall, Chesney points to different parts of Spokane — West Central, East Central, the University District. Beyond simply making the planning department more efficient, he hopes to change the streets and skyline and character of Spokane. He wants narrower, safer avenues; he wants a taller, denser skyline. And yes, he wants to see more condominiums, and other housing, downtown.
"Cities have to grow or they die," Chesney says. "Spokane doesn't grow geographically very fast. It has to grow with intensity of development."
That's where Chesney's most radical step comes in: form-based zoning.
Put simply, in traditional zoning, specific swaths of the city may get marked "residential" for houses, "commercial" for offices and restaurants and "industrial" for factories.
"The problem with that, in a place like Spokane, is because it keeps all the economies separate," Chesney says. "It makes it harder to bring in business to the North Monroe corridor, where workers could live in West Central and walk to work."
But form-based zoning uses a whole different set of rules. There's less emphasis on what a building is used for and more emphasis on aesthetics. Things like height and architectural style and parking location and front porches and landscaping — neighborhood character — become more important, and whether the building is a lawyer's office or a coffee shop becomes less important. It becomes much easier to change a building's function and much easier for apartment buildings to have a restaurant or boutique at street level.
Individual plans would be engineered for specific neighborhoods: West Central may have different rules than Perry Street, which would have different rules than Browne's Addition.
In theory, neighborhoods win because they have more control over their future design. And developers win because they come into a neighborhood knowing more specifics.
"What it gives the designer or developer is more assurance that when that project hits the permitting desk, it's going to get a permit faster," Chesney says. "[Conventional] zoning is so wide open it leaves itself subject to a lot of interpretations by staff. That's truly anathema to development."
Already, ordinances tailored to specific neighborhoods are heading to council. One aimed at Browne's Addition would allow small businesses, like Italia Trattoria, to avoid some of the more stringent parking lot regulations. Another would allow former commercial businesses in West Central, now trapped in a residential zone, to become businesses again. "Can we reintroduce small-scale services and retail into the heart of a neighborhood and have them be successful?" Chesney asks.
Within a few months, Chesney plans to present drawings and illustrations before the City Council, showing what the intersection of Main and Division could look like with form-based zoning.
He wants to make Division easier to cross, and possibly turn Main back into a two-way street.
Ideally, Chesney plans to implement form-based zoning gradually, and mostly in the neighborhoods closest to the city center.
Form-based zoning isn't without some critics, who say that it puts too much authority in the hands of a small group, rather than with the neighborhoods themselves.
A cautionary tale resides only a dozen miles to the east. The Sprague Appleway Revitalization Plan in Spokane Valley was an attempt at a type of form-based zoning. It aimed to make Sprague look more cohesive, to encourage more density, to give Spokane Valley a true downtown. But it never happened. The plan's opponents viewed these regulations as suffocating already-troubled businesses, seized a majority of City Council seats and swiftly dismantled the entire 20-year plan.
Similarly, remember Chesney's plan for the arts-centered community in El Mirage? When an election in El Mirage brought new city leadership, they dumped Chesney. While his plan remained, the enthusiasm for the arts dried up.
"I think it was pretty much destroyed and dismantled by the current politicians in power in El Mirage," says photographer Thomas Schultz, at one time El Mirage's artist-in-resident. "The state of the arts in El Mirage, I would say, is dismal. … It's vanished in the desert here, in this hallucination of El Mirage" It's a reminder: In Spokane, the land of one-term mayors, no long-term plan is guaranteed.